Asparagus with Quail Eggs
Pasta with Shrimp, Avocado and Olives
Sautéed Spinach
Cooking time: 30 minutes for menu      Cooking schedule: see below for instructions
     You can use the cute little quail eggs or regular eggs.  If you use quail eggs,  hard boil the rest for snacks (5 minutes) and salads. I couldn't decide what kind of sauce to use for the pasta, so I just used lemon and oil... It was exactly right!  We'll use more fresh lemon tomorrow for the asparagus.
Asparagus with Quail Eggs
Total time: 20 minutes
    Asparagus is one of two foods (the other is bacon) that etiquette says one should eat with ones fingers, rather than a knife and fork.  For this, dip the tips in the egg yolk.... A fork will be needed for the rest of the eggs, however... And the rest of the quail eggs? Hard boil them for snacks (5 minutes)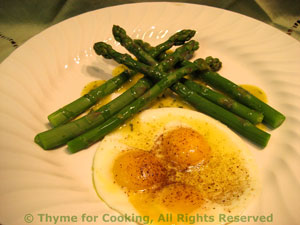 Ingredients:
 Instructions:
Snap off ends of asparagus. If your asparagus is very thick or if it's white, use vegetable peeler and peel the bottom half of stalk. 
Put into a skillet big enough to hold them without cutting, add water to cover bottom by 1/4 inch, cover and bring to boil. 
Lower heat and cook just until done, 6 - 10 minutes, longer for white, adding a bit of water as needed. 
Remove and keep warm.
Heat oil or butter in skillet over medium heat.
Add eggs and fry until the whites are set.  They are meant to be 'sunny-side up' - which is: whites set, yolks runny..... or cook them however you like them. 
Drizzle a bit of vinaigrette on half of a plate. 
Lay asparagus out nicely on top. 
Put three quail eggs (or 1 chicken egg) on the other half of the plate. 
Salt & pepper eggs if you like and serve, any remaining vinaigrette on the side.
Vinaigrette:
Whisk mustard and vinegar. 
Slowly drizzle in oil, whisking constantly. 
Add tarragon, whisk well.
Tip:  If using quail eggs crack them and put them into 2 small bowls, 3 eggs each, to make frying them easier.  They'll be ready to slide into the hot pan.  The shells are a bit tougher then chicken eggs so it requires a bit more effort.
Shrimp, Avocado and Olive Pasta
Total time: 25 minutes
     This is a simple pasta dish. Without a proper 'sauce' all of the individual tastes come through clearly, creating a symphony of well-balanced, fresh, savory flavors.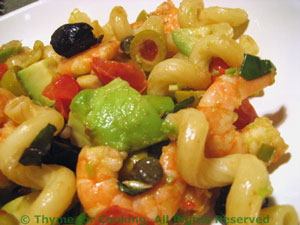 Ingredients:
 Instructions:
Cook pasta according to package directions
Trim and thickly slice green garlic, using as much green top as possible or slice green onion and mince garlic.
Slice olives in half or thirds.
Cut cherry tomatoes in half.
Snip basil. 
Remove avocado from shell and cut into large cubes.
Heat 1 tbs oil in a large, nonstick skillet. 
Add green garlic (or onion and garlic) and sauté briefly. 
Add shrimp and sauté until cooked through (they will turn opaque). 
Add remaining 1 tbs oil, lemon juice, capers, olives, and tomatoes.  Cook, stirring, until tomatoes just start to get soft. 
Add pasta, stir well to combine and heat through. 
Add avocado, basil and serve.
Sautéed Spinach 
Total time: 10 minutes
   This is quickly done and best if done at the last minute.  A sprinkling of lemon juice and sea salt is all that's needed to let the spinach shine.  The leaves should be barely wilted.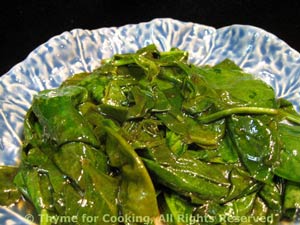 Ingredients:
6oz (180gr) fresh spinach
2 tsp dried chives or 1 tbs fresh
1 tsp olive oil
2 tsp good olive oil
1 tbs lemon juice
salt - sea salt is nice, and pepper
 Instructions:
Wash and stem spinach if needed.  Drain in a colander.  If you don't feel you need to wash it - do it anyway.  We want a little bit of water on the leaves - what ever is left after draining well - and shake them around a bit, too. 
Cut big spinach leaves into strips. 
Snip chives if using fresh. 
Heat 1 tsp oil over medium high heat in large nonstick skillet.
Add spinach and herbs.  Quickly stir-fry, 1 or 2 minutes.  The spinach should just start to wilt. 
Remove and serve.
Cooking Schedule: 30 minutes
Assemble all food, utensils and serving dishes
Utensils: measuring cups, spoons, knives,
medium skillet with lid (used 2X), small nonstick
skillet, pot and colander for pasta, large skillet
Put water on high heat for pasta
Clean shrimp if needed
Trim asparagus, cook
Slice green garlic or onion/garlic
Slice olives
Slice cherry tomatoes
Prepare spinach
Snip herbs
Make Vinaigrette

Remove asparagus from heat
Fry eggs
Start to cook pasta
Arrange vinaigrette, asparagus on plates
Add eggs, Serve
Done?  Sauté green garlic
Add shrimp, sauté
Drain pasta
Cut avocado
Add oil, lemon, capers, olives, tomatoes to shrimp
Add pasta to skillet, heat through
Stir-fry spinach, finish spinach
Add avocado, herbs to pasta
Serve