Vichyssoise
Barbecued Veal Chops
Oriental Rice and Courgette (Zucchini) Salad
Fresh Peach and Berry Salad
Cooking time:  30 minutes plus 25 earlier     Cooking schedule: see below for instructions
       Vichyssoise is one of the classic cold soups, a favorite of Julia Child and perfect for summer entertaining... for 2 or 10.  It's an easy, make-ahead first course.   If veal chops are hard to find, or outrageously expensive, substitute lamb or pork.   Keep pine nuts in the freezer to keep fresh.
Vichyssoise 
(Cold Potato and Leek Soup)
Total time: 25 minutes plus cooling and 5 minutes to finish
    Another classic French dish.  The addition of cream or milk to finish gives it a rich texture.  If you can stand the calories the cream really makes for a luscious soup....  I always use heavy cream if serving to guests.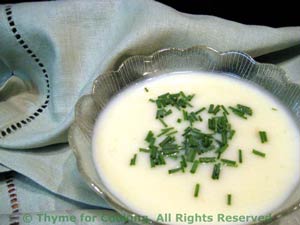 Ingredients:
2 medium leeks, (4oz, 120gr)  

about 1 cup roughly chopped

1 medium potato, (6oz, 180gr) 

about 1 cup roughly chopped

1 tbs butter
1 1/2 cups (12oz, 360ml) chicken stock
1/4 - 1/2 cup milk or cream
2 tbs snipped fresh chives
 Instructions:
Clean leeks - Slice off the top leaving about an inch of pale green, then slice off the stem end.  Slice the leek in half the long way.  Discard the outer layer (more if it is damaged).  Rinse the leek halves under running water, fanning the layers, to get out any remaining sand.  If there is a hard core in the center, pull it out and throw it away. 
Slice leeks thinly (the short way).  You want to slice about 3 inches (7.5cm) of each leek. 
Sauté leeks in butter in medium saucepan, until they are soft. 
Peel and chop potatoes. 
Add to leeks along with chicken stock.  You should have enough stock to just cover the potatoes.  If necessary add more stock or water, but do not use more than needed. 
Reduce heat, cover and simmer until potatoes are done, about 15 minutes. 
Remove from heat, and refrigerate until thoroughly chilled - or longer... 

To Serve:

Purée soup in blender. 
Add 1/4 to 1/2 cup of milk or cream, stirring, until you have desired consistency.
Serve, garnishing each bowl with freshly snipped chives.
Note:  You can set the hot soup pan in cold water (assuming it's a metal pan) to help cool the soup faster.
Barbecued Veal Chops
Total time: 20 minutes
   Veal tends to be a mild flavored meat that lend itself well to robust sauces and marinades.  The chops can marinate anywhere from 1 - 8 hours so start the marinade whenever you have a spare 5 minutes.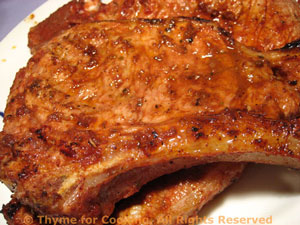 Ingredients:
2 veal chops, 18oz total weight (540gr)
Barbecue Marinade:
8oz (240ml) tomato sauce
1/3 cup (3oz, 90ml) red wine
1/3 cup (3oz, 90ml) olive oil
1 tbs lemon juice
1 small onion, chopped
2 cloves garlic, minced - or 1 tsp garlic powder
2 tsp chili powder
1 tsp dried oregano
 Instructions:
Mix all ingredients for marinade and pour over chops. 
Refrigerate for at least 1 and up to 8 hours. 
Remove chops from marinade and cook on barbecue grill for 4 - 6 minutes a side depending on thickness or until done to desired degree.  
Could also be sautéed or broiled for about same amount of time.  Serve.
Oriental Zucchini (Courgette) and Brown Rice Salad
Total time: 30 minutes
   I use 'Uncle Ben's' which is all I can get and it is quick cooking.  It looks like brown Basmati and cooks in 15 minutes.  You could substitute Basmati, if you prefer.  The cooked rice is combined with the sautéed zucchini and a light, oriental vinaigrette just before serving.
 Ingredients:
 Instructions:
Cook rice in stock according to package directions.
Mince garlic. 
Slice zucchini in half the long way and then into 1/4" (.6cm) slices. 
Heat medium nonstick over medium heat. 
Add pine nuts and toast, shaking pan occasionally until golden, 4 - 5 minutes.  Remove nuts and set aside. 
In same skillet heat oils over medium heat.  Add garlic, ginger and soy sauce and sauté briefly.
Add zucchini and continue to sauté for about 15 minutes, stirring occasionally with a wooden spoon, until zucchini is tender. 
Vinaigrette:
Put all ingredients in small bowl and whisk well - will not emulsify.

To finish:

When rice is done put into a medium bowl. 
When zucchini is done add to rice. 
Add the vinaigrette and toss well. 
Sprinkle with pine nuts.  Serve.
Fresh Peach and Berry Salad
Total time: 10 minutes
   Summer fruits are at their peak.  I used white peaches and fresh strawberries. ( My strawberries are the ever-bearing variety.)  Use whatever peaches and/or nectarines and berries are in season.  A bit of sugar, vanilla and Greek Yogurt finishes off this salad.  You could also add a bit of fresh mint or a tot of rum.....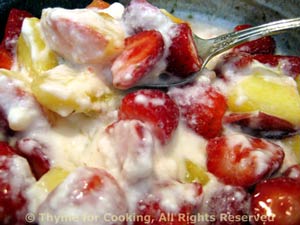 Ingredients:
 Instructions:
Rinse peaches and berries. 
Stem and cut berries if needed. 
Cut peaches in half around pit and twist, gently.  If the peaches are 'freestone' the halves will come apart easily.  Slice.  If they are 'clingstone' the halves will not budge and you'll have to cut the peach off the stone in chunks. 
Put fruit into a medium bowl and sprinkle with sugar.  Stir gently. 
Mix yogurt and vanilla. 
Add to fruit and stir gently.  Serve.
Cooking Schedule: 30 minutes plus 25 earlier
Assemble all food, utensils and serving dishes
Utensils: measuring cups, spoons, knives,
scissors, small bowl, dish for marinating, blender,
2 small saucepans with lids, medium skillet,
2 medium bowls, barbecue grill
Earlier in the day:
Clean, slice leeks, sauté
Make marinade for chops
Spoon over chops, coat well, refrigerate
Peel, chop potatoes
Add potatoes, stock to leeks, cover, simmer
      Pause for 15 minutes
Remove soup, refrigerate
Dinner:
Start to cook rice
Slice zucchini
Mince garlic, ginger
Toast pine nuts; remove, set aside

Sauté garlic, ginger
Add zucchini, sauté
Wash fruit
Slice peaches, berries
Sprinkle sugar, add yogurt, vanilla, refrigerate
Mind the zucchini
Turn on/light barbecue grill
Purée soup
Add milk, adjust to taste, pour into bowls
Snip chives, sprinkle on soup
Make vinaigrette
When rice is done, put in bowl
Add zucchini, vinaigrette, stir, set aside
Serve soup, relax, enjoy
Done? Cook chops
Sprinkle pine nuts on rice salad
Turn chops
Remove chops, serve
Don't forget the fruit salad...