Burger and Bean Packets
Brown Rice with Fresh Herbs
Cooking time:  30 minutes for menu          Cooking schedule: see below for instructions
     Wrapped in foil and cooked on the grill, these 'burger packets' make for easy clean-up.  You could do them in the oven, in a baking dish, covered, 400F (200C) for 25 - 30 minutes... Or in the foil packets on a baking tray.
Burgers and Beans 
Total time: 30 minutes
    When we lived in the U.S. we did these with ground venison.  They would also be good with ground turkey. If your beans have a very watery tomato sauce (like mine) drain them first.  Otherwise use as much of the sauce as you like.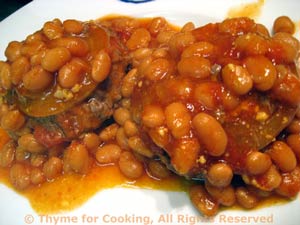 Ingredients:
12oz (360gr) ground beef

1 large onion - preferably red or sweet
1 can barbecue or baked beans or 'beans in tomato sauce'
4 tbs ketchup
4 tsp Dijon-style mustard
aluminum foil
 Instructions:
Tear off 4 squares of foil (1 1/2 times as long as the box is wide). 
Peel onion, cut into 8 thin slices and put one slice in the center of each foil. 
Divide ground beef into fourths, patty and place a patty on top of each onion slice. 
Top with another onion slice.  
Spoon beans on top of burger patties dividing evenly. 
Put mustard and ketchup on top of beans - dividing evenly.
Bring long ends of foil together and fold over.  Fold in sides, loosely.
We cook them on the gas grill for about 15 minutes but you can cook them in the oven - 400F for 25 minutes.  When done - unwrap and put on plates. Serve with

Brown Rice or quinoa.
Brown Rice with Herbs
Total time: 20 minutes    or whatever your package says
      I use 'Uncle Ben's' which is all I can get and it is quick cooking.  It looks like brown Basmati and cooks in 15 minutes.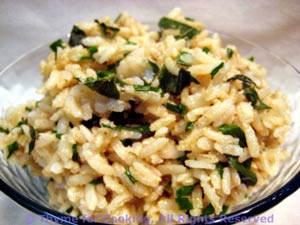 Ingredients: 
 Instructions:
Cooking Schedule: 30 minutes
Assemble all ingredients and utensils
Utensils: measuring cups, spoons, knives,
scissors, foil, small saucepan with lid
Turn on barbecue or oven (400F, 200C)
Start rice if using barbecue (or slow-cooking rice)
Lay out 4 pieces of foil
Slice onion, place on foil
Patty beef, place on onion
Place another onion slice on beef

Open beans, if lots if so-so sauce, drain a bit
Spoon beans onto beef
Add ketchup, mustard
Seal packets, cook
Start to cook rice if using oven (or fast rice)
    Pause while it all cooks
Snip herbs
Fluff rice, add herbs, cover to keep warm
Remove packets, open, spoon onto plates
Serve