Pasta alla Amatriciana
Fresh Fruit
Cooking time:  30 minutes for menu       Cooking schedule: see below for instructions
             I used a package of fresh linguine for this, and with the light sauce, it wasn't too much.  If you like hot, add the red pepper flakes or Tabasco.  Mon mari adds it at the table, out of consideration for my wimpy palate.  If you still have spinach left, sauté some as a side.  
Pasta alla Amatriciana
Total time: 30 minutes
    This is a classic Italian dish, with probably as many variations as there are Italian cooks.  Mine comes from a combination of cook books blended with what I like. Make it as hot as you like.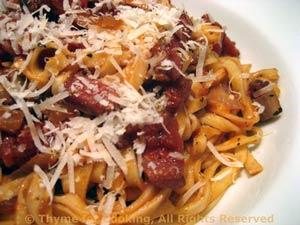 Ingredients:
fresh linguini, or similar, 8oz (240gr) or 4oz (120gr) dry
4oz (120gr) lean bacon
1 small onion
2 cloves garlic
1/2 tsp dried basil
1/2 tsp dried oregano
1/3 cup (3oz, 90ml) red wine
15oz (450gr) plum tomatoes
1/4 - 1/2 tsp red pepper flakes, 

optional

1/4 cup (1oz, 30gr) Parmesan cheese plus more for sprinkling
 Instructions:
Cook pasta according to package directions.
Chop onion and mince garlic.
Drain tomatoes, reserving juice, and roughly chop.
In medium skillet sauté bacon until just starting to crisp.  Remove and set aside.
Drain all but 1 tbs fat from pan.
Add onion, garlic and sauté until tender. 
Add chopped tomatoes with their juices, wine and herbs.
Tear bacon into chunks and add to skillet.
Cover and simmer for 15 minutes. 

To finish:

Drain pasta and toss with Parmesan, then sauce and serve with more Parmesan on the side.
Fresh Fruit
Your choice; something seasonal...
Cooking Schedule: 30 minutes for menu
Assemble all ingredients and utensils
Utensils: measuring cups, spoons, knives,
large skillet, pot and colander for pasta
Put water on high heat for pasta if using dried pasta
Sauté bacon
Chop onion
Mince garlic
Turn bacon
Chop tomatoes
Remove bacon and fat, if needed
Add onions, garlic, sauté
Put water on high heat if using fresh pasta

Grate Parmesan
Add tomatoes, wine, herbs to onions
Tear bacon, add to sauce, cover, simmer
Cook pasta if using dried
       15 minute break
Uncover sauce, simmer
Cook pasta if using fresh
Drain pasta
Put pasta in large bowl, add Parmesan, toss
Add sauce to pasta, toss
Serve, more Parmesan on the side...
Tabasco... extra red pepper...
Don't forget the fruit!