Italian Pork Chops
Spicy Oven Fries
Broccoli with Yogurt Mustard
Cooking time:   40 minutes for menu           Cooking schedule: see below for instructions
      We're going around Europe with our pork chops lately!  I used bone-in chops for this... No particular reason, but that is why the 'weight' called for is higher.  The pork and potatoes both cook for 30 minutes once started, making this an almost hands-free dinner.
Italian Pork Chops
Total time: 40 minutes
     Just a few ingredients simmered together to produce moist, tender pork chops.  The lemon adds a fresh taste to the tomatoes.  Grate the lemon before cutting, using a lemon zester or the fine wholes on a grater.  You only want the yellow, or zest, not the white, which is bitter.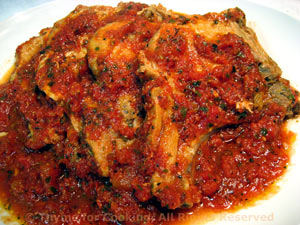 Ingredients:
 Instructions:
Oven Fries, Spicy
Total time: 40 minutes
   I have never owned a deep-fat fryer and likely never will.  I prefer the lower fat oven fries for 2 reasons:  They're healthier and you can spice them up a bit!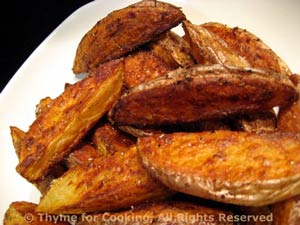 Ingredients:
2 medium potatoes
1 tbs olive oil
1 tsp chili powder
1/2 tsp garlic powder
1/4 tsp salt
2 tsp Worcestershire Sauce
 Instructions:
Broccoli with Yogurt Mustard
Total time: 25 minutes
       Crisp tender broccoli with a creamy, slightly hot mustard sauce is a nice accompaniment to any meal.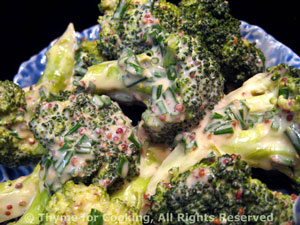 Ingredients:
 Instructions:
Cut broccoli into bite size florets and stems. 
Put in steamer basket in saucepan with an inch of water in bottom. 
Put on medium heat and steam for 10 minutes or until just done but still green. 
Remove from pan and set aside.
In same pan gently heat yogurt, mustard and chives. 
Add broccoli and stir, heating through.  Serve.
Cooking schedule: 40 minutes
Assemble all food, utensils and serving dishes
Utensils: measuring cups, spoons, knives,
large skillet, baking sheet, medium bowl, medium
saucepan with steamer basket and lid
Turn oven on, 400F (200C)
Mix all ingredients for potatoes
Cut potatoes, add to oil mixture, stir to coat
Arrange potatoes on baking sheet, bake
Start to brown pork chops
Zest lemon, juice
Turn chops

Roughly chop tomatoes
Add all remaining ingredients to chops, cover, simmer
      15 minute break
Back?  Cut broccoli, steam
Turn potatoes if so inclined
Stir the sauce around the chops
    Pause while stuff finishes cooking
Remove broccoli when done
Add mustard, yogurt, chives to pan, heat
Add broccoli, heat through
Remove potatoes
Serve