Pork Chops with Garlic and Mustard
Roasted Potatoes, Carrots and Onions
Cooking time:  40 minutes for menu          Cooking schedule: see below for instructions
     I used a red onion, another sign of spring here... Any sweet onion would be good, or a regular onion.
Pork Chops with Mustard and Garlic
Total time: 30 minutes
     The chops are browned first and get fork-tender in no time when gently braised.   I prefer thinner, boneless chops for this skillet dish. They stay tender and moist, and the reduced sauce makes this a lovely main course.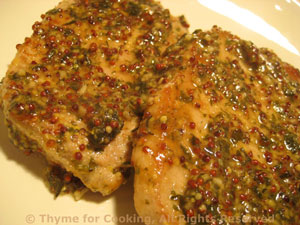 Ingredients:
2 - 4 boneless pork chops, 12oz (360gr) total weight
2 tbs whole grain mustard
4 cloves garlic
3 tbs parsley, fresh or dried
1 tbs olive oil
1/4 cup (2oz, 60ml) chicken broth
 Instructions:
Mince garlic and parsley together.
Stir into mustard, making a thick paste.
Heat oil in nonstick skillet.  Add chops and brown on both sides, about 10 minutes total.
Spread half of the mustard on the chops, turn, spread the rest of the mustard on the other side.
Add chicken stock, cover and simmer for 10 - 12 minutes over low heat, turning chops once.
Remove chops, top with any sauce left in the skillet and serve.
Roasted Carrots, Onions and Potatoes   
Total time: 35 minutes
      In the winter I do these in the oven; in summer on the grill. Either way, roasted/grilled vegetables are delicious, and, cooked with a minimum of fat, very healthy.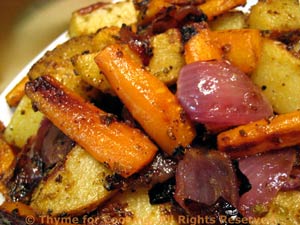 Ingredients:
2 - 3 medium carrots
1 red onion  
2 medium potatoes  

about 12oz (360gr) total

2 tbs olive oil
1 tbs balsamic vinegar
1/2 tsp oregano
1/4 tsp sea salt or regular salt
 Instructions: 
Peel carrots and onion. 
Slice the carrots in half lengthwise and then in half or thirds the short way. 
Slice onion in half, then each half in thirds. 
Slice potatoes in half the long way, then in half again.  Then slice in half or thirds the short way. 
In a medium bowl mix oil and vinegar. 
Add vegetables and toss well to coat.

To Grill on barbecue:

Put into 'grill pan' (a metal or foil pan dedicated to use on the grill) or onto a mesh grill pan (the idea is not to have the stuff fall through the grate into the fire....) Cook over medium heat 20 - 30 minutes, until vegetables have a nice color and potatoes are done.  Serve.

To Roast in oven: 

Put vegetables on a baking sheet with a lip or in a shallow roasting pan.  Bake in 420F (215C) oven for 30 minutes or until done, stirring occasionally.  Vegetables should be lightly browned and tender.  Remove, sprinkle with sea salt and serve.
Cooking schedule: 40 minutes
Assemble all ingredients and utensils
Utensils: measuring cups, spoons, knives,
medium skillet with lid, large bowl, baking sheet
Turn oven on, 400F (200C)
Peel, slice carrots, onion
Slice potatoes
Mix oil, vinegar, herbs
Add vegetables, stir well to coat
Put vegetables on baking sheet, bake
Brown chops

Mince garlic, parsley
Stir garlic, parsley into mustard
Turn chops
Spread mustard mix on both sides of chops
Add stock, reduce heat, cover
Stir vegetables, turning
    Pause while stuff cooks
Turn chops
    Pause some more
Remove chops, spoon any sauce over
Remove vegetables, sprinkle sea salt, Serve