Emerald Soup
Asparagus and Chevre Quiche
Cooking time:  65 minutes for menu        Cooking schedule: see below for instructions
   This is a simple dinner for Saturday, as long as we're having big roast lamb on Sunday.  The quiche is chock-a-block with vegetables, making a substantial dinner with very little meat... And very healthy...  I know tomatoes aren't in season yet, but the supermarket ones are fine for this. Cook the rice earlier if you can.
Emerald Soup
Total time: 35 minutes
    I was given the recipe for this soup by the chef of Tidy Dols in London.  It's bright green color and fresh taste have been a favorite for years.  This makes enough to serve four.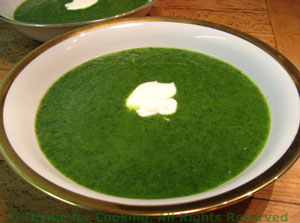 Ingredients:
1 onion
2 ribs celery
2 leeks
1 medium potato
1 tbs butter
10oz (300gr) fresh spinach
3 - 4 cups (24 - 32oz, 720 - 960ml) chicken stock
more stock if needed to get desired consistency
2 tbs Greek yogurt, crème fraiche or sour cream for garnish
 Instructions:
Roughly chop onion, celery and thinly slice leeks.  (To clean leeks see techniques).
Melt butter in medium saucepan over medium heat. 
Add onions, celery, leeks and sauté until softened.
Roughly chop potato (peeling optional) and add to pan along with 3 cups chicken stock.
Bring to a boil, reduce heat, cover and simmer until potatoes are done, about 15 minutes.
Pick through spinach, removing any bad leaves and thick stems. 
Add to soup when potatoes are done.  You will probably have what seems like a huge amount of spinach but it will all fit - just add handfuls of leaves, stir into soup; when they are wilted, add more.
When all of the spinach is in the pan and wilted, purée the soup, either in a blender or with an immersion blender.   It should be a lovely bright green - thus the name... 
Add more chicken stock if desired. 
Keep warm until ready to serve. 
Serve with a dollop of yogurt in the center (you can draw a knife through to make patterns...) 
Asparagus and Chevre (Goat Cheese) Quiche
Total time: 65 minutes
    The variations on quiche are almost infinite.  Because I have this one so packed full of good foods, it takes a bit longer to bake then usual.  I had it in the oven for 40 minutes.  The center should be dry in appearance and only slightly 'jiggly' when done.  My brown rice cooks in 15 minutes... If yours take longer, make it ahead of time, or substitute Basmati or Arborio.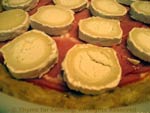 Ingredients:
The Crust:
1/2 cup (3.3oz, 95gr) quick cooking brown rice
1 cup (8oz, 240ml) chicken stock or as needed 

for 2 cups cooked rice

1/4 cup shredded cheese (1oz, 30 gr)
1 egg
The Filling:
4 - 5 thin slices, (3.5oz, 100gr) Prosciutto
8oz (240gr) asparagus, trimmed
4oz (120gr) chevre (goat cheese), aged   

the kind that comes in a log with a white (edible) rind

2 tbs snipped fresh chives
2 tbs snipped fresh basil

2 - 3 tomatoes, depending on size  

I used 2 very long Roma tomatoes

3 eggs
1 cup (8oz, 240ml) milk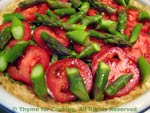 Instructions:
The crust:
Cook brown rice in stock according to package directions.  Can be done ahead or the day before. 
If rice is just cooked, spread it on a plate to cool for 5 minutes before adding to egg.
Oil a 9" (22 cm) pie or quiche plate. 
Lightly whisk 1 egg. 
Add 1/4 cup of the cheese and the cooked rice.  Mix well. 
Pat into the quiche plate, working it up the sides as best you can.
Bake in 400F (200C) oven for 10 minutes. 
Remove and set aside. 
The filling: 
Trim asparagus, snapping off tough ends.  Cut into 1" (2.5cm) lengths. 
Heat water in a saucepan over high heat. 
When boiling, add asparagus and blanch for 3 minutes. 
Drain and refresh under cold water. 
Dry on paper towels. 
Snip herbs. 
Thinly slice tomatoes.
Slice goat cheese. 
Tear Prosciutto into large pieces.
In medium bowl whisk 3 eggs well. 
Add milk and whisk to combine. 

To assemble:

Lay Prosciutto evenly over the bottom of the baked crust. 
Lay the goat cheese on top. 
Sprinkle with herbs. 
Lay the tomatoes on top of the herbs.
Top with the asparagus. 
Pour the egg mixture over all and bake for 40 minutes.  (Check after 30) 
Let stand 5 minutes before serving.
Note:  I put the quiche/pie plate on a pizza pan before pouring the egg/milk over.  Makes it easier to get into the oven and catches any drips and spills - saving oven clean-up.
Cooking Schedule: 65 minutes
Assemble all food, utensils and serving dishes
Utensils: measuring cups, spoons, knives,
medium saucepan, lid, blender, small saucepan
with lid, quiche or pie plate, medium saucepan,
medium bowl (used 2 X), baking sheet
Cook rice - can be done earlier
Turn oven on, 400F (200C)
Chop  onion, celery
Slice leeks
Sauté onion, celery, leeks
Heat saucepan of water on high - for asparagus
Chop potato
Add potato, stock to onion, cover, simmer
Trim asparagus, cut
Slice tomatoes
Slice cheese
Slice Prosciutto

Lightly oil quiche plate
Make quiche crust
Pat rice crust into plate
Bake quiche crust
Blanch asparagus
Remove asparagus, rinse with cold water, dry
Remove crust
Whisk eggs, milk
Assemble quiche
Pour egg/milk over top, bake
Trim, inspect spinach
Add spinach to soup, slowly
Done? When hot, purée soup
Finish soup
Either serve now or take 15 minute break first
Enjoy the soup
Remove quiche; Relax some more
Serve quiche