Artichokes with Dill Dip
Shrimp Persillade over Pasta
Roasted Asparagus Balsamic
Cooking time: 60 minutes for menu      Cooking schedule: see below for instructions
     This dinner is a garlic lover's delight with the persillade for the shrimp and pasta.  Share with someone you love. And two of our favorite spring 'A' vegetables: artichokes and asparagus.
Artichokes with Dill Dip
Total time: 55 minutes
           The artichokes take about 40 minutes to steam. This can be done anytime and the artichokes can be served warm or cold.  Have a bowl for the discarded leaves and have a small, sharp knife handy so that when you get all of the leaves off and are at the fuzzy choke you can cut it off and enjoy the artichoke bottom.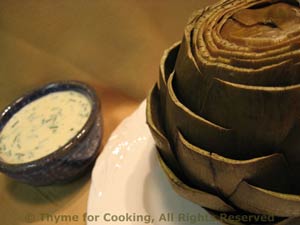 Ingredients:
2 globe globe artichokes
1 tbs lemon juice
Dill Dip:
1/4 cup (2oz, 60gr) Greek or plain yogurt
1/4 cup (2oz, 60gr) mayonnaise
1 tsp dill weed (dill leaves)
1 tsp snipped fresh chives
1/4 tsp garlic powder
1/4 tsp soy sauce
 Instructions:
Cut off bottoms of artichokes and remove any tough lower leaves. 
Dip in water to which a tbs of lemon juice has been added (to prevent discoloration). 
For a nicer presentation cut off the tips of the bottom half of the leaves - using a scissors. 
Cut the top 1/3rd of the artichoke off and discard.  Don't worry about the choke (fuzzy hairs inside)
Put in steamer and steam 40 - 50 minutes, depending on size. They're done when a sharp knife goes in easily.
Serve artichokes with small bowl of Dill Dip, pulling the leaves off, dipping and scraping the edible flesh off of the tough leaf with your teeth. 
Dill Dip:
Mix all ingredients in small bowl. 
Best if made at least 30 minutes in advance.  Serve.
Shrimp (Prawns) Persillade over Pasta
Total time: 25 minutes
      Even people who do not like escargot can't resist dipping a bit of fresh baguette into the garlic parsley butter, or persillade, that's left in the little cups. Expanding on that wonderful taste we added shrimp, a few shallots and some Parmesan and served it over pasta.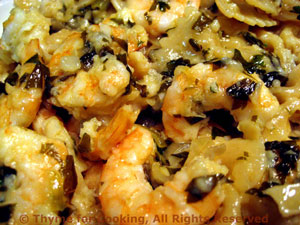 Ingredients:
12oz (360gr) shrimp (prawns), cleaned
2 slices bacon
4 - 5 large cloves garlic
2 medium shallots
2 tbs butter
1 tbs olive oil
2 tbs white wine
4 - 5 tbs fresh snipped parsley 

substitute 4 tbs dried

1/2 cup (2oz, 60gr) freshly grated Parmesan
1 1/4 cups (4.2oz, 125gr) pasta - penne, rigatoni
 Instructions:
Cook pasta according to package directions. 
Clean shrimp if they need it. 
Mince garlic and finely chop shallots. 
Grate Parmesan. 
Snip parsley.
Sauté bacon in a large nonstick skillet over medium heat until crisp.  Remove and set aside (don't eat).
Drain off fat.  Add butter and oil to skillet, heat.  The oil helps to keep the butter from browning. 
Add shallots and garlic and sauté over low heat, stirring occasionally, about 10 minutes.  We don't want them to brown, just to cook slowly. 
Add the parsley and continue to cook slowly another 5 minutes. 
Turn the heat up and add the shrimp, cooking until shrimp start to curl and turn opaque. 
Reduce heat and add white wine,  bring to a simmer.  
Crumble bacon and add to pan.  Stir to combine. 
Pour over hot pasta, add Parmesan and toss to coat.  Serve.
Roasted Asparagus with Balsamic and Soy Sauce
Total time: 15 minutes
    The soy sauce and Balsamic vinegar coat the asparagus, giving it a slightly sweet, slightly salty flavor.  You can do these on the grill, in a grill pan or roast them, tips toward the door, in the oven.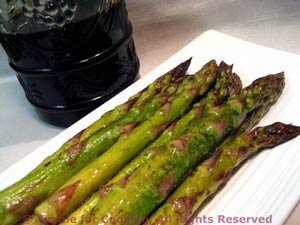 Ingredients:
12oz (360gr) asparagus 
1 tbs olive oil
1 tbs Balsamic vinegar
2 tsp soy sauce
 Instructions:
Snap off ends of asparagus. If white use vegetable peeler and peel bottom half of stalk, laying it flat on the counter to prevent breaking. 
In small bowl whisk olive oil, soy sauce and vinegar. 
Pour it onto a plate or the baking sheet and roll the asparagus in it, thoroughly coating (use your fingers!). 
Grill, using a pan, over indirect heat for 8 - 10 minutes, until lightly browned or roast in 400F (200C), oven for 10 - 15 minutes. 
Remove and serve.
Cooking Schedule: 60 minutes
Assemble all food, utensils and serving dishes
Utensils: measuring cups, spoons, knives,
large pot with steamer basket, pot and colander
for pasta, baking sheet, large skillet
Put water on high heat for pasta
Trim artichokes and start to steam
Make Dill Dip
Clean shrimp if needed
Turn oven on, 350F (175C) (lower temp)
Trim asparagus
Mix oil, soy, vinegar
Coat asparagus, set aside
Grate Parmesan
Cook pasta
Mince garlic, chop shallots
Snip parsley if fresh

Sauté bacon
      Pause while everything cooks
Remove bacon, pour off fat
Reduce heat, add butter, oil, garlic, shallots, sauté
Drain pasta, add oil to keep from sticking
Set pasta aside
Turn heat off under shallots
Roast asparagus
Remove artichokes, serve with Dill Dip
Done?
Turn heat up under shallots
Add parsley, shrimp, sauté
Remove asparagus
Add white wine to shrimp, simmer
Crumble bacon, add to shrimp
Add pasta to skillet, stir to heat through
Serve all