Warm Chevre Toasts with Forest Mushrooms
Seared Scallops with Prosciutto on Tarragon Cream
Orzo Florentine
Cooking time:  40 minutes for menu          Cooking schedule: see below for instructions
        I love scallops, but they are rather expensive here, so I stretch them a bit with some dry-cured ham - also expensive, but a little goes a long way.  Use the aged goat cheese for this, or substitute Brie or Camembert.  Try to get a variety of mushrooms, we'll be using them all week. Use whatever bread you have on hand... or none.
Note: I've doubled the shallots; we'll sauté enough to use tomorrow night, as well.
Warm Chevre on Prosciutto with Wild Mushrooms
Total time: 35 minutes
   The pungent goat cheese, salty ham, sweet shallots and woodsy mushrooms combine to taste like autumn. The chevre for this should be a log that is aged.  That means it will have a thin, edible rind and can be sliced easily.  You can use a soft goat cheese, it will just melt faster and be a bit harder to work with.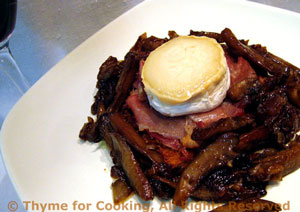 Ingredients:
2 slices chevre (goat cheese) 3oz (90gr) or about 1/2" (1.25cm) thick 

or other strong cheese

2 slices Prosciutto, (1.5oz, 45gr)   or other dry-cured ham, Bayonne, Serrano
2 slices bread - country or whole grain is best
2 tbs whole grain mustard
2 medium shallots 

use 4 to make enough for tomorrow as well.

2 tsp olive oil 
1 tbs water
2 tsp brown sugar
2 tsp Balsamic vinegar
1/2 tsp sage leaves
4oz (120gr) wild mushrooms, or any mushrooms
1 tbs olive oil
1 tbs Worcestershire sauce

1 tbs truffle oil - or other nice olive oil

- optional,  don't bother with corn or canola, it's strictly for flavor
 Instructions:
Shallots: 

Slice shallots about 1/4" (.5cm) thick. 
Heat 2 tsp olive oil in nonstick skillet over medium heat and add shallots. 
Sauté 10 minutes, until starting to brown. 
Add water (it helps speed things up and prevent burning), stir well and cook for about 20 minutes, stirring occasionally, until nicely browned.  Turn heat to low if cooking too hard. 
Add brown sugar, vinegar, sage, and cook, stirring for 2 more minutes. 
Remove to a plate. 
Mushrooms:
Clean and thickly slice the mushrooms. 
Heat oil and Worcestershire sauce in the same skillet.  Add mushrooms, and stir well to coat. 
Sauté over medium heat until mushrooms are nicely browned, 10 - 12 minutes, depending on type and size. 
When done add the caramelized shallots and stir well to combine.  Keep warm. 
Slice Prosciutto into strips. 
Toast the bread, then cut 1 round from each slice, as big as you can (use a bowl as a guide if needed)
To assemble: 
Preheat broiler. 
Put bread rounds on a baking sheet. 
Divide mustard and spread on the bread. 
Arrange the Prosciutto on top of the bread. 
Place one slice of cheese on top of the Prosciutto. 
Broil just until cheese starts to melt, 45 - 60 seconds. 
Remove and put on plates. 
Spoon the mushrooms around the toasts, drizzle with oil  if using, and serve.  
Seared Scallops with Prosciutto on Tarragon Cream 
Total time: 15 minutes
   Scallops are rich, sweet, and often expensive.  But we can still indulge on occasion.  Here they are quickly seared with a bit of Prosciutto and served on a bed of velvety Tarragon Cream.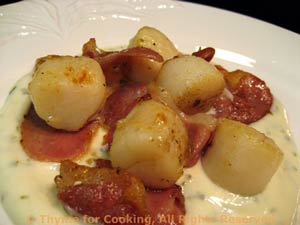 Ingredients:
10oz (300gr) large scallops
4 slices Prosciutto, (2oz, 60gr)   or other dry-cured ham, Bayonne, Serrano
1 tbs olive oil
1/2 tsp paprika
Tarragon Cream:
2/3 cup (5oz, 150ml) white wine
1/3 cup (3oz, 90ml) chicken stock
1/3 cup (3oz, 90ml) Greek yogurt, crème fraiche or sour cream
1 tsp dried tarragon
1 tsp dried basil
1 tbs cornstarch (maizena) dissolved in 2 tbs stock
 Instructions:
Mix olive oil and paprika. 
Add scallops and stir to coat. 
Cut ham slices in thirds.
Combine ham and scallops. 
Heat large nonstick skillet over medium-high heat . 
When hot add scallops and ham.   Stir-fry quickly until scallops turn opaque and ham starts to crisp. 
Remove and serve on Tarragon Cream.
Tarragon Cream:
In a small saucepan, over medium heat,  bring stock and wine to a boil.  
Add tarragon, basil and simmer 5 minutes.
 Mix cornstarch in stock and stir into simmering stock. Cook until thickened - should be quite thick. 
Remove from heat and stir in yogurt / crème fraiche.
Note:  Some scallops will release water when cooked, causing them to steam rather than fry.  Be sure to use a large skillet, giving them plenty of room.  Turn the heat to high after adding the scallops if they don't start to sizzle.
Orzo Florentine
Total time: 40 minutes
   Florentine, or 'cooked in the style of Florence', means that there is spinach in the dish. Here the spinach is combined with cooked pasta and shredded cheese and baked until bubbly.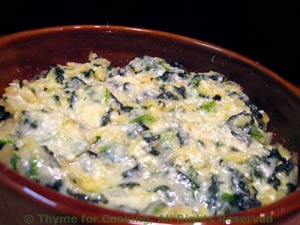 Ingredients:
8oz (240gr) frozen spinach
1/3 cup (3oz, 90gr) orzo
2 shallots
2 tsp butter
2/3 cup plus 2 tbs (6oz, 180ml) chicken stock
1/2 tsp marjoram
1/2 tsp basil
1/4 cup (1oz, 30gr) grated Parmesan
1/4 cup (1oz, 30gr) shredded cheese
 Instructions:
Finely chop shallots.
In small saucepan over medium heat sauté shallots in butter for 5 minutes.
Add orzo and sauté 1 minute.
Add stock and herbs, cover and simmer until done, 15 - 20 minutes.  All stock will be absorbed.
Thaw spinach and squeeze out excess moisture.
When orzo is done add the spinach and shredded cheese.  Stir well to combine. 
Pour into a lightly oiled glass baking dish, just large enough to hold it.
Sprinkle with Parmesan and bake at 375F (190C) until it starts to brown; about 15 minutes.
Remove and serve directly from baking dish.
Cooking Schedule: 40 minutes
Assemble all food, utensils and serving dishes
Utensils: measuring cups, spoons, knives,
medium bowl (used 2X), medium skillet, large
nonstick skillet, baking sheet, 2 small saucepans
with lids, baking dish for orzo
Clean all shallots
Slice shallots for starter, sauté, medium skillet
Sauté shallots for orzo, saucepan
Thaw spinach, squeeze dry
Add orzo to shallots, sauté
Add stock, herbs to orzo, cover, cook
Clean, slice mushrooms
Add water to shallots
Sauté mushrooms, large skillet
Bring stock, wine to boil for sauce
Add tarragon, simmer
Dissolve cornstarch in stock
Thicken sauce, cover, set aside
Slice Prosciutto for starter, for scallops
Shred / grate cheeses

Combine paprika, oil in medium bowl
Add scallops, ham, stir to coat
Toast bread
Add sugar, vinegar, sage to shallots
Refrigerate half the shallots; add mushrooms to half
Mind the orzo
Turn broiler on
Cut circles from toast, spread with mustard
Slice goat cheese
Oil baking dish for Florentine
Orzo done?  Make Florentine, set aside
Assemble starter, broil
Remove, turn oven from broil to bake, 375F (190C)
Start to bake orzo
Serve Chevre Toasts
Done? Heat large skillet for scallops
Reheat Tarragon Cream if needed
Stir-fry scallops and ham
Remove Orzo Florentine
Arrange scallops, ham on Tarragon Cream
Serve