Thanksgiving Day Dinner for Two

or 4..or 6..


Butternut Squash Soup
Roast Turkey with Madeira
Sage, (Giblet) and Celery Stuffing
Fresh Spinach Gratin
Cranberry Cheesecake Pie

Cooking time:  4 - 5 hours for menu          Cooking schedule: see below for instructions

       This menu is for a small group, 2 - 4 but there will be leftover turkey, stuffing and pie.  If you increase the soup, stuffing and add potatoes, it could easily serve 6 - 8;   Everything expands easily...   
You could serve the soup in coffee mugs for your guests (or you) to sip while standing around chatting rather than a proper sit-down first course if you are feeling cramped for either space or time!
I've given an additional favorite recipe Maple Sweet Potatoes I should be made ahead as should the Cranberry Cheesecake Pie and the Ginger Cranberry Sauce.
Simple Butternut Squash Soup
Total time: 30 minutes
    Butternut squash makes a lovely, creamy soup with no cream and very little fat.  A dollop of crème fraiche or sour cream to finish and you have the perfect autumn soup.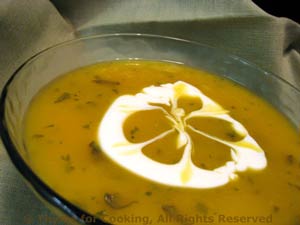 Ingredients:
1 medium leek
1/3 butternut squash   

about 2 cups, cubed

2 cups (16oz, 480ml) chicken stock
1 tbs olive oil
pinch of nutmeg
1 tsp dried sage
2 tsp dried parsley
2 tbs crème fraiche or Greek Yogurt
 Instructions:
Note:  To clean butternut squash first peel it, using a potato/vegetable peeler.  If it's large (typically) cut it in half between the 'neck' and 'bowl' ends.  Then cut those in half the 'long' way.  Scoop the seeds out of the round end and discard.  I use the neck end for uniform pieces and the bowl end for soups and smaller pieces. Wrap what you're not using in plastic wrap and refrigerate. 
Roast Turkey with Sage Stuffing
Total time: 4 hours
    A stuffed 8 - 10 pound turkey will take 2 1/2 - 3 1/2 hours to took.  You need a meat thermometer so you don't over cook it.  It is overcooking that causes dryness.  BTW, I checked some of my many cookbooks for roasting times and they ranged from 2 1/2 hours to 4 hours for an 8 lb bird... that's a big range - get a thermometer.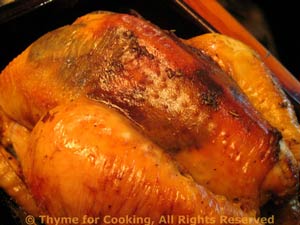 Ingredients:
1 small (8 - 10lb, 4 - 5 kg) turkey or large capon 
3 tbs soft butter
2 tsp dried sage
2 tsp dried rosemary
1 tsp Dijon-style mustard
1 - 2 cups turkey or chicken stock see below
1 cup (8oz, 240ml) Madeira
1/4 cup regular coffee or 1/4 tsp instant granules

2 - 4 tbs cornstarch dissolved in 2 - 4 tbs chicken stock

or more, depending on how much stock you have from the turkey
 Instructions:
Sage, Prosciutto, (Giblet) and Celery Stuffing
          Lay the bread out the night before to let it dry.  It, doesn't have to be perfectly, evenly dried.  If you are using the giblets add 4 more slices of bread.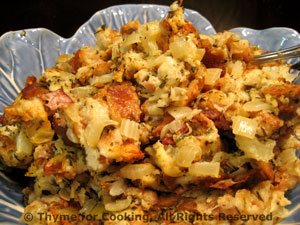 Ingredients:
 Instructions:
Chop the onion and celery.
Trim and chop the mushrooms, if using. 
Heat the butter in a large, nonstick skillet over medium heat. 
Add onions, celery,  (mushrooms) and sauté until tender, about 10 minutes.  
Chop the Prosciutto and add to the onions.  Sauté another 5 minutes.  
Set aside. 
Tear bread into small chunks and put into a large bowl. 
Add sage and thyme and mix well. 
Add celery/onions and chopped giblets and mix well. 
Now comes the hard part:
I can't tell you how much stock to use.  It depends on how dry your bread is, how moist the celery and onions are, etc.  Start with 1/2 cup and drizzle over the top of the bread chunks.  Mix well.  
Continue adding 1/4 cup at a time and mixing well.  Mixture should just start to cling together, not all of it but most of it, and none of the bread cubes should be totally dry nor should they be mushy.   Got it?   At this stage stop adding stock. 
In small bowl lightly whisk egg.
Fold into stuffing mixture and combine thoroughly. 
Stuff bird.
Refrigerate the remaining stuffing until ready to bake. 
An hour before dinner:
Put the refrigerated stuffing into a roasting pan, cover and put into the oven.  
Bake the stuffing for 30 minutes, remove cover and bake 15 minutes longer. 
Oven temp is whatever works for the rest of the dinner.  The stuffing in the bird will be very moist and in the pan rather dry - mix the 2 before serving.  
The finish: 
Remove the bird and put on a platter.  Cover with a foil 'tent' and let rest for 20 - 30 minutes. 
Pour juices from the roasting pan into a saucepan, adding stock to roasting pan to help scrape up the bits on the bottom if necessary. 
Skim off as much fat as you can. 
Add any remaining stock and/or Madeira and bring to a boil over medium heat. 
Taste - need anything?
Give cornstarch mix a stir and slowly whisk into the stock, stirring until thickened to your liking - more or less cornstarch as needed. 
Keep the gravy warm while you carve the bird. 
Remove stuffing from bird - both ends, and combine with baked stuffing. 
Carve, serve with stuffing and gravy on the side.
Fresh Spinach Gratin with Ricotta
Total time: 45 minutes
   This is a bit decadent for such a healthy vegetable as spinach, but it will please even those who don't normally like spinach.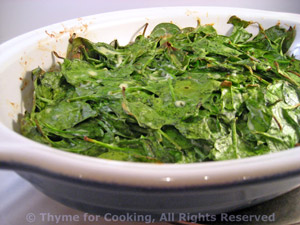 Ingredients:
16oz (480gr) fresh spinach 
1/4 cup flour
4 tbs butter
1/2 cup (4oz, 120gr) ricotta cheese
1/3 cup (3oz, 90ml) cream or milk
2 eggs
pinch of nutmeg
 Instructions:
Wash spinach, if needed, remove thick stems, and roughly chop.
In large bowl mix remaining ingredients.  It's a messy job but fingers work the best. 
When you have a sticky paste add the spinach and mix well. 
Put into a buttered gratin dish - a glass baking dish with low sides and bake at 375F (190 C) for about 30 minutes.  Serve.
Cranberry Cheesecake Pie 
Total time: 15 minutes plus 2 hours chilling
    We've had enough pumpkin and need some cranberries to round out our dinner.  This is a no-bake pie and goes together quickly.  And it's yummy!  Or you could buy one...  then you wouldn't have leftovers.... Based on a recipe from 'My Great Recipes'
 Ingredients:
1  8 - 9 inch (20cm) graham cracker or cookie pie shell
8 oz (240gr) cream cheese, softened  
1/4 cup sugar
1 tbs milk
1 tsp vanilla
1 cup whipping cream, or heavy cream, whipped
1 can cranberry sauce, 16oz (480gr)
1/2 cup orange marmalade
1/4 cup chopped walnuts
 Instructions:
Whip the cream, using whisk or electric mixer, until you have soft peaks. 
Stir together the soft cream cheese, sugar, milk and vanilla.  Should be well blended, soft and creamy. 
Carefully fold in whipped cream (Stir very gently from the bottom up through the top and only until blended.  You don't want to deflate the whipped cream.) 
Spread mixture into pie shell. 
Mix cranberry sauce, marmalade and walnuts. 
Spread on top.  Chill for at least 2 hours to set.
Cooking schedule: Time: 3 - 4 hours
Cranberry Pie: 15 minutes at least 2 hours earlier
Maple Glazed Sweet Potatoes - 20 minutes earlier
recipe below, bake at the same time as the stuffing
Additional Utensils: baking dish
The Dinner:
Evening before:  Lay out bread to dry
Earlier in the day or the day/night before:
Utensils: measuring cups, spoons, knives, small, medium and large saucepans with lids, blender, whisk or mixer, roasting pan for turkey, small, medium and large bowls, baking dish for spinach, baking dish for stuffing, foil
Take cream cheese out of fridge to warm.
Put stock, onion, celery tops, carrot and neck in pan
Bring to a boil, reduce heat, simmer, skim
Set table, arrange centerpiece
Tear bread
Add gizzard and heart to stock, skim
Whip cream
Mix cream cheese, sugar, vanilla, fold in cream
Mix cranberry, marmalade, nuts
Assemble pie, refrigerate
Add liver to stock, skim
Tidy kitchen, do whatever
Drain stock and cool
Dinner time:
Chop onion and celery, trim and chop mushrooms
Sauté onion and celery (and mushrooms)
Chop Prosciutto and add to onion/celery
Chop giblets and neck meat if using
Make stuffing
Mix herbs, butter and mustard
Prepare turkey, spread butter under skin

Stuff turkey, truss and start to roast
Put unused stuffing in fridge
Reduce heat on turkey
Prepare spinach
Roughly chop spinach and set aside
Mix coffee with turkey/chicken stock
Relax for an hour or 2 - just remember to baste
45 minutes before dinner: Turkey temp should be about 20 degrees from desired finish
Start to bake stuffing
Clean and slice leek, sauté
Add squash, stock, sage, nutmeg to leeks
Cover soup and simmer
Make spinach gratin, set aside
Baste the turkey some more
Heat the reserved stock for the gravy
Dissolve cornstarch in cold stock or water
Remove turkey (when done), tent
Turn oven to 375F (190C)
Bake spinach
Purée soup, finish and serve
Relax and enjoy
Done? Uncover stuffing
Put turkey on carving board
Drain pan juices, skim fat, scrape brown bits
Add leftover stock, Madeira
Heat pan juices for gravy
Un-truss turkey and remove stuffing
Hand the knife to someone else to carve
Remove stuffing from oven and mix
Finish gravy
Remove spinach
Serve and enjoy
Happy Thanksgiving!
Don't forget the pie...
Ginger Cranberry Sauce
Total time: 30 minutes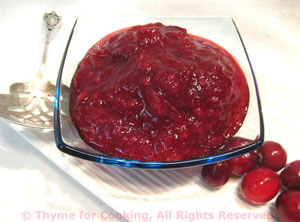 Ingredients:
3/4 cup (6oz, 180ml) apple juice
2/3 cup sugar
1 1/2 tbs minced fresh ginger, more or less
2 cups whole cranberries
 Instructions:
Heat juice, sugar and half of the ginger until sugar is dissolved. 
Add the whole cranberries and cook, simmering, just until most of them 'pop'. 
Remove and, with a potato masher, mash 2 or 3 times, no more. 
Add the rest of the ginger, stir well and cool. 
This will get very thick when cool and will keep for several weeks in the fridge.
Maple Glazed Sweet Potatoes
Total time: 60 minutes
     These are not overly sweet - no mini-marshmallows.  The taste of the sweet potatoes shines through and is enhanced, rather than overpowered, by the maple.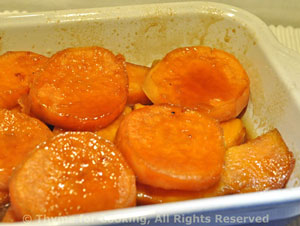 Ingredients:
24oz (1 1/2 lb, 720gr) sweet potatoes, 2 large
1/4 cup maple syrup
1/4 cup brown sugar
1 tbs butter
pinch of nutmeg
 Instructions:
Peel sweet potatoes and cut into 3/4 inch (2cm) rounds (the short way).
Cook in boiling, salted water until just tender, easily pierced with a knife.
Remove and drain. 
While potatoes cook heat the syrup, butter and brown sugar to boiling in a small saucepan.
Reduce heat and simmer 5 minutes.

To assemble:

Lay the potatoes in a baking dish just large enough to hold them all easily.  Don't fuss with the layers but do spoon a bit of syrup over each potato slice.
Pour the rest of the syrup over the top and bake, uncovered, 350F (175F) for 30 minutes.
Baste once after 15 minutes with the syrup from the bottom of the baking dish.   Serve.