Turkey with Sherry and Prosciutto
Mashed Butternut Squash
Cooking time:  30 minutes for menu          Cooking schedule: see below for instructions
       This is a slight variation on the traditional 'Newburg' using dry, air-cured ham in place of bacon.  I think the ham adds more flavor and a subtle woodsy tone more complex than the bacon. And, of course, the rest of the butternut squash. 
Turkey with Sherry and Prosciutto
Total time: 25 minutes
   Any cut of turkey breast will work for this. Or you could use chicken breast.  Amontillado is a semi-dry sherry, between 'fino' and 'cream'.  Use any sherry you have on hand.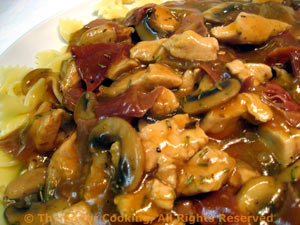 Ingredients:
12oz (360gr) turkey cutlets or turkey breast
4 slices Prosciutto or Iberian ham (3oz, 90gr)
4oz (120gr) mushrooms
1/2 cup (4oz, 120ml) chicken stock
1/2 cup (4oz, 120ml) Amontillado or dry sherry
1 tsp dried rosemary
1 tsp brown sugar
1 tbs cornstarch (maizena) dissolved in 2 tbs water
1 tbs olive oil
1 cup (3.3oz, 95gr) pasta penne, fusilli)
 Instructions:
Cook pasta according to package directions.
Cut turkey into bite-size pieces.
Clean and slice mushrooms.
Slice ham into bite-size pieces.
Heat oil in nonstick skillet.  Add mushrooms, ham and sauté 5 minutes.
Add turkey and sauté 5 minutes longer.
Add stock, sherry, rosemary, sugar, cover and simmer 10 minutes.
Uncover, stir in cornstarch mixture to thicken.
Serve over pasta.
Mashed Butternut Squash
Total time: 25 minutes
     Butternut squash, onions and sage, fried to a golden brown... A simple preparation for this savory fall vegetable.  Finish with a bit of fresh pepper and sea salt.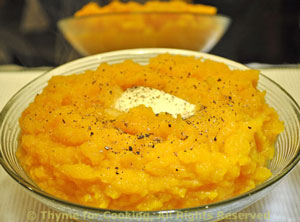 Ingredients:
 Instructions:
Cut squash into 1/2 inch cubes. 
Put into a steamer basket over boiling water and steam for 10 - 15 minutes, or until tender.  (Stick a fork in a piece).  If you crowd your steamer it may take a few minutes longer. 
When done, remove, put into a bowl, add 2 tbs crème fraiche and mash. 
Spoon into a bowl, make a well and add remaining 2 tbs crème fraiche. 
Add salt and pepper if using.
Note:  To clean butternut squash first peel it, using a potato/vegetable peeler.  If it's large (typically) cut it in half between the 'neck' and 'bowl' ends.  Then cut those in half the 'long' way.  Scoop the seeds out of the round end and discard.  I use the neck end for uniform pieces and the bowl end for soups and smaller pieces.
Cooking Schedule: 30 minutes
Assemble all ingredients and utensils
Utensils: measuring cups, spoons, knives, pasta pot and colander, medium bowl, saucepan with steamer basket and lid, medium skillet with lid
Put water on high heat for pasta
Clean squash if needed
Cut squash
Cut turkey
Slice Prosciutto
Clean, slice mushrooms
Sauté mushrooms, ham

Steam squash
Add turkey to skillet, sauté
Start to cook pasta
Add stock, sherry, rosemary, sugar to turkey
Cover, simmer
Dissolve cornstarch in water
Thicken sauce for turkey
Mash squash, finish
Drain pasta
Arrange pasta on platter
Spoon turkey on top
Serve