Spaghetti Carbonara
Fresh Fruit
Cooking time:  25 minutes for menu       Cooking schedule: see below for instructions
             Put the water on and go do something while it comes to a boil.  The sauce goes together while the pasta cooks.  It's simple, a bit decadent and delicious.  The fruit rounds out the meal.
Spaghetti Carbonara
Total time: 25 minutes
    The eggs are cooked by the hot pasta and water to form a creamy sauce without the cream.  The classic Italian dish uses pancetta, but regular bacon or Prosciutto will work equally well.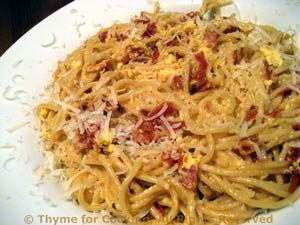 Ingredients:
4oz (120gr) spaghetti 

  about 1 1/4" (3cm) diameter bunch

4oz (120gr) pancetta  

substitute bacon or Prosciutto

2 tbs olive oil
2 eggs
1/2 cup Parmesan cheese (2oz, 60gr) plus more for sprinkling
 Instructions:
Cook pasta according to package directions. 

Slice pancetta or bacon into julienne strips. 
Grate Parmesan.
In medium bowl whisk eggs well. 
Add Parmesan and whisk.
When pasta is half cooked: 
Heat oil in medium skillet over medium heat.  Add pancetta and sauté until crisp. 
When pasta is done:
Drain, reserving 1/2 or all of the cooking water. 

(We only want 2 tbs, but we want it boiling hot.) 

Immediately put pasta into skillet with pancetta and toss well. 
Slowly pour 2 tbs of hot pasta water into the egg mixture, whisking constantly. 
Pour egg mixture over pasta, tossing well.  (Use tongs). 
Toss in skillet 1 minute, to heat through, then quickly put into warm bowl. 
Serve immediately with a bit more Parmesan for sprinkling.
Note: if pancetta is brown before pasta is ready, remove from heat, but make certain to have pancetta and pan hot again before draining pasta. 
Note 2: The addition of the hot water to the eggs is to 'temper' them, so they become a creamy sauce rather than scrambled eggs. If you heat in the skillet too long, however, they will still end up like scrambled eggs.
Fresh Fruit
Your choice
Cooking Schedule: 25 minutes for menu
Assemble all ingredients and utensils
Utensils: measuring cups, spoons, knives,
pasta pot and colander, large skillet, medium bowl,
whisk, grater, tongs
Put water for pasta on high heat
     Wait for it to boil
When boiling, start to cook pasta
Chop pancetta

Grate Parmesan
Sauté pancetta
Whisk eggs
Add Parmesan to eggs, whisk
When pasta is done, drain, reserving water
Add pasta to skillet, toss to combine
Slowly add 2 tbs hot water to eggs, whisking
Add eggs to pasta in skillet, toss 1 minute
Serve, don't forget the fruit...