Spinach with Chevre and Dates
Vieux Carré Scampi
Quinoa with Herbs
Brussels Sprouts with Prosciutto
Cooking time:  35 minutes for menu          Cooking schedule: see below for instructions
        Strangely enough, it was an airline meal (KLM) that introduced me to the great combination of goat cheese and dates: the sharpness of the cheese perfectly complements the sweet dates.  This salad was born.  Brie or Camembert would also be good.   Both the quinoa and Brussels sprouts cook in the same amount of time the shrimp are baked. Do the prep; start the cooking and enjoy the salad.
Spinach Salad with Chevre, Dates and Nuts
Total time: 15 minutes
   You can use any nuts you like for this.  I shelled some hazelnuts and walnuts from our trees.  If you have dates left, they will keep a long time (months) and make great snacks, or a quick dessert with a bit of cheese!  I normally keep a basket of mixed nuts and dried fruits on the counter for nibbling during the winter,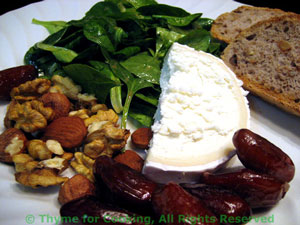 Ingredients:
3oz (90gr) fresh spinach
3oz (90gr) aged goat cheese (chevre)

either a slice from a large log or a whole small one

10 - 12 dates
2oz (60gr) walnut halves or hazelnuts, almonds, any mix
bread, optional 

I bought artisan rolls at the bakery

Balsamic Vinaigrette:
2 tsp Balsamic vinegar
1/2 tsp Dijon-style mustard
2 tbs good olive oil
 Instructions:
Wash spinach if necessary, and tear large leaves. 
In a medium bowl whisk together vinegar and mustard. 
Slowly add olive oil, whisking constantly until vinaigrette is thick and creamy. 
Add the spinach to the vinaigrette and toss well to coat.  
Arrange salad on 2 plates. 
Slice goat cheese in rounds or wedges. 
Arrange the goat cheese, dates and nuts around the salad.  Serve, with bread if using.
Vieux Carré Scampi
Total time: 30 minutes
    This is based on one of a 'box' of recipes I got years ago.  It's a bit heavy on the butter, which makes it ideal for serving over rice or pasta... or Quinoa.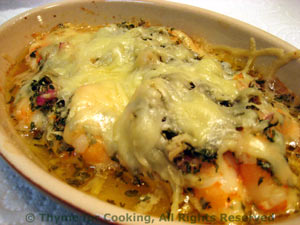 Ingredients:
12oz (360gr) shrimp (prawns)
1 tbs lemon juice
1 clove garlic, minced
1 shallot, finely chopped
1 tbs dried parsley
2 tbs butter

1/2 cup (2oz, 60gr) shredded cheese

-

your choice, I use Gruyère
 Instructions:
Clean shrimp if needed. 
Divide into 2 buttered, shallow, individual baking dishes or 1 larger one, arranging nicely. 
Divide garlic, shallots, parsley and sprinkle over shrimp. 
Drizzle with lemon juice, dot with remaining butter and sprinkle the cheese over all. 
Bake at 375F (190C) for 15 - 20 minutes, until hot, bubbly and shrimp are done. 
Time varies depending on size of shrimp.  Serve. 
Note: I put the small dishes on a baking sheet for easier handling.
Quinoa with Herbs 
Total time: 20 minutes
     I love the nutty flavor of quinoa, plus the fact that it's an 'almost perfect' food, and it's easy!  It can be cooked a bit ahead, then removed from heat and let sit, covered for 10 - 20 minutes. When ready to serve, uncover, stir in the herbs and spoon into a pretty bowl.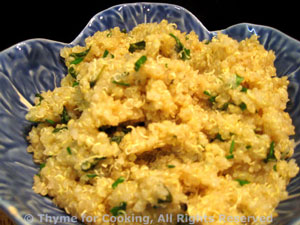 Ingredients:
1/2 cup (3.5oz, 100gr) quinoa
1 cup (8oz, 240ml) chicken stock
1 tsp dried chives   

or 1 tbs fresh

1 tsp dried marjoram
 Instructions:
Combine quinoa and stock in small saucepan.
Cover and bring to a boil.
Reduce heat and simmer until done, about 15 minutes  (or whatever your package says). 
When quinoa is done, uncover, fluff and serve.  
Note:  Add the dried herbs at the beginning, with the quinoa and stock; add fresh herbs at the end.
Brussels Sprouts with Prosciutto and Shallots
Total time: 25 minutes
    A bit of Prosciutto can liven up any vegetable but works particularly well with the cruciferous family.  Brussels sprouts are not bitter if not overcooked.  Allow these to stay just on the crispy side - cooked but not overcooked!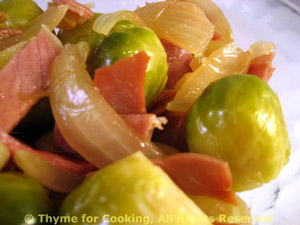 Ingredients:
12 - 15 medium Brussels sprouts
2 shallots, sliced
1 - 2 slices Prosciutto, roughly chopped
1 tsp olive oil
1/4 cup (2oz, 60ml) chicken stock
 Instructions:
Slice off stem end of sprouts and remove any wilted or damaged leaves. 
Heat oil in small nonstick skillet over medium heat. 
Add shallots, Prosciutto and sauté until shallots are transparent and Prosciutto is starting to crisp. 
Add sprouts, chicken stock, cover and simmer over medium heat until sprouts are just barely tender, 10 - 15 minutes, depending on size.  Check by piercing with a knife - it should go in fairly easily but with a little resistance.   Try not to overcook or they tend to get bitter. 
Remove cover and cook off any remaining liquid.  Serve. 
Cooking Schedule: 35 minutes
Assemble all food, utensils and serving dishes
Utensils: measuring cups, spoons, knives,
whisk, medium bowl, 2 small baking dishes or
1 medium, small saucepan, lid, small skillet, lid,
, baking sheet
Turn oven on, 375F (190C)
Clean shrimp if needed
Butter baking dishes, arrange shrimp in dishes
Chop shallot, sprinkle over shrimp
Mince garlic, sprinkle over shrimp
Sprinkle parsley over shrimp
Sprinkle lemon juice over shrimp
Dot with butter, sprinkle with cheese
Put small dishes on baking sheet, set aside
Trim sprouts

Chop Prosciutto/bacon, slice shallot for sprouts
Sauté shallots, Prosciutto
Wash, dry, tear spinach
Get chevre, nuts, bread organized
Make vinaigrette
Bake shrimp
Cook quinoa
Add spinach to vinaigrette, toss
Assemble salad
Add sprouts, stock to skillet, cover, simmer
Serve salad, relax, enjoy
Done? Food done?
Finish sprouts
Remove shrimp
Fluff quinoa, put into serving dish
Serve