Easy Barbecued Pork Chops 
Spanish Potatoes
Green Beans with Lemon and Soy Sauce
Cooking time: 35 minutes for menu      Cooking schedule: see below for instructions
     Potatoes and chops on the grill with easy, flavorful green beans to round it out.
Easy Barbecued Pork Chops 
Total time: 30 minutes
    More than a simple marinade, but not quite a barbecue sauce.  Finish with leftover or commercial Barbecue Sauce.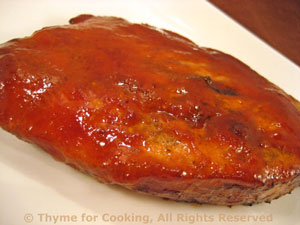 Ingredients:
2 - 4 pork chops, depending on size, 12oz (360gr) for boneless
2 tbs ketchup
1 tbs oil
1 tbs red wine vinegar
1 tbs Dijon-style mustard
2 tsp soy sauce
1 tsp chili powder
 Instructions:
Mix ketchup, oil, vinegar, mustard, soy sauce and chili powder.
Spoon over chops and let marinate 10 minutes.
Cook on barbecue grill for 5 - 8 minutes per side or until done.  Should be slightly pink in the center when done - take a peak (techniques). 

Or

fry in nonstick skillet over medium-high heat the same amount of time.  Serve.
Spanish Potatoes
Total time: 35 minutes 
   Cumin, paprika and sherry vinegar add a hint of Spain to these grilled potatoes.  Use any color pepper you like - and add hot peppers if so inclined.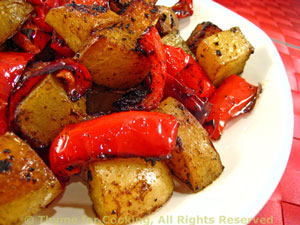 Ingredients:
2 medium potatoes
1 red bell pepper
1 tbs olive oil
1 tbs sherry vinegar
1/2 tsp cumin
1/2 tsp paprika
 Instructions:
Slice the pepper into thick slices.
Slice potatoes in half the long way, then in half again. Then slice in half or thirds the short way. 
Put spices, vinegar, olive oil into a large bowl, add potatoes, peppers, and toss well to coat. 
Put into 'grill pan' (a metal or foil pan dedicated to use on the grill) or onto a mesh grill pan (the idea is not to have the stuff fall through the grate into the fire....)
Cook over medium heat 20 - 30 minutes, until they all have a nice color and potatoes are done.  Serve.
Green Beans with Lemon and Soy Sauce
Total time: 20 minutes 
   I love the combination of lemon and soy sauce, the slightly tart, slightly salty blend enhances the flavors of most foods, particularly vegetables.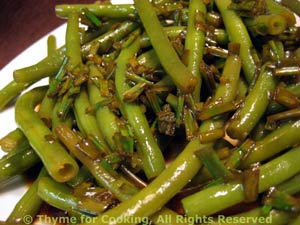 Ingredients:
6oz (180gr) green beans
2 tbs fresh snipped chives
2 tsp butter
2 tsp soy sauce
1 tsp lemon juice
 Instructions:
Top and tail and beans.
Cut in 1 1/2inch (4cm) lengths. 
Put in a small sauce pan with an inch of water.
Bring to a boil over medium heat.  Turn down to low and simmer until done - about 10 minutes. 
Drain beans and put into a serving bowl. 
Melt butter in same pan. 
Add soy sauce, chives and lemon and stir to combine.
Pour over beans and serve.
Cooking schedule: 35 minutes
Assemble all food, utensils and serving dishes
Utensils: measuring cups, spoons, knives,
large bowl, small bowl, dish for marinating, small
saucepan, barbecue grill, grill pan or pad, or skillet
Light/turn on barbecue grill
Mix oil, vinegar, spices in large bowl
Cut potatoes, add to bowl
Cut peppers, add to bowl
Stir well to coat, put in grill pan (or baking sheet)

Cook potatoes / peppers
Mix marinade, spoon over pork
Mind potatoes, peppers
Start to cook pork
Top and tail beans, cut, cook
Snip chives
Turn the pork
Drain beans
Melt butter, add soy, lemon, chives, pour over beans
Remove potatoes, chops from grill, serve