Chicken / Tarragon Mushroom Cream over Pasta
Cooking time: 30 minutes for menu           Cooking schedule: see below for instructions
         I cut the chicken in thick slices for this dish, making it more of a 'chicken' dish than a pasta.  Adding the spinach makes it a one-dish dinner of an easy meal during this busy week.
Chicken Breasts / Tarragon Mushroom Cream over Pasta
Total time: 30 minutes
      Chicken breasts, sautéed with shallots and mushrooms, finished with a luscious Tarragon Cream and served over pasta, simple mid-week meal worthy of your best china!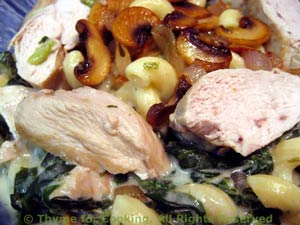 Ingredients:
2 chicken breasts, boneless, skinless
1 tbs olive oil
2 shallots
5oz (150gr) mushrooms
1 1/2 tsp dried tarragon
1 cup (8oz, 240ml) chicken stock
6oz (180gr) fresh spinach
1 tbs cornstarch (maizena, corn flour) dissolved in 2 tbs water
1/2 cup (4oz, 120gr) Greek yogurt
1 1/4 cups (4.2oz, 125gr) pasta, bite-size, penne, fusilli
 Instructions:
Cook pasta according to package directions. 
Finely chop shallots. 
Clean and thickly slice the mushrooms. 
Heat oil in medium nonstick skillet.  
Add chicken breasts and sauté about 7 minutes per side.  Remove and set aside. 
Add shallots and mushrooms to pan and sauté until shallots are tender and both are starting to brown.  
Add tarragon and 1/4 cup of the chicken stock, stir to get all the browned bits off the bottom of the pan. 
Return the chicken to the pan and add remaining stock.  
Cover and simmer over low heat until pasta is ready. 
Wash spinach if needed and drain well. 
Very roughly chop or slice, just to get big leaves into 2 or 3 pieces. 
When pasta is done, drain and put into a bowl. 
Add spinach to pasta and toss to combine. 
Remove chicken breasts.
Dissolve cornstarch in water and add to skillet,  stirring until thickened. 
Remove from heat and stir in yogurt.
Pour sauce over pasta, toss to coat.  
Thickly slice chicken breasts, arrange on top of the pasta and serve.
Cooking schedule: 30 minutes
Assemble all food, utensils and serving dishes
Utensils: measuring cups, spoons, knives,
skillet with lid, pot and colander for pasta
Put water on high heat for pasta
Sauté chicken breasts
Chop shallots
Clean, slice mushrooms
Turn chicken
Prepare spinach, roughly chop
Remove chicken, add shallots, mushrooms, sauté
Cook pasta

Add tarragon, stock to pan, stir
Add chicken, remaining stock to pan, cover, simmer
      Tidy up the kitchen while stuff cooks
Drain the pasta
Put pasta in bowl, add spinach, toss to combine
Remove the chicken
Dissolve cornstarch in water
Stir cornstarch mixture into sauce to thicken
Remove from heat, stir in yogurt
Add sauce to pasta, toss to combine
Slice chicken arrange on pasta
Serve.