Chicken with Onions, Bay and Thyme
Quinoa with Fried Onions
Butternut Squash with Browned Butter
Cooking time:  35 minutes for menu      Cooking schedule: see below for "menu"  instructions
      This is one of our favorite ways of cooking chicken breasts, keeping them moist and tender.
Chicken with Onions, Bay and Thyme
Total time: 35 minutes
     We think of bay leaves as something that is used in tomato based dishes, but they have a wonderful flavor that marries well with thyme, and shines through in this simple dish.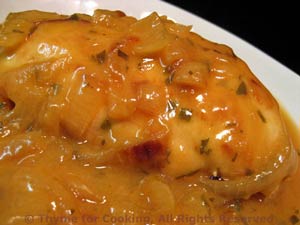 Ingredients:
2 chicken breasts, boneless, skinless
1 medium onion
2 cloves garlic
1 tbs olive oil
1 tsp thyme
2 bay leaves (laurel)
1/2 cup (4oz, 120ml) chicken broth
1/2 cup (4oz, 120ml) white wine
1 tbs tomato paste
1 tbs cornstarch (maizena, corn flour) dissolved in 2 tbs chicken stock
 Instructions:
Slice the onion and finely chop the garlic.
Sauté onion in oil in nonstick skillet over medium-high heat, about 5 minutes.
When onion starts to brown add garlic and sauté 1 minute longer.
Move onion and garlic to the sides of the pan, add chicken breasts, and sauté until lightly browned, about 7 minutes. 
Stir in thyme, bay leaf, wine, stock and tomato paste.
Cover, reduce heat and simmer until chicken is done, about 15 minutes.
Dissolve cornstarch in chicken stock.
Uncover skillet, increase heat and remove bay leaves.
Remove chicken to small platter.
Add cornstarch to onions and stir until sauce is thickened.
Spoon onions around chicken and serve.
Quinoa with Fried Onions and Celery
Total time: 25 minutes 
   This near-perfect food of the Incas has slowly been gaining recognition in the culinary world. It cooks quickly and has a nutty flavor that goes with everything. It is normally ready to cook, but if not it will need to be rinsed first.  If you can't find it, substitute Basmati or Jasmine Rice.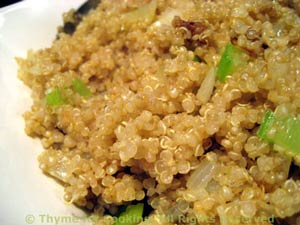 Ingredients:
1/2 cup quinoa
1 cup (8oz, 240ml) chicken stock (or the amount of liquid your package recommends)
1/2 onion, 

about 1/2 cup

1 small rib celery, 

about 1/2 cup

2 tsp olive oil
 Instructions:
Chop onion and celery. 
Put quinoa and stock in a small saucepan, cover and bring to a boil.
  Reduce heat and simmer until done, about 15 minutes  (or whatever your package says).
Put quinoa in serving bowl and cover to keep warm.
Heat oil in saucepan, add onion, celery, and sauté 7 - 9 minutes, until starting to brown.
Stir in quinoa, heat through and serve.
Butternut Squash with Browned Butter
Total time: 25 minutes
     The salty Browned Butter is the perfect foil to the sweet squash.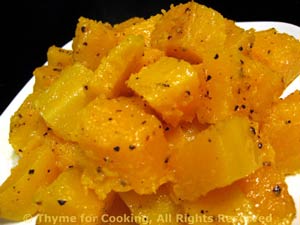 Ingredients:
12oz (360gr) butternut squash, 

about 1/2 small squash.

1 1/2 tbs butter
black pepper, salt, optional
 Instructions:
Cut squash into 1/2 inch cubes
Put into a steamer basket over boiling water and steam for 10 - 15 minutes, or until tender.  (Stick a fork in a piece).  If you crowd your steamer it may take a few minutes longer.
When done, remove, put into a serving dish and cover to keep warm.
Drain the pan and return to medium heat.  Add the butter and let it melt and brown, undisturbed.  Watch carefully once it starts to brown, as it can burn very quickly.
When brown, add pepper and salt if you like, and pour over the squash, using rubber spatula to scrape it all out.   Serve.
Note:  To clean butternut squash first peel it, using a potato/vegetable peeler.  If it's large (typically) cut it in half between the 'neck' and 'bowl' ends.  Then cut those in half the 'long' way.  Scoop the seeds out of the round end and discard.  I use the neck end for uniform pieces and the bowl end for soups and smaller pieces.
Cooking schedule: 35 minutes
Assemble all food, utensils and serving dishes
Utensils: measuring cups, spoons, knives,
medium skillet with lid, medium saucepan with
steamer basket and lid, small saucepan with lid
Slice onion for chicken, sauté
Chop onion, celery for quinoa
Mince garlic
Add garlic to onions, sauté
Add chicken breasts, sauté
Cook quinoa
Peel squash, if needed, cut into cubes, steam
Turn chicken

Add thyme, bay, stock, wine, tomato to chicken
Stir well, cover, simmer
     Pause while it all cooks
Remove quinoa to bowl, cover to keep warm
Sauté onion, celery for quinoa
Dissolve cornstarch in stock
Remove butternut squash, cover to keep warm
Brown butter
Uncover chicken, remove bay, chicken, increase heat
Add cornstarch, stir until thickened
Spoon sauce over chicken
Finish squash, quinoa
Serve