White Chili
Oatmeal Drop Biscuits
Cooking time:  45 minutes for menu      Cooking schedule: see below for "menu"  instructions
      I used 4 cups of thawed zucchini soup that I made last summer to add body to this chili. Assuming not everyone has frozen zucchini soup on hand, I modified the recipe to use puréed beans.
Note:  The time assumes the beans are cooked - allow all day or do an over-night soak if using dried beans.  This freezes well.
White Chili
Total time: 45 minutes
    It's not really white, just not red, like traditional chili. For that matter, it's not really chili either.  It IS delicious, and chock-a-block with vitamins.  The green chiles add heat, as does the Tabasco.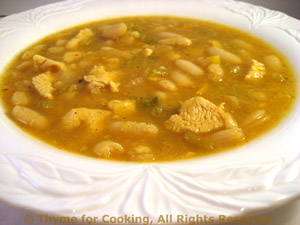 Ingredients:
2 cups dried white beans cooked in water with 4 bay leaves and 4 cloves of garlic

or

5 cups (45oz, 1350gr) canned cannellini beans, drained and rinsed

6 - 8 cups chicken stock

or bean cooking liquid and chicken base

2 chicken breasts, boneless, skinless
1  green pepper
1  yellow pepper
1 1/2 medium onions
4 cloves garlic
3 ribs celery
1 tbs olive oil
4oz (120gr) green chiles - or something hotter
1 1/2 tsp chili powder
1/2 tsp cumin
2 tsp oregano
green Tabasco to taste
 Instructions:
To cook dried beans: 

Put beans in a large pot, cover with water and allow to soak for at least 5 hours.
Drain and cover with fresh water.  Bring beans to a boil over medium heat and simmer partially covered for 20 minutes. 
Drain  and cover with fresh water by 2 inches.  Add bay leaves, whole, peeled garlic and 1 1/2 tsp salt.  Bring to a boil, reduce heat and simmer, partially covered until beans are tender, 60 - 90 minutes.
Drain, reserving the cooking liquid; discarding bay leaves and garlic.

The chili: 

Cut chicken into small pieces.
Chop onion, peppers, celery.
Mince garlic. 
Open and chop chiles.
Heat oil in soup pot.  Add chili powder, cumin, and sauté.
Add onion, celery and peppers; sauté 5 minutes.
Add garlic, chicken and sauté 5 minutes longer.
Add oregano and 5 cups chicken stock. 
Purée 1 cup of beans with 1 cup chicken stock and stir into pot.
Add remaining beans, cover and simmer 20 minutes.
Add more chicken stock to suit your taste if desired, then add green chiles and simmer 10 minutes longer.
Taste; add as much green Tabasco as you like and / or more chili powder, hot sauce.  Serve.
Note:  I used the bean cooking liquid with 2 tbs chicken base added in place of the chicken stock.
Oatmeal Drop Biscuits
Total time: 20 minutes 
      Very easy, just drop and bake.  The egg and 3 tsp of baking powder make these raise quickly and get quite large and light.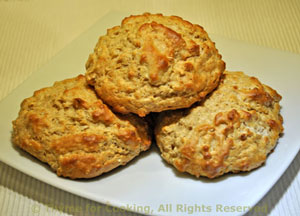 Ingredients:
1/2 cup white all purpose flour
1/2 cup whole wheat flour  or all white
1/2 cup oatmeal
3 tsp baking powder
1/2 tsp salt
3 tbs butter
1 egg
2 tbs honey
1/3 cup milk
 Instructions:
Combine flours, oatmeal, baking powder and salt in a bowl and stir well to combine.
Add the butter and cut in with a pastry cutter, fork or 2 knives until well blended.
In another bowl whisk egg lightly.
Add milk, honey and whisk lightly.
 Add wet ingredients to dry ingredients and stir gently until just combined.
Dividing the dough into 6ths, spoon onto nonstick or lightly greased baking sheet, 2 inches apart.
Bake for 10 - 12 minutes at 400F (200C) oven or until lightly browned.
Remove and serve immediately.
Cooking Schedule: 45 minutes for menu - allow full day if using dried beans
Assemble all ingredients and utensils
Utensils: measuring cups, spoons, knives,
large pot with lid, blender, large bowl, medium bowl,
whisk, baking sheet
Prepare beans if using dried - either start early in
morning or do over-night soak
Cut chicken
Chop onion, peppers, celery
Mince garlic
Open, drain, chop chiles
Sauté spices
Add onion, celery, pepper, sauté

Add garlic, chicken, sauté
Add oregano, 5 cups stock
Purée 1 cup beans with 1 cup stock, add to pot
Add remaining beans. cover, reduce heat, simmer
Turn oven on, 400F (200C)
   Take a 10 minute break - or longer, it's soup!
Back?
Mix dry ingredients for biscuits
Cut in butter
Mix wet ingredients for biscuits
Combine biscuits, spoon on baking sheet, bake
Add green chiles to chili
Taste chili, adjust
Remove biscuits, Serve