Menu Plan for the week of June 7, 2013: Sunday's Recipes
Grilled Chicken Breasts with Mustard Sauce
German Summer Salad
Lettuce Salad with Creamy Dressing
Cooking time: 40 minutes for menu Cooking schedule: see below for instructions
The Mustard Sauce adds flavor to the Chicken Breasts - and we like sauces, even in summer. The potato salad is for 2 meals.
Grilled Chicken Breasts with Mustard Sauce
Total time: 35 minutes
Grilled chicken breasts finished with a warm mustard sauce; a little bit of heat for summer cooking.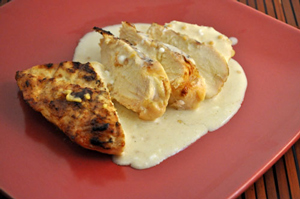 Ingredients:
2 boneless, skinless chicken breasts
1 cup (8oz, 240ml) chicken stock
1/4 cup (2oz, 60ml) sherry or white wine
1 tbs Dijon-style mustard
1 tsp mustard seed
4 tbs (2oz, 60gr) Greek or plain yogurt
1 tbs olive oil

1 tbs Dijon-style mustard

-

yes, another tbs.
Instructions:
Combine stock, sherry in a small saucepan and bring to a boil over medium-high heat.
Continue to boil until reduced to about 1/3 cup.
Whisk in mustards, reduce heat and simmer 2 minutes.
Remove from heat and allow to cool slightly.
Stir in Greek yogurt.
Mix 1 tbs Dijon mustard with 1 tbs olive oil and spread on chicken breasts.
Cook on barbecue grill for 10 - 15 minutes or until done. Remove from heat, slice and serve with sauce.

Or

can be baked for 20 - 25 minutes 400F or sauté for 15 - 20 minutes - in all cases until done.
German Summer Potato Salad
Total time: 35 minutes
This recipe is based on one from the Time Life "Foods of the World" series that I have had for years. The first time I had a similar salad was in Germany, I had expected the typical Midwestern version of Hot German Potato Salad and was wonderfully surprised by this light salad, perfect for summer, and much lower in calories than other potato salads. This recipe serves 4 and in our menu is meant for 2 meals.
Ingredients:
4 medium potatoes, 20oz (600gr) total
1 large onion
3/4 cup (6oz, 180ml) chicken stock
2 tbs olive oil
1 tbs white wine tarragon vinegar
2 tbs Dijon-style mustard
1 tbs lemon juice
Instructions:
Put a large saucepan half full of water on medium heat and bring to boil.
Cut potatoes - the long way, first in half, then in half again. Now slice (the short way) about 1/4 inch thick. We are aiming for bite size so if you have a huge potato, adjust accordingly.
Add to water, cover partially and cook until done, about 15 minutes.
Drain, put into a serving bowl and immediately pour sauce over, turning to coat slices evenly. Set aside to cool while finishing dinner.
Sauce:
Finely chop onion and sauté in olive oil until transparent.
Add stock, vinegar and mustard and bring to boil over medium-high heat.
Boil for 5 minutes, stirring frequently.
Remove from heat and stir in lemon juice.

To serve:

Salad should be served just slightly warm or at room temperature. Refrigerate leftovers.
Lettuce Salad with Creamy Dressing, Walnuts and Cheese
Total time: 10 minutes
This is another small side salad: to round out the meal. You can add bits of anything you have on hand; we're using some walnut halves and a bit of cheese. The yogurt dressing is similar to 'Ranch'.... but without all the unpronounceable ingredients...
Ingredients:
lettuce, enough for two small salads
1/4 cup shredded cheese - any flavor
1/4 cup walnuts halves
1/3 cup creamy herb dressing
Instructions:
Prepare lettuce and put into a medium bowl.
Add a bit of dressing and toss to coat (use tongs, it's easier).
Taste and add more dressing if desired.
Add cheese and walnuts, give it another toss or two and serve.
Creamy Herb Dressing
Ingredients:
1/4 cup plain yogurt
1 1/2 tsp Dijon-style mustard
1 1/2 tsp lemon juice
2 tsp fresh snipped chives

Substitute 2 tsp dried

1 tsp fresh snipped tarragon

Substitute 2 tsp dried

4 tsp salad olive oil
Instructions:
Snip tarragon and chives with scissors.
In small bowl whisk yogurt, mustard and lemon juice.
Add oil, a bit at a time and whisk well.
Add herbs.

This will keep a week.
Cooking Schedule: 40 minutes for menu
Assemble all ingredients and utensils
Utensils: measuring cups, spoons, knives,
scissors, 2 small bowls, whisk, salad bowl, tongs,
small saucepan, large saucepan, lid, bowl, dish for
marinating, medium skillet, barbecue grill or skillet
Turn on/light barbecue grill
Put water on high heat for potatoes
Cut potatoes, add to water
When water is boiling, reduce heat, partially cover
Combine stock, sherry, reduce
Mix mustard, oil, spread on chicken, set aside
Chop onion
Sauté onion
Prepare lettuce

Snip herbs
Add stock, vinegar, mustard to onions, simmer
Add mustards to stock, simmer
Start to cook chicken
Remove potatoes, drain, put in bowl
Add lemon to dressing, stir, pour over potatoes, stir
Remove sauce from heat, add yogurt, stir
Turn chicken
Shred cheese if needed
Make vinaigrette
Stir potatoes
Remove chicken, let rest
Make salad
Slice chicken, spoon a bit of sauce over
Serve all refrigerate half the potatoes for Tues.