Menu Plan for the week of June 7, 2013: Saturday's Recipes
Spinach 'Caprese' Salad
Grilled Balsamic-Glazed Veal Chops
Basmati Rice and Asparagus Gratin
Cooking time: 40 minutes for menu Cooking schedule: see below for instructions
We don't do veal chops often, but, as the veal is much better than the beef we get, we love having them done on the grill a few times during the summer. You could substitute pork chops or a steak. Cook veal chops at the last minute - you don't want to overcook....
Spinach Caprese Salad
Total time: 10 minutes
Spring is too early for a proper 'Caprese' Salad, but why not improvise with cherry tomatoes and spinach?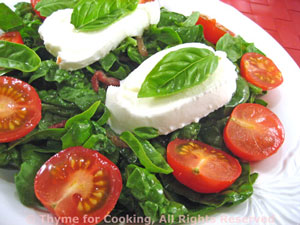 Ingredients:
3oz (90gr) spinach
1 ball mozzarella de Bufala,

package weight usually around 8oz (250gr), net weight 4oz (125gr)

10 - 12 cherry tomatoes
1/2 onion
1oz (30gr) bacon
1 tbs Balsamic vinegar
1 tbs plus 1 tsp olive oil
handful fresh basil leaves
more oil and Balsamic as desired
Instructions:
Prepare spinach, wash and spin dry if needed. Tear for salad.
Cut mozzarella into 4 slices.
Cut cherry tomatoes in half.
Select nice basil leaves for on top of the mozzarella. Put any others in with the spinach.
Roughly chop onion.
Cut bacon into matchsticks.
Sauté onion and bacon in 1 tsp olive oil until bacon is crisp.
In a medium bowl whisk together 1 tbs olive oil and 1 tbs Balsamic vinegar.
Add spinach and toss well to coat. Add bacon and onion, toss lightly.
Divide spinach onto two plates.
Arrange tomatoes around the edges of the spinach.
Arrange the mozzarella on top of the spinach and top mozzarella with basil leaves.
Serve, with extra oil and vinegar on the side.
Grilled Balsamic-Glazed Veal Chops
Total time: 30 minutes
Simplicity is often best. A light glaze of Balsamic Vinegar gives these chops a bit of color and a hint of flavor.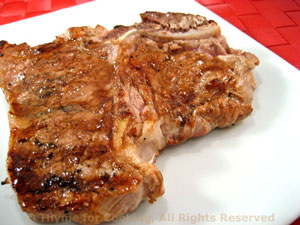 Ingredients:
2 veal chops, preferably center- cut and about 1" (2.5cm) thick
2 tbs Balsamic vinegar
2 tbs olive oil
Instructions:
Mix olive oil and vinegar well with whisk.
Spoon on both sides of chops and set aside for 10 - 20 minutes.
Grill chops on barbecue for 10 - 12 minutes
depending on how thick and how done you want them or broil 12 - 15 minutes. Take a peak to see how done they are.
Remove from grill and serve.
Basmati Rice and Asparagus Gratin
Total time: 40 minutes
The asparagus is blanched before assembling the gratin, to help keep it's vibrant green color.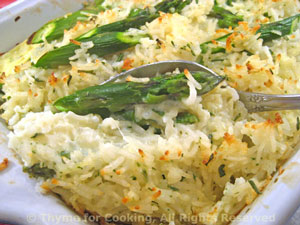 Ingredients:
1/2 cup (3.3oz, 95gr) Basmati rice
1 cup (8oz, 240ml) chicken stock
8oz (240gr) asparagus
1/2 cup (4oz, 120ml) milk
1/2 cup (2oz, 60gr) shredded cheese
1 egg
1 tbs fresh, snipped tarragon

substitute 1 tsp dried

2 tsp olive oil
Instructions:
Cook rice in chicken stock.
Trim asparagus and cut into 2" (5cm) lengths.
Blanch for 2 minutes in boiling water.
Drain and refresh in very cold water.
Lightly whisk egg.
Add milk and tarragon, whisk to combine.
When rice is done spread on a plate and allow to cool for 5 minutes.
Lightly oil baking dish.
Add cheese, asparagus and rice to egg mixture. Stir to combine and spoon into baking dish.
Bake, 400F (200C) for 20 minutes.
Remove and serve.
Cooking Schedule: 40 minutes for menu
Assemble all food, utensils and serving dishes
Utensils: measuring cups, spoons, knives,
scissors, small bowl, medium bowl, salad bowl, whisk,
small saucepan, medium saucepan, small skillet,
baking dish, plate, barbecue grill
Cook rice
Heat water in medium saucepan
Mix oil, vinegar, spoon on chops
Trim, cut asparagus
Shred cheese if needed
Prepare spinach
Blanch asparagus
Slice mozzarella, cut cherry tomatoes
Select basil leaves, snip herbs
Drain asparagus, refresh in cold water
Chop onion, slice bacon
Sauté onion, bacon
Turn on / light barbecue grill

Turn on oven, 400F (200C)
When rice is done, spread to cool
Remove onion, bacon from heat, drain fat
Whisk egg
Add milk, tarragon
Oil baking dish
Add cheese, asparagus, rice to eggs, stir
Spoon gratin into dish, bake
Whisk vinegar, oil in salad bowl
Add spinach, herbs, toss to combine
Add bacon, onion, toss to combine
Arrange salad on plates
Top with mozzarella, basil, tomatoes
Serve salad
Done? Cook chops
Remove gratin
Turn chops
Remove chops
Serve all