Menu Plan for the week of June 7, 2013: Friday's Recipes
Egg Linguini with Warm Avocado Sauce
Shrimp and Asparagus Salad
Cooking time: 30 minutes for menu Cooking schedule: see below for instructions
We used smallish shrimp for the salad, and large couscous - aka: Israeli couscous, Portuguese cuscus, pearl couscous. The 'noodles' are made from a thinly sliced, flat omelet.
Egg Linguini with Avocado Sauce
Total time: 30 minutes
A spring update on the 'Egg Noodles with Prosciutto', these noodles are dressed with a light, warm avocado sauce. Garnish with a few cherry tomatoes to add color.
Ingredients:
Noodles:
3 eggs
2 1/4 tsp flour
4 1/2 tsp milk
1 tsp oil
Sauce:
1 avocado
1/3 cup (3oz, 90ml) chicken stock
1 tbs lemon juice
2 tbs Greek or plain yogurt
Garnish, optional
2 - 4 cherry tomatoes
Instructions:
Sauce:
Cut avocado and remove pit (see techniques).
Scoop it out of the shell and put it into a blender.
Add chicken stock, lemon juice and purée until smooth.
Pour it into a small saucepan and gently heat until just warm.
Stir in yogurt, keep barely warm until needed.

Noodles:

Put eggs in medium bowl and whisk well.
Add flour, a little at a time, sprinkling it across the eggs, and whisking well after each addition. Try to avoid lumps.
Add the milk and whisk well.
Heat the oil in a medium nonstick skillet or omelet pan, 7 - 8" (20cm) in diameter, over medium heat.
Add 1/3rd of the egg mixture, tilting pan to cover well. Let cook, undisturbed for 1 - 2 minutes, until cooked through and top is dry.
With a spatula, carefully turn and cook on the other side for 30 seconds.
Remove to a plate. Do not keep warm.
Repeat twice more.
When eggs are done, and cooled slightly, roll each up like a cigar and slice 1/4" (.6cm) strips.
Divide strips in half. Arrange on plates, spoon sauce over, garnish and serve.
Shrimp and Asparagus Salad
Total time: 30 minutes
This calls for large couscous, which is prepared like pasta. If you can't get it, use 1/2 cup regular couscous, prepared by pouring 3/4 cup boiling stock over and letting sit, covered, for 10 minutes.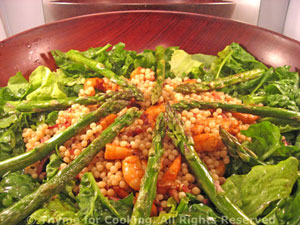 Ingredients:
12oz (360gr) shrimp, cleaned
8oz (240gr) asparagus
1/2 cup (4oz, 120gr) large couscous
1 cup (8oz, 240ml) chicken stock
1 cup (8pz, 240ml) water
6oz (180gr) salad greens - lettuce, spinach...
2 tbs fresh, snipped basil
2 tbs fresh, snipped parsley
1 tbs fresh snipped tarragon
1/3 cup chopped green olives,

about 12

2oz (60gr) bacon
1/2 medium onion
1 tbs Balsamic vinegar
4 tsp olive oil divided
1/2 tsp paprika
Vinaigrette:
1 tbs Dijon-style mustard
1 tbs tarragon white wine vinegar
3 tbs salad olive oil
Instructions:
Prepare greens, rinse, spin dry if needed.
Clean shrimp if needed.
Cook large couscous in stock and water until done - either according to package instructions, or do a taste test.

Mine took 10 minutes.

Drain.
Snip herbs.
Chop olives.
Slice bacon into matchsticks.
Chop onion.
Trim asparagus but leave whole.
Heat 2 tsp olive oil in a large skillet. Add asparagus and sauté until crisp-tender, about 5 minutes.
Remove and set aside.
Add remaining 2 tsp olive oil and paprika. Sauté 1/2 minute.
Add shrimp and quickly sauté until cooked through. They will curl and turn opaque when done.
Remove and set aside.
Add bacon, onion to skillet and sauté until bacon is crisp.
Remove skillet from heat and add Balsamic vinegar, cooked couscous, olives and shrimp. Stir well to combine.
Vinaigrette:
Whisk mustard and vinegar together in a small bowl.
Gradually whisk in olive oil until thick and creamy.

To finish:

Toss greens, herbs with vinaigrette and arrange in large salad bowl or on two plates.
Spoon shrimp and couscous into the center, arrange asparagus on top and serve.
Cooking Schedule: 30 minutes for menu
Assemble all ingredients and utensils
Utensils: measuring cups, spoons, knives,
scissors, small bowl, medium bowl, whisk (used 2 X),
2 small saucepans, 1 lid, medium skillet or omelet pan,
blender, large skillet, large bowl, tongs
Clean shrimp if needed
Prepare lettuce, wash, drain / spin
Heat stock, water for couscous
Slice, pit avocado
Put avocado, stock, lemon in blender, purée
Put sauce in saucepan, warm
Whisk eggs, flour, milk
Heat skillet or omelet pan
Make 3 omelets, allow to cool
Cook couscous
Stir yogurt into warm avocado sauce
Remove sauce from heat, cover to keep warm
Trim asparagus, but leave whole
Sauté asparagus

Slice bacon
Chop onion
Turn asparagus
Snip herbs, cut olives
Drain couscous
Remove asparagus
Sauté shrimp
Make vinaigrette
Remove shrimp
Sauté onion, bacon
Roll omelets, slice
Arrange 'linguini' on plates
Cut cherry tomatoes, garnish
Toss greens, herbs with vinaigrette, arrange in bowl
Remove skillet from heat
Add Balsamic, couscous, olives, shrimp
Spoon shrimp/couscous on greens
Top salad with asparagus
Top linguini with avocado sauce
Put salad on table, admire while eating linguini