Menu Plan for the week of June 7, 2013: Wednesday's Recipes
Pesto Pasta Salad with Grilled Chicken
Cooking time: 25 minutes for menu Cooking schedule: see below for instructions
This is a variation on the traditional Pasta with Pesto Sauce, with feta and olives giving it a bit of Greek flair.
Pesto Pasta Salad with Grilled Chicken
Total time: 25 minutes
This is not the prettiest salad, pesto usually isn't... But the taste is wonderful: the feta and Greek Olives adding just the right amount of contrast to the chicken and pasta.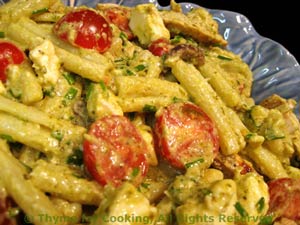 Ingredients:
2 chicken breasts, boneless, skinless
Marinade for chicken breasts:
1 tbs Worcestershire Sauce
1 tbs olive oil
1 tbs red wine vinegar
1 tsp dried basil
Pasta Salad:
1 1/4 cup (4.2oz, 125gr) pasta: gemelli, fusilli, penne
3oz (90gr) cherry tomatoes

about 1/2 cup before slicing

3oz (90gr) feta
1/2 cup Greek or Kalamata olives
2 tbs fresh snipped chives
Dressing:
2 tbs Greek or plain yogurt
4 tbs pesto
1 tbs salad olive oil
Instructions
Cook pasta according to package instructions.
Chicken Breasts
Mix Worcestershire, vinegar, basil and oil in a small bowl.
Pour over chicken and allow to marinate a few minutes.
Cut tomatoes in half.
Cut feta into small cubes or crumble.
Pit olives, if needed, and cut in half or thirds.
Snip chives.
Cook chicken, either on barbecue grill or nonstick skillet, 7 - 10 minutes per side, or until done.
When done, remove and slice.
To finish:
In pasta bowl, mix pesto, oil and yogurt.
When pasta is done drain, rinse lightly with cool water, drain well and add to pesto in bowl. Toss to coat.

Add chicken, tomatoes, olives, feta and chives, toss gently to combine and serv

e.
Note: If using leftover chicken, cut into bite-size pieces and add to pasta.
Fresh Fruit
Your choice.... peaches?
Cooking schedule: 25 minutes
Assemble all food, utensils and serving dishes
Utensils: measuring cups, spoons, knives,
scissors, pot for pasta, colander, pasta bowl,
marinating dish, barbecue grill or large skillet
Put water on high heat for pasta
Make marinade for chicken, pour over chicken
Light/turn on barbecue grill if using
Cut tomatoes in half
Snip chives
Cut feta

Pit olives if needed, cut
Start to cook pasta
Start to cook chicken
Wait for everything to cook
Turn chicken
Remove chicken and slice
Drain pasta
Mix pesto, yogurt, oil
Add pasta, stir to combine
Finish salad and serve
Don't forget the fruit