Menu Plan for the week of July 26, 2013: Saturday's Recipes
Grilled Zucchini (Courgette) Salad
Barbecued Veal Chops
Potatoes with Dijon and Rosemary
Green Beans with Butter and Pine Nuts
Cooking time: 30 minutes plus 5 earlier Cooking schedule: see below for instructions
Marinate the chops earlier in the day. The zucchini and onion are quickly grilled for a warm summer salad. The beans can be done while the salad grills and finished while the chops grill. I marinate the chops for 5 hours.
Grilled Zucchini (Courgette) Salad with Feta and Olives
Total time: 15 minutes
I used 1 small green and 1 small yellow courgette for this salad... Just for color and interest. A basket works best and helps keep the onion together in slices. Serve the salad still warm from the grill.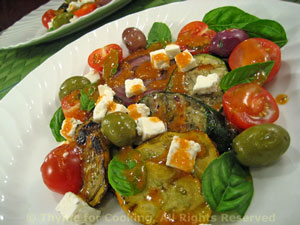 Ingredients:
2 small or 1 medium zucchini
1 red onion
1 tbs olive oil
1/2 tsp paprika
8 - 10 olives
8 - 10 cherry tomatoes
handful basil leaves
2oz (60gr) feta cheese
Sherry Vinaigrette:
1 tbs sherry vinegar
1 tbs ketchup
2 tsp Dijon-style mustard
2 tbs olive oil, for salad
Instructions:
Cut zucchini into 1/3" (1cm) thick slices. If using small zucchini cut at an angle for larger slices.
Slice onion.
Lay zucchini and onion on a plate.
Brush both sides with oil and sprinkle with paprika.
Place in a grill basket and grill over direct heat for 7 minutes, turning once.
Remove and arrange, slightly overlapping, on two plates.
Cube or crumble feta.
Cut tomatoes in half.
Make vinaigrette:
Whisk vinegar, ketchup and mustard together in a small bowl.
Slowly whisk in oil.
To finish:
Top zucchini slices with tomatoes, olives, feta and basil leaves.
Drizzle with vinaigrette and serve.
Barbecued Veal Chops
Total time: 20 minutes
Veal tends to be a mild flavored meat that lend itself well to robust sauces and marinades. The chops can marinate anywhere from 1 - 8 hours so start the marinade whenever you have a spare 5 minutes.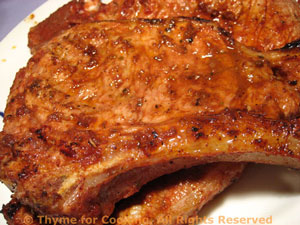 Ingredients:
2 veal chops, 18oz total weight (540gr)
Barbecue Marinade:
8oz (240ml) tomato sauce
1/3 cup (3oz, 90ml) red wine
1/3 cup (3oz, 90ml) olive oil
1 tbs lemon juice
1 small onion, chopped
2 cloves garlic, minced - or 1 tsp garlic powder
2 tsp chili powder
1 tsp dried oregano
Instructions:
Mix all ingredients for marinade and pour over chops.
Refrigerate for at least 1 and up to 8 hours.
Remove chops from marinade and cook on barbecue grill for 4 - 6 minutes a side depending on thickness or until done to desired degree.
Could also be sautéed or broiled for about same amount of time. Serve.
Grilled Dijon Potatoes
Total time: 40 minutes
The mustard keeps these from getting as brown as most grilled potatoes, but it also keeps them very moist.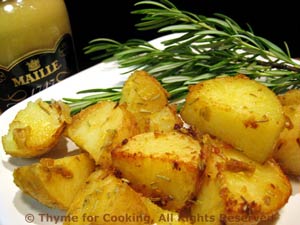 Ingredients:
2 medium potatoes (10oz, 300gr)
1 tbs Dijon-style mustard
2 tbs olive oil
1/2 tsp garlic powder
1 tsp dried rosemary or 1 tbs fresh
Instructions:
Cut potatoes in 4ths the long way and then in thirds the short way.
Put remaining ingredients into medium bowl and mix well - it will get thick.
Add potatoes and toss well to coat.
Now you have two choices: you can put them in the oven on a baking sheet with lip (trusty round pizza pan) and bake at 400F (200C) for 35 minutes, or put them in an old 'for barbecue only' metal pan and cook over direct heat on the barbecue, stirring frequently until brown and done, 20 - 25 minutes or over indirect heat for 35 - 40 minutes, stirring occasionally.
Remove from pan and serve.
Green Beans with Butter and Pine Nuts
Total time: 20 minutes
I like the flavor pine nuts add, just sprinkling a few on a vegetable or salad can turn a plain dish into something a little more special. Quickly sautéing them in butter adds a light toasting.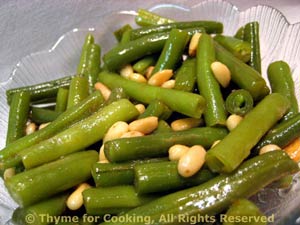 Ingredients:
6oz (180gr) green beans
1 1/2 tbs butter
1 tbs pine nuts
Salt and pepper to taste
Instructions:
Put an inch of water in the bottom of your steamer and bring to a boil, covered.
Top and tail beans... cut off the ends. Cut into 1 1/2 inch lengths (4cm) or leave whole.
Add beans to steamer when water is boiling. Cover and steam for 10 minutes.
Uncover and taste a bean. If not done leave in for another 1 - 2 minutes. If done, remove beans and spread on a plate to cool slightly and stop cooking.
Heat medium nonstick skillet over medium heat. Add pine nuts and toast, shaking pan occasionally until golden, 4 - 5 minutes.
Add butter and beans. Heat through.
Add salt and pepper to taste and serve.
Cooking Schedule: 30 minutes plus 5 minutes earlier
Assemble all food, utensils and serving dishes
Utensils: measuring cups, spoons, knives,
scissors, small bowl (used 2X), whisk, medium bowl,
grill pan, saucepan, steamer basket, lid, medium skillet,
marinating dish, barbecue grill, grill basket /mat, plate
Earlier in the day:
Make marinade, spoon over chops
Cover and refrigerate, 1 - 8 hours
Dinner time:
Turn on/light barbecue grill
Slice zucchini, onion
Oil vegetables, sprinkle paprika, place in basket
Mix sauce for potatoes
Cut potatoes, add to sauce, stir
Heat water in steamer for beans
Start to cook potatoes
Grill zucchini, onion

Top and tail beans, add to steamer, cook
Turn zucchini, onion
Cut tomatoes, feta
Remove zucchini, onion
Stir potatoes
Make vinaigrette
Plate zucchini, onions
Top with tomatoes, olives, feta, basil
Remove beans, cool on plate
Stir potatoes
Drizzle Salad with Vinaigrette, serve
Done?
Stir potatoes
Grill chops
Roast pine nuts
Turn chops
Add butter, beans to pine nuts, finish
Remove chops, potatoes
Serve