Pork Chops with Tomatoes and Sage
Brown Rice with Sautéed Onions
Butternut Squash with Bacon and Sage
Cooking time:  40 minutes for menu          Cooking schedule: see below for instructions
     I just can't seem to give up the last bits of summer this year.... We haven't had a frost so there is still sage in the garden and a few cherry tomatoes.
Pork Chops with Tomatoes and Sage
Total time: 25 minutes
     Sage not only goes well with turkey but it's great with pork and most fall vegetables.  Use fresh if you can get it, if not, at least try not to use some that has been in the cabinet for years ;-)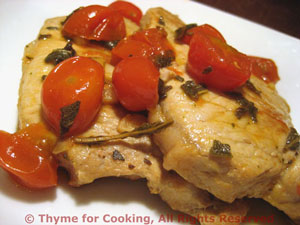 Ingredients:
 Instructions:
Finely chop garlic and roughly chop tomato.
In medium nonstick skillet heat oil over medium-high heat. 
Sauté pork chops until lightly browned, about 3 minutes per side.  Remove and set aside. 
Add garlic and sage to pan and sauté 1 minute. 
Add wine, stock and tomato.  Bring to a boil, reduce the heat to low and simmer about 5 minutes until mixture starts to thicken.  
Return pork chops to pan, turning once to coat with sauce, and cover.  Let simmer 5 - 10 minutes until done. 
Arrange chops on small platter or plate, pour sauce over and serve.
Brown Rice with Onions
Total time: 25 minutes   or whatever your package says
   I use 'Uncle Ben's' which is all I can get and it is quick cooking.  It looks like brown Basmati and cooks in 15 minutes.  A bit of fried onion adds sweetness, making the rice a little more interesting than normal.
 Ingredients:
1/2 cup (3.3oz, 95gr) quick-cooking brown rice
1 cup (8oz, 240ml) chicken stock
1 small onion
1 tbs olive oil
 Instructions:
Chop onion.
Heat oil in small saucepan.
Add onion and sauté until tender.
Add rice and sauté another 2 minutes.
Add stock, cover and cook rice according to package instructions. 
Fluff and serve.
Butternut Squash with Bacon and Sage
Total time: 40 minutes
   There is a group of cooks that feel almost anything can be improved with bacon. I'm one of them... Within reason. I love the combination of salty bacon or ham with sweet squash and spicy sage. And I love easy vegetables.  This started out to be a gratin, but I decided to leave the topping off, some things are best simple.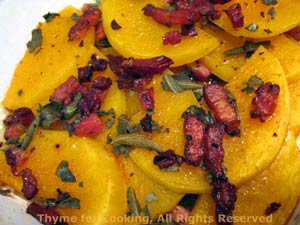 Ingredients:
12oz (360gr) butternut squash
2oz (60gr) bacon, 

2 - 3 slices

8 - 10 fresh sage leaves   

substitute 1 tbs dried

1/3 cup (3oz, 90ml) chicken stock
1 tsp olive oil
 Instructions:
Fry bacon until crisp. 
Remove, drain on paper towels for a minute, then crumble. 
Cut squash into slices about 1/4" (.6cm) thick. 
Snip sages leaves. 
Lightly oil the bottom of a baking dish large enough to hold the squash.  I used an 8" (20cm) round glass dish. 
Make a layer of 1/3 of the squash slices.
Sprinkle with 1/3 bacon and 1/3 sage. 
Repeat twice. 
Pour chicken stock over the top, cover and bake for 25 minutes, 400F (200C). 
Remove and serve.
Note:  To clean butternut squash first peel it, using a potato/vegetable peeler.  If it's large (typically) cut it in half between the 'neck' and 'bowl' ends.  Then cut those in half the 'long' way.  Scoop the seeds out of the round end and discard.  I use the neck end for uniform pieces and the bowl end for soups and smaller pieces.
Cooking schedule: 40 minutes
Assemble all food, utensils and serving dishes
Utensils: measuring cups, spoons, knives,
medium skillet with lid, small saucepan with lid,
baking dish with lid or foil
Turn oven on, 400F (200C)
Sauté bacon
Clean butternut squash if not done
Slice squash
Turn bacon
Oil baking dish
Snip all sage if using fresh
Remove bacon, crumble
Layer squash, bacon sage

Pour chicken stock over, cover, bake
Chop onion
Mince garlic
Chop tomato
Heat oil in skillet, add chops, sauté
Sauté onion for rice
Turn chops
Add rice to onion, sauté
Add stock to rice, cover, simmer
Remove chops, sauté garlic, sage
Add tomato, wine, stock, cook
Return chops, cover, simmer
     Pause while everything finishes
Serve and enjoy