Grilled Pork Chops with Sage
Pasta with Wild Mushroom Sauce
Sautéed Chard with Feta and Olives
Cooking time:  35 minutes for menu      Cooking schedule: see below for instructions
       This time of year I use a lot of mushrooms; and the sage is at it's peak.  I normally get boneless chops.
Grilled Pork Chops with Sage 
Total time: 30 minutes
   The woodsy flavor of sage is a classic pairing with pork.   Use fresh if you can.
 Ingredients:
 Instructions:
Snip sage leaves if using fresh. 
In a small bowl mix lemon, ketchup, oil, garlic, paprika and sage.  Let rest 5 minutes to blend flavors. 
Spoon on pork chops and let marinate 10 minutes.
Cook pork on barbecue grill, turning once, 10 - 15 minutes, or until done - take a peak. 

Note:

If not done they can always go back on.  A little pink in the middle is okay for pork, (now, it didn't used to be) and the chops will be much more moist if not over-cooked.

Or

sauté in non-stick skillet about the same amount of time.
Pasta with Wild Mushroom Sauce
Total time: 25 minutes
   A simple sauce, but using fresh, autumnal wild mushrooms elevates this to something for the most discriminating gourmet.  It's also good with regular button or cremini mushrooms.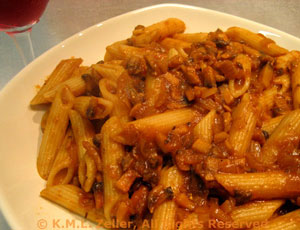 Ingredients:
1 cup (3.3oz, 95gr) uncooked pasta -

fusilli, penne

1 tbs olive oil
4oz (120gr) wild mushrooms,   1 - 1 1/2 cups finely chopped
1/2 large onion
2 garlic cloves, minced
1 tsp paprika
1/3 cup (3oz, 90ml) beef stock
1 tbs tomato paste
 Instructions:
Cook pasta according to package instructions.  Drain.
Finely chop onion, garlic and mushrooms. 
Heat oil in nonstick skillet over medium heat. 
Add paprika and sauté briefly. 
Add onion and sauté until tender, about 7 minutes. 
Add garlic, mushrooms and sauté until everything is well-cooked, another 7 - 8 minutes. 
Add stock and tomato paste, stir well. 
Simmer, uncovered until sauce is thickened. 
Add drained pasta, toss well and serve.
Sautéed Chard with Feta and Olives
Total time: 20 minutes
   Chard, or Swiss Chard, is a slightly bitter green, reminiscent of spinach.  Mine is 'Rainbow Chard', thus all the colors.  We added feta and Greek olives for a Mediterranean flavor.
 Ingredients:
7oz (210gr) chard or Swiss chard
1/2 large onion
1.5oz (45gr) feta cheese
1/4 cup Greek olives  

about 10 olives

1 tbs ketchup
1 tbs Balsamic vinegar
1 tbs fresh oregano
2 tsp olive oil
 Instructions:
Wash the chard and trim any bad bits. 
Stack the leaves together and fold over, the long way.  Slice into thin strips, about 1/2" (1cm) using both leaves and stems.
 Roughly chop onion.
Snip oregano leaves.
Heat oil in a large skillet.  Add onion and sauté until tender, about 5 minutes. 
Add the chard stems and stir-fry over medium heat 3 minutes, then add the leaves.   Stir and turn until the leaves wilt and it all fits into the skillet. 
Add the ketchup, vinegar and stir well to combine. 
Reduce heat to low and cook until chard is tender, another 4 - 5 minutes, stirring frequently.
To finish: 
Crumble feta or cut into small cubes. 
Slice olives. 
Remove chard from heat, stir in feta, oregano and olives. Serve.
Cooking schedule: 35 minutes
Assemble all food, utensils and serving dishes
Utensils: measuring cups, spoons, knives,
scissors, small bowl, 2 large skillets, dish for
marinating, barbecue grill
Put water on high heat for pasta
Snip sage
Make marinade, let rest
Wash chard
Turn on/light barbecue grill
Spoon marinade over pork, set aside
Chop onion
Sauté paprika for mushroom sauce
Add 1/2 onion, sauté
Clean, chop mushrooms

Mince garlic
Add garlic, mushroom to onion, sauté
Start to cook pasta
Start to cook pork
Sauté 1/2 onion for chard
Slice chard
Add chard stems to onion, sauté
Turn pork
Add stock, tomato to mushrooms, simmer
Add chard leaves to skillet, stir, simmer
Crumble feta, slice olives
Drain pasta, add to mushrooms, stir to combine
Remove pork
Remove chard from heat, stir in feta, olives
Serve