Tuna and Chevre Lasagne
Fried Carrots
Cooking time:  20 minutes for menu      Cooking schedule: see below for instructions
      Fry some carrots while the lasagne reheats to round out the meal.
Tuna and Goat Cheese Lasagne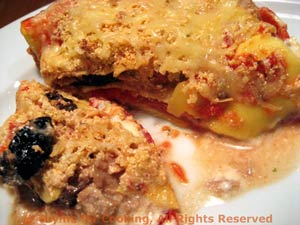 Total time: 20 minutes

 Ingredients:
 Instructions:
Remove from fridge and reheat. 
If using oven, put in cold oven, turn to 350F (175C) and let heat for 20 - 30 minutes
Or use microwave
Fried Carrots 
Total time: 20 minutes
   The first time I made Beef Provencal the recipe instructed to fry the carrots before adding to the stew.  They were so good, I started frying them just a bit longer and eating them on their own.  It caramelizes the sugars and turns them golden and sweet.
 Ingredients:
2 - 3 large carrots
1/2 tbs olive oil
1/2 tbs butter
salt and pepper
 Instructions:
Peel and slice carrots into 1/4 inch thick (.65 cm) rounds. 
Heat butter and oil in a large nonstick skillet over medium heat. 
Add carrot slices in one layer. 
Let fry undisturbed for 8 - 10 minutes.  Check one after 7 minutes to make certain they're not getting too brown. 
Turn them over and fry the other side.  They should be getting a few light brown spots on them where the sugar (from the carrots) is caramelizing.  Fry another 7 minutes then check again.  The second side will brown faster than the first. 
When they are done to your liking, remove to a paper towel to absorb the excess oil, sprinkle with salt and pepper and serve.
Cooking schedule: 20 minutes
Assemble all food, utensils and serving dishes
Utensils: measuring cups, spoons, knives,
dish for reheating lasagne, large nonstick skillet
Reheat lasagne, either oven or micro
Peel, slice carrots
Heat butter and oil

Fry carrots
Catch up on the day
Turn carrots
Check the lasagne
Remove lasagne
Remove carrots
Serve all