Chicken Breasts with Tarragon Mustard Sauce
Sweet Potato Oven Fries
Cauliflower Dijon
Cooking time:  35 minutes for menu      Cooking schedule: see below for instructions
      Sweet Potato Chips!  They're almost like candy - perfect for Halloween week....
Chicken Breasts with Tarragon Mustard Sauce  
Total time: 20 minutes
     Tarragon is a great herb for chicken, and a classic pairing in French cuisine.  The chicken is quickly pan-fried, then finished with a light tarragon sauce, with white wine and mustard.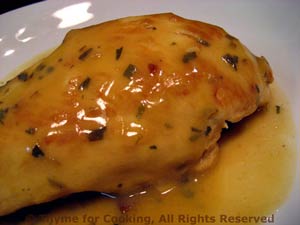 Ingredients:
2 chicken breasts, boneless, skinless
1 tbs dried chives
2 tsp dried tarragon
1 tbs Dijon mustard
1/4 cup (2oz, 60ml) white wine
1/4 cup (2oz, 60ml) chicken stock
1 tbs olive oil
 Instructions:
Heat oil in medium nonstick skillet over medium-high heat. 
Add chicken and brown well on both sides, about 10 minutes total. 
Reduce heat to medium-low, cover and let finish cooking, another 5 - 10 minutes.  Chicken is done when juices are clear when a sharp knife is inserted in the center. 
Remove chicken and cover with the pan lid or foil to keep warm. 
Increase heat under skillet to medium-high and add the herbs, mustard, white wine and chicken stock. 
Stir to loosen any brown bits, combine thoroughly and reduce a bit. 
Pour over chicken and serve.
Sweet Potato Oven Fries
Total time: 35 minutes
  A bit crunchy on the outside from the caramelized sugars; like warm, creamy pudding on the inside.... Wonderful!
 Ingredients:
2 medium sweet potatoes
1 1/2 tbs olive oil
salt and pepper
 Instructions:
Slice potatoes in half the short way, then each half into 8 wedges.
Put oil into a large bowl, add potatoes and toss, coating thoroughly. 
Arrange potatoes on baking sheet with rim (I use my trusty, round pizza pan).
Bake at 400F for 30 minutes.
You can turn once if you like to fuss but I usually don't bother.
When done remove from pan and sprinkle lightly with salt and pepper if you choose and serve.
Cauliflower Dijon
Total time: 30 minutes
    A light coating of bread crumbs, herbs and mustard flavors this cauliflower. For a sharper flavor use hot mustard.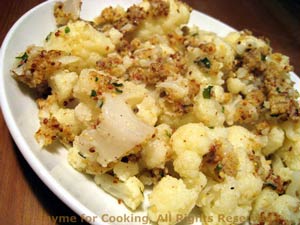 Ingredients:
1/3 head cauliflower- enough for 2 persons
1 tbs olive oil
1 clove garlic
1 tsp dried basil
1 tbs whole grain mustard or Dijon-style mustard
1 tbs bread crumbs
 Instructions:
Cut cauliflower into pieces, put into a steamer and steam over water for 15 - 20 minutes until fork-tender. 
Remove and drain water from pan. 
In same pan heat oil. 
Mince garlic. 
Add garlic and basil, sauté lightly. 
Add mustard and heat through. 
Add breadcrumbs and stir well. 
Add cauliflower and stir well to distribute crumb mixture.  Serve.
Cooking Schedule: 35 minutes
Assemble all ingredients and utensils
Utensils: measuring cups, spoons, knives,
small skillet, lid, medium skillet, saucepan,
steamer basket, lid, baking sheet, medium bowl
Turn oven on, 400F (200C)
Cut sweet potatoes
Combine sweet potatoes, olive oil, stir well
Lay potatoes on baking sheet, bake
Sauté chicken breasts
Cut cauliflower, steam
Turn chicken breasts

Cover chicken, finish cooking
Turn potatoes if you like
       Pause while stuff cooks
Remove cauliflower, cover
Sauté garlic, basil
Add mustard, then crumbs
Add cauliflower, reheat
Remove chicken
Add herbs, wine, stock, mustard, stir
Spoon sauce over chicken
Remove sweet potatoes
Serve all