Choucroute Garni
Pasta with Brown Butter
Cooking time:  30 minutes for menu         Cooking schedule: see below for instructions
     This is something I like to fix at least once each winter.... As time is running out, today is the day. Sauerkraut can range from very strong to very salty to nicely flavored.  This recipe assumes it's strong. Taste it, rinse it, taste it again and rinse again if needed. The recipe will add in more subtle flavors. It's often served with spaetzle. We've opted for pasta in Browned Butter. Use egg noodles if you have any on hand.
Choucroute Garnie
Total time: 30 minutes
    Like many classic peasant dishes, a proper Choucroute Garni will feed a very large family, and normally will have several kinds of pork, ham, sausage, and possibly even duck. This is a scaled down version.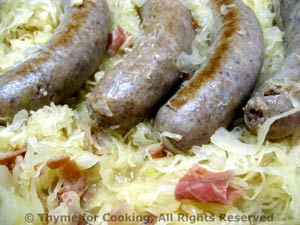 Ingredients:
4 - 8 sausages, depending on size, about 12oz (360gr) total weight
2oz (60gr) bacon or dry-cured ham
14oz (420gr) sauerkraut
1 tbs juniper berries
1 tsp black peppercorns  

or 1/4 tsp black pepper

2 cloves garlic
1/2 onion
1 tbs olive oil
1 bay (laurel) leaf
1/2 cup (4oz, 120ml) white wine
 Instructions:
The Kraut:
Open and drain kraut.  Taste it, if it's really, really strong, rinse it briefly with cold water. 
Chop onion and mince garlic. 
Heat oil in deep skillet.  Add onions and garlic and sauté until tender, about 5 minutes. 
Add drained kraut and all of the rest of the ingredients except sausages and bacon. 
Stir to combine, cover and simmer.
The meat:  
Fry bacon in a large skillet until crisp.  Remove. 
Add sausages to skillet and brown lightly. 
Crumble bacon and add to sauerkraut, stir to combine. 
Lay sausages on top of kraut, cover and continue to simmer until sausages are done, about 15 minutes. 
Stir once or twice to combine flavors. 
When done remove sausages to a platter, spoon kraut around (removing and discarding bay leaf) and serve.
Pasta with Browned Butter and Pepper 
Total time: 30 minutes
   This was a staple in my family when I was a child. It's simple to make: brown the butter and add lots of black pepper.  Salt is optional.  It works well with just about everything, or all on it's own.
 Ingredients:
 Instructions:
Cook pasta according to package directions, drain. 
Return pasta pan to medium heat. 
Add butter and sauté until it turns golden brown, being careful not to let it turn too dark or it will taste burnt. 
When brown add as much black pepper as you like, and salt if using.  The butter will foam. 
Add the pasta and quickly stir with a spatula to coat and heat through. 
Remove from pan and serve.
Cooking Schedule: 30 minutes
Assemble all ingredients and utensils
Utensils: measuring cups, spoons, knives,
large skillet with lid, medium skillet, pot and
colander for pasta
Put water on high heat for pasta
Sauté bacon
Chop onion
Mince garlic
Turn bacon
Sauté onion and garlic
Remove bacon, sauté sausages

Drain, kraut, taste, rinse as needed
Crumble bacon and stir into kraut
Add kraut, juniper, pepper, wine, bay to onions
Cover, simmer
Turn sausages
Start to cook pasta
Add sausages to kraut, cover, simmer
Drain pasta
Return pan to heat, brown butter
Add pepper, salt to butter
Add pasta, sauté, remove
Serve kraut, sausages, pasta