Ham and Caramelized Onion Lasagne
Fresh Fruit
Cooking time: 60 minutes for menu   Cooking schedule: see below for instructions
     Last night the onions were cooked fast to brown; in this recipe they are cooked slowly to caramelize.  Either way, a bit of covered cooking gives them a head start.  This is another lasagne without tomatoes.
Ham and Caramelized Onion Lasagne
Total time: 60 minutes
      Ham, sweet, caramelized onions and fresh mozzarella fill the layers in this lasagne; a snap to make with no-cook noodles.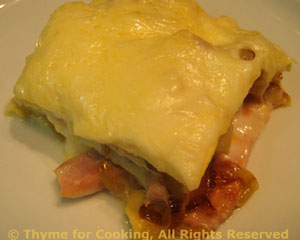 Ingredients:
 Instructions:
Fresh Fruit
any seasonal fruit
Cooking Schedule: 60 minutes for menu
Assemble all ingredients and utensils
Utensils: measuring cups, spoons, knives,
medium saucepan, large nonstick skillet/lid,
baking dish, lid or foil
Slice onions, sauté
Cover onions, cook
Slice ham, cheese
Turn oven on 425F (215C)
Grate Parmesan
Uncover onions, increase heat

Melt butter
Whisk in flour
Add 1/4 cup milk, whisk
Slowly add remaining milk, whisking
Add  nutmeg, remove from heat
When onion are ready, assemble lasagne
Cover lasagne, bake
     20 minute break
Back- uncover lasagne, bake 5 minutes
Remove, let rest 5 minutes
Slice and serve    Don't forget the fruit