Cheeseburgers with Glazed Mushrooms
Quinoa with Fresh Herbs
Green Beans with Lemon and Soy Sauce
Cooking time:  25 minutes for menu          Cooking schedule: see below for instructions
      What's summer without burgers?  More importantly: Cheeseburgers?  Try for Cremini mushrooms if you can - in the US they call them Baby Bela.
Cheeseburgers with Glazed Mushrooms
Total time: 20 minutes
    Simple grilled burgers topped with a thick wedge of runny Brie or goat cheese and sautéed mushrooms: adult cheeseburgers.  We normally eat burgers with a fork and a glass of red.  Feel free to have them on a bun with a Mountain Dew. 
 Ingredients:
12oz ground beef (360gr mince)
3oz (90gr) Brie or Chevre (aged goat cheese), sliced
1 tbs bread crumbs
1 tbs ketchup
1 tbs Worcestershire sauce
1 tsp thyme
1/4 tsp garlic powder
4oz (120gr) mushrooms
2 tsp olive oil
2 tsp Worcestershire sauce

more

1 tsp soy sauce
 Instructions:
For the burgers: 
Put bread crumbs, ketchup, Worcestershire sauce, garlic, and thyme in a medium bowl and mix well. 
Add the beef.  Mix well - hands work best, and form into 3 or 4 patties. 
Cook on barbecue grill over direct heat for 3 - 5 minutes per side, using a grill pad or pan if you have one, it's easier. 
Or sauté in a nonstick skillet for the same amount of time.  
When burgers are almost done, move off heat and top with the cheese. 
Cover for a minute if possible.  Remove as soon as cheese starts to melt, spoon some mushrooms over and serve.
For the mushrooms:
Trim and thickly slice mushrooms. 
Heat 2 tsp oil, 2 tsp Worcestershire and soy sauce in medium nonstick skillet over medium heat. 
Add sliced mushrooms and sauté until nicely glazed, stirring and turning frequently, about 7 minutes.
Quinoa with Herbs 
Total time: 20 minutes
     I love the nutty flavor of quinoa, plus the fact that it's an 'almost perfect' food, and it's easy!  It can be cooked a bit ahead, then removed from heat and let sit, covered for 10 - 20 minutes. When ready to serve, uncover, stir in the herbs and spoon into a pretty bowl.
 Ingredients:
1/2 cup (3.5oz, 100gr) quinoa
1 cup (8oz, 240ml) chicken stock
1 tsp dried chives   

or 1 tbs fresh

1 tsp dried marjoram
 Instructions:
Combine quinoa and stock in small saucepan.
Cover and bring to a boil.
Reduce heat and simmer until done, about 15 minutes  (or whatever your package says). 
When quinoa is done, uncover, fluff and serve.  
Note:  Add the dried herbs at the beginning, with the quinoa and stock; add fresh herbs at the end.
Green Beans with Lemon and Soy Sauce
Total time: 20 minutes
   I love the combination of lemon and soy sauce, the slightly tart, slightly salty blend enhances the flavors of most foods, particularly vegetables.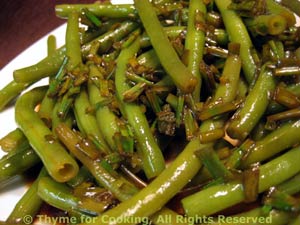 Ingredients:
6oz (180gr) green beans
2 tbs fresh snipped chives
2 tsp butter
2 tsp soy sauce
1 tsp lemon juice
 Instructions:
Top and tail and beans.
Cut in 1 1/2inch (4cm) lengths. 
Put in a small sauce pan with an inch of water.
Bring to a boil over medium heat.  Turn down to low and simmer until done - about 10 minutes. 
Drain beans and put into a serving bowl. 
Melt butter in same pan. 
Add soy sauce, chives and lemon and stir to combine.
Pour over beans and serve.
Cooking schedule: 25 minutes
Assemble all food, utensils and serving dishes
Utensils: measuring cups, spoons, knives,
scissors, medium bowl, medium, skillet, 2 small
saucepans with lids, barbecue grill and grill pan
Light/turn on barbecue grill
Top and tail beans, cut
Start to cook beans
Start to cook quinoa
Trim, slice mushrooms, sauté
Mix crumbs, ketchup, Worces. garlic, thyme
Add beef, mix well

Make patties
Cook burgers
Snip herbs
Mind the mushrooms
Turn the burgers
Drain beans, put into serving bowl
Heat butter, soy sauce, lemon, chives
Slice cheese, add to burgers, cover if you can
Pour butter sauce over beans
Add herbs to quinoa, fluff
Remove burgers, top with mushrooms
Serve