Cherry Tomato and Pesto Pastry

Salmon, Smoked Salmon, Asparagus and Avocado Pasta
Cooking time: 35 minutes for menu      Cooking schedule: see below for instructions
     Remember that puff pastry can be thawed and frozen 2 or 3 times.  This will use half of a sheet. We served the pasta at room temperature, so no work after the pastries.  We like things easy for summer cooking....
Cherry Tomato and Pesto Pastries 
Total time: 25 minutes
     Other than giving the leek a quick sauté, this is just a matter of assembling and baking. You can use any semi-soft cheese ( Brie or Camembert), but I prefer a slightly aged Chevre (goat).  It normally comes log-shaped (long, round), and wrapped in paper.  It will have a thin rind that is an edible part of the cheese. 
 Ingredients:
3oz (90gr) goat cheese or other semi-soft cheese, enough to almost cover the area
1 small leek
2 tbs pesto
6 cherry tomatoes (1" diameter, 2.5cm)
3 - 4 fresh basil leaves  for garnish,

optional

2 tsp olive oil
1/2 sheet puff pastry - freeze what you don't use
 Instructions:
Thaw the puff pastry, if needed. 
Slice goat cheese 1/4" (.6cm) thick, either 2 large or 6 small (see above). 
Cut tomatoes in half. 
Snip basil.  
Trim leeks and slice thinly. 
Heat oil in small skillet.  Add leeks and sauté until tender, about 5 minutes. 
Lay out puff pastry and either cut 2 circles, 5 inches in diameter (11 - 13 cm) or 2 squares, 5" (12cm). 
Lay the cut pastry on a baking sheet.  With a dull knife (butter knife) lightly etch around the pastry, 1/3" (.75cm) from the edge. 
Divide the leeks and spread within the etched lines. 
Lay the cheese on top, cutting smaller slices to roughly fit. 
Spread pesto on top of the cheese, dividing evenly. 
Put tomatoes cut side down on top of pesto. 
Bake in pre-heated oven at 420F (205C) for 12 - 15 minutes, until sides of pastry have puffed around middle and are golden brown. 
Remove, garnish with fresh basil and serve. 
Salmon, Smoked Salmon, Avocado and Asparagus Pasta 
Total time: 30 minutes
   I used cold-smoked, moist, Irish smoked salmon, but use any type you like.  It will cook, ever so slightly, while it warms with the pasta.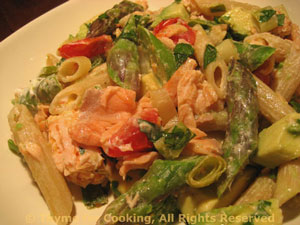 Ingredients:
 Instructions:
Cook pasta according to package instructions. Drain.

Poach salmon:

 
Put fresh salmon into a small skillet. Add enough water to come half way up the sides of the fish. 
Add 1 tbs lemon juice. Cover and simmer, 8 - 10 minutes, just until it turns opaque and flakes easily. 
Remove, drain and break into large chunks.
Blanch asparagus: 
Snap off ends of asparagus. If white use vegetable peeler and peel bottom half of stalk.
Cut asparagus in 1 1/2 inch (4 cm) lengths.
 Fill large saucepan half full of water and bring to a boil over high heat. When boiling, drop in asparagus and parboil for 2 minutes if green, 3 if white.
 Drain and immediately rinse with cold water.
The rest:
Slice leek. 
Cut tomatoes in half. 
Cut avocado into cubes. 
Slice smoked salmon.
Snip herbs.
Sauté leek in cooking olive oil for 3 minutes.
Add blanched asparagus, sauté 3 minutes longer.
Add smoked salmon, tomatoes, herbs, remaining lemon juice, salad olive oil, and warm slightly, stirring gently. 
Add drained pasta, avocado, poached salmon, stir gently.  Serve warm or at room temperature.
Cooking Schedule: 35 minutes
Assemble all food, utensils and serving dishes
Utensils: measuring cups, spoons, knives,
scissors, pot and colander for pasta, medium
saucepan , small skillet, large skillet, baking sheet
Thaw puff pastry if needed
Turn oven on 420F (210C)
Put water on high heat for pasta
Put water on high heat for asparagus
Poach salmon
Trim, slice leek
Sauté all leek in 2 tsp oil in skillet
Trim asparagus
Blanch asparagus
Snip herbs
Drain, refresh asparagus
Cut all cherry tomatoes
Cut pastry, score around edge

Slice goat cheese if needed
Remove leeks from heat, divide
Use half the leeks for pastries
Start to cook pasta
Assemble pastries, bake
Sliced smoked salmon
Remove fresh salmon, break into chunks
Cut avocado
     Pause while pasta cooks
Return leeks to heat, add asparagus, sauté
Drain pasta
Remove pastries
Add smoked salmon, etc. to skillet, heat
Add pasta, avocado, poached salmon, warm
Put pasta in serving bowl
Serve pastries
Done?
Serve pasta