Tomato, Mozzarella and Avocado Salad
Grilled Scallops with Lemon Ginger Sauce
Basmati with Lemon and Chives
Green Beans with Caramelized Shallots
Cooking time: 35 minutes           Cooking schedule: see below for instructions
      I used a large 'ball' of regular mozzarella for this week-end's starters, rather than the smaller (at least, for me) di Bufala; half tonight and half for Saturday.
Tomato, Mozzarella and Avocado Salad
Total time: 10 minutes
    The traditional Caprese Salad is just garden ripened tomatoes with Mozzarella de Bufala.  We added an avocado for a salad with the colors of the Italian flag...  Fresh mozzarella comes in a round, ball shape, packed in liquid, usually in a bag.  Save any leftover cheese in the liquid, in a small bowl.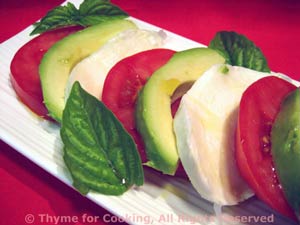 Ingredients:
4oz (120gr)  Mozzarella di Bufala if you can get it
1 - 2 garden ripe tomatoes
1 small avocado
1 large handful fresh basil
salad olive oil
Balsamic vinegar, optional
 Instructions:
Select 2 lovely, large dinner plates.
Slice mozzarella and tomatoes. 
Cut the avocado, remove pit and cut into slices. 
Tear large basil leaves in half, leave small ones whole.
Arrange tomato, avocado and mozzarella slices artfully on  the plates. 
Add basil leaves. 
Serve, with oil and vinegar

(optional)

on the side to be added by each person to taste.  
Note: if you have nice cruets for the oil and vinegar use them.  If not small bowls with small spoons work fine - or, just put the bottles on the table.....
Grilled Scallops with Lemon Ginger Sauce
Total time: 15 minutes
    Scallops cook quickly on the barbecue.  You can use a grill pan or mat to cook them on, but, for easy handling, skewers work well, not through the 'center', but from side to side, so they lie flat. Be careful not to over cook the scallops or they can be tough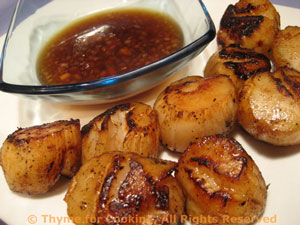 Ingredients:
 Instructions:
Note:  Could also be quickly sautéed in a nonstick skillet over medium high heat for about the same amount of time.
Basmati Rice with Lemon and Chives
Total time: 20 minutes
   The lemon makes a very refreshing, light rice side dish. The fresh chives add just a hint of onion.
 Ingredients:
1/2 cup (3.3oz, 95gr) Basmati rice
1 tsp butter
1 cup (8oz, 240ml) chicken stock
2 tbs snipped fresh chives
juice from 1/2 lemon, about 2 tbs
1 tbs salad olive oil
 Instructions:
Melt butter in small saucepan over medium heat. 
Add rice, sauté, stirring, for 1 minute. 
Add stock, cover and cook until done, about 15 minutes.
Uncover rice and fluff with a fork 
Add chives, lemon juice and olive oil. 
Stir gently with a fork to combine. Serve.
Green Beans with Caramelized Shallots
Total time: 25 minutes
    Crispy, fried shallots top these green beans, slightly reminiscent of a retro American Green Bean Casserole, but much healthier.  I let them caramelize naturally, no added sugars to help.  Simple summer flavors.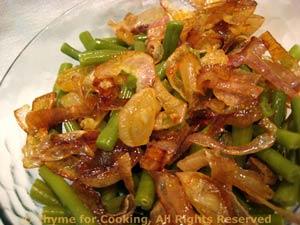 Ingredients:
5oz (150gr) green beans

1/3 (3oz, 50ml) cup chicken stock
2 - 3 shallots
2 tsp olive oil
 Instructions:
Slice shallots. 
Heat oil in medium nonstick skillet over medium-high heat.  Add shallots and sauté until tender, about 5 minutes. 
Turn heat down to medium and continue cooking until nicely brown and starting to caramelize, about 15 minutes longer.
Top and tail beans (cut off the ends...).  Cut beans into 1 1/2" (3.75cm) lengths. 
Put beans and stock in a small skillet or saucepan  Cover and cook over medium heat just until beans are done, 10 - 15 minutes. 
Drain, top with shallots and serve.
Cooking schedule: 35 minutes
Assemble all food, utensils and serving dishes
Utensils: measuring cups, spoons, knives,
scissors, medium bowl, 2 small saucepans, one lid
medium skillet, small skillet with lid, barbecue grill
and pan or skewers
Soak skewers if using
Clean all shallots
Slice shallots for beans, sauté
Chop shallot for sauce
Mince ginger
Sauté shallot, ginger for sauce
Make marinade for scallops
Add scallops to marinade, set aside
Turn shallots to low heat
Add stock, wine to sauce, reduce
Tend the basil if needed
Top and tail beans, cut

Slice tomato
Slice cheese, reserving half and liquid for Sat.
Sauté Basmati
Light/turn on barbecue grill if using
Put scallops on skewers if using
Add stock to rice, cover, simmer
Pit, slice avocado
Mind the sauce, adding lemon, soy when ready
Mind the shallots
Start to cook beans
Arrange salad, serve, oil and vinegar on the side
Done? 
Cook scallops
Fluff rice, add chives, lemon, oil
Turn scallops
Drain beans, top with shallots
Put dipping sauce in little bowls
Remove scallops, serve