Courgette (Zucchini) and Tomato Stacks
Sirloin Steak Madeira
Potato and Chard Gratin
Cooking time:  70 minutes for menu     Cooking schedule: see below for instructions
       The Potato and Chard Gratin is one of those dishes that looks a bit of a mess at first.... Have faith, it all comes together. 
Zucchini (Courgette), Tomato and Mozzarella Stacks
Total time: 20 minutes
   Three peak seasonal ingredients + 15 minutes cooking = perfect summer first course.  Pour a chilled Rosé and relax.  Drizzle with olive oil and Balsamic if you like... I didn't.  I prefer the pure summer flavors! Fresh mozzarella comes in a round, ball shape, packed in liquid, usually in a bag.  Save leftover cheese in the liquid, in a small bowl.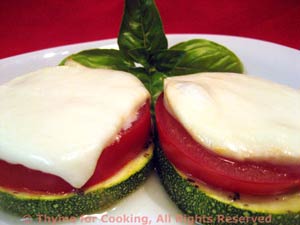 Ingredients:
4 slices zucchini (courgette),  about 1/2 inch (1.25cm) thick  

wrap film over the end of the zucchini and save in the fridge

4 slices tomato,

almost as thick as the zucchini

4 slices fresh mozzarella    

should be about half of 'ball', save the rest

olive oil
fresh basil leaves
good olive oil and balsamic vinegar, optional
 Instructions:
Brush or spray 1 side of the zucchini with a bit of olive oil and place on a baking sheet, oiled side down. 
Bake, 400F (200C) for 10 minutes, just until the center of the slices starts to look soft and cooked.
Remove from oven and lay the tomato slices on top. 
Bake for another 5 minutes. 
Remove, lay cheese slices on top. 
Return to oven until cheese melts, another 3 - 5 minutes. 
Remove, arrange two on each plate, garnish with basil and serve. 
Hint: If you don't have a brush, dip a corner of a paper towel in the oil to brush on.
Grilled Sirloin with Madeira Sauce
Total time: 20 minutes   plus marinating time
    This makes a great dinner party dish: Use a larger, cheaper cut of meat, about 1 1/2" (4cm)  thick, and marinate 8 - 12 hours.  The rest of the ingredients can be doubled (I actually 'halved' everything for this version for 2)  You can also make more and serve the leftovers with pasta.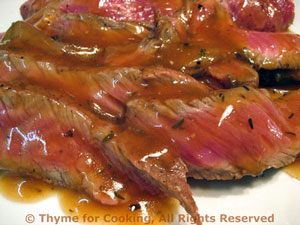 Ingredients:
1 steak, 1 - 1 1/2 inches thick (3 - 4cm), about 16oz (480gr)

Sirloin, tip steak, strip steak

Marinade:
1/3 cup (3oz, 90ml) red wine vinegar
1/4 cup (2oz, 60ml) ketchup
2 tbs olive oil
1/2 tsp salt
1/2 tsp dry mustard
1/2 tsp garlic powder
1/2 tsp dried thyme
1/2 tsp dried oregano
pinch dried cloves
Madeira Sauce:
1/4 cup of reserved marinade
1/2 cup (4oz, 120ml) beef stock
1/3 cup (3oz, 90ml) Madeira  

you could substitute cream sherry, port or red wine

1 tbs cornstarch (maizena) dissolved in 1 tbs water
 Instructions:
Potato and Chard Gratin 
Total time: 70 minutes
      A simple, dish with few ingredients, this highlights the fresh taste of chard (Swiss Chard) in summer.  Use a deep dish and pile it high.  It wilts and compacts as it bakes.  Add the cheese at the end or it all ends up on the foil.  The top layer of potatoes looks a bit strange balancing on top of the chard, but it all comes together.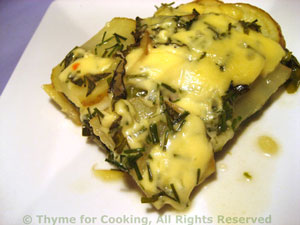 Ingredients:
2 medium potatoes (10oz, 300gr)
8oz (240gr) (Swiss) chard, stems and leaves
1/2 cup (4oz, 120ml) chicken stock
2 tbs chopped fresh parsley
2 tbs chopped fresh chives
2oz (60gr) cheese,

Gruyère, Edam, Swiss

1 tsp olive oil
 Instructions:
Cooking Schedule: 70 minutes for menu
Assemble all food, utensils and serving dishes
Utensils: measuring cups, spoons, knives,
scissors, deep baking dish, dish for marinating,
small bowl, small saucepan, (used 2 X) baking
sheet, barbecue grill, foil
Make marinade for beef
Spoon over beef, set aside
Turn oven on, 400F (200C), arrange 2 shelves
Heat chicken stock
Rinse, trim chard, cut
Slice potatoes
Snip herbs
Assemble gratin, cover with foil, bake
       Take a 40 minute break
Slice zucchini
Brush zucchini with oil, bake
Turn on/light barbecue grill
Slice tomato

Slice cheese for potatoes
Remove potatoes, uncover, add cheese, bake
Tend to the basil
Slice Mozzarella
Remove zucchini, top with tomato, bake
Put stock, Madeira in saucepan, set aside
Dissolve cornstarch in water, set aside
Remove tomato/courgette stacks
Top with Mozzarella, bake
Remove Stacks, garnish with basil, serve
Done? 
Remove potatoes, let rest
Start to cook steak
Add marinade to saucepan, cook sauce
Turn steak
Finish sauce
Cut Potato Gratin
Remove steak, slice, drizzle with a bit of sauce
Serve, remaining sauce on the side