Sausage and Artichoke Quiche
Cooking time:  75 minutes for menu          Cooking schedule: see below for instructions
       I don't make pie crusts but we like quiches and tarts.  The solution is to make the crust with rice, or even pasta.  A brown rice crust makes a much healthier alternative to a buttery short crust pastry... And, with the slightly nutty flavor, we like it better.  You can use any rice you like.
Sausage & Artichoke Quiche
Total time: 75 minutes
    The variations on quiche are almost infinite.  The sausage adds a lot of flavor - use any sausage you like, hot or sweet, squeezing it out of the casing to brown. Pre-cooking the rice makes it all come together quickly.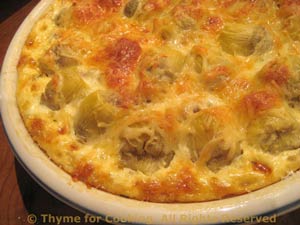 Ingredients:
1/2 cup quick-cooking brown rice
1 cup (8oz, 240ml) chicken stock 

Or

1 1/2 cups cooked rice
1 cup (4oz, 120gr) shredded cheese   

I use Gruyère

3 eggs
1 medium onion
1/2 green bell pepper
2 cloves garlic
1 tbs olive oil
1 tsp thyme
1 tsp oregano
8oz (250gr) sausage  

turkey or pork...

14oz (420gr) artichoke hearts, well-drained
1 cup (8oz, 240ml) milk
 Instructions: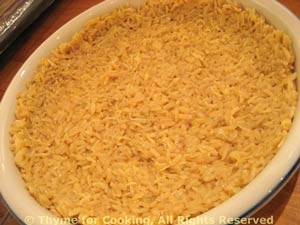 The crust: 
Cook brown rice in stock according to package directions.  Can be done ahead or even the night before. 
Oil a 9" (22 cm) pie or quiche plate. 
Lightly whisk 1 egg. 
Add 1/4 cup of the cheese and the cooked rice.  Mix well. 
Pat into the quiche plate, working it up the sides as best you can.  Bake in 375F (185C) oven for 10 minutes. 
Remove and set aside. 

Note: 

If you cook rice just before using, spread it on a plate to cool for 5 minutes before adding it to the egg.
The filling:
Chop onion, pepper and mince garlic.
 Heat oil in skillet over medium heat.  Add onion, pepper and garlic and sauté 5 minutes. 
Add sausage and brown, breaking it up.  If you are using whole sausages, either slice thinly or remove meat from casing. 
Add herbs. 
Drain artichokes and slice in half.
When meat is done spread mixture evenly over rice. 
Arrange artichokes on top of meat.
Sprinkle with cheese. 
Whisk remaining 2 eggs well. 
Add milk and whisk to combine. 
Pour over all and bake for 45 minutes. 
Let stand 5 minutes before serving.
Note:  I put the quiche/pie plate on a pizza pan before pouring the egg/milk over.  Makes it easier to get into the oven and catches any drips and spills - saving oven clean-up.
Second note:  My sausage meat is always quite dry.  I have to add oil to brown it and there is no extra fat at the end of cooking.  If yours puts off a lot of fat, drain it before putting in the quiche.
Cooking schedule: 70 minutes
Assemble all ingredients and utensils
Utensils: measuring cups, spoons, knives,
large skillet, medium bowl, quiche or pie plate
Turn oven on, 400F (200C)
Cook rice if not done beforehand, spread to cool
Clean, chop onion, pepper, garlic
Sauté onion, pepper, garlic
Add sausage, brown
Drain & slice artichokes
Whisk egg for crust
Add cheese, rice, stir well to combine

Pat into quiche plate and bake
Add herbs to sausage, finish
Drain excess fat from sausage if needed
Remove rice crust from oven
Spread sausage/onion over rice
Arrange artichokes on top of sausage
Sprinkle with cheese
Whisk eggs, add milk
Pour eggs over all and bake
    Go do something while it bakes
Remove from oven, let stand a few minutes
Slice and eat!