Spanish Pork with Peppers and Olives
Barley
Cooking time: 30 minutes for menu           Cooking schedule: see below for instructions
          In traditional Spanish cooking the emphasis is on the combination of vegetables, some of which may seem strange but it's simply using what is available. 
Spanish Pork with Peppers and Olives 
Total time: 30 minutes
     Spain, like most countries with a warm climate, grows and eats lots of peppers.  In Andorra I used long, green chilis.  Now I make do with bell peppers.  Use hotter peppers if you prefer.  And the olives?  They're everywhere!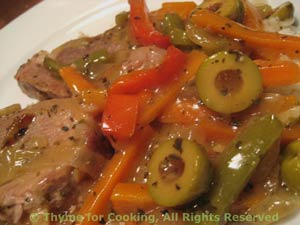 Ingredients:
1 pork tenderloin, 12oz (360gr)
1/2 green bell pepper
1 onion
2 cloves garlic
2 medium - large carrots
1/2 cup olives, pimento stuffed
1 tsp dried basil
1 tsp dried marjoram
1/4 (2oz, 60ml) cup white wine
1/4 (2oz, 60ml) cup chicken stock
2 tbs white Balsamic vinegar
1 tbs olive oil
2 tsp cornstarch dissolved in 1 tbs water
 Instructions:
Barley
Total time: 20 minutes
   Simple, plain, barley.  Sometimes, we just want plain....  Barley is a hearty, nutritious grain; easy to cook and flavorful.  Mine is quick-cooking barley, which takes about 15 minutes.  Cook in chicken stock for added flavor.
 Ingredients:
1/2 cup (2.8oz, 80gr) quick-cooking barley
1 cup (8oz, 240ml) chicken stock (or more, depending on type of barley)
 Instructions:
Cook barley in stock until done, stirring occasionally.
If all stock is not absorbed, drain. 
Serve.
Cooking schedule: 30 minutes
Assemble all food, utensils and serving dishes
Utensils: measuring cups, spoons, knives,
large skillet with lid, medium saucepan with lid
Slice onions, sauté
Start to cook barley
Cut carrots, add to onions
Slice pepper, add to onions
Mince garlic, add to vegetables
Slice pork
Remove vegetables, sauté pork

Cut olives
Dissolve cornstarch in water
Turn pork
Check barley
Return vegetable to pan, add olives, etc.
Cover, simmer
Fluff barley
Remove pork
Thicken vegetables slightly
Arrange vegetables around pork
Serve all