Tortilla de Calabacín
Barbecued Shrimp
Spanish Couscous
Green Beans with Prosciutto and Garlic Chips
Cooking time: 35 minutes           Cooking schedule: see below for instructions
      Dinner with a Spanish influence.  Serve a chilled Rosado... Of course, in Spain the Gambas (shrimp) would be cooked on a slate tile, with the heads on (the best part) and dinner would be at midnight....
Note:  cook an extra 6oz (180gr) shrimp for tomorrow. We'll use more pepper during the week.
Tortilla de Calabacín
(Spanish-Style Omelet with Zucchini)
Total time: 25 minutes
    If you prefer, substitute fried, sliced potatoes, sautéed onions or sliced tomatoes. Everything else stays the same.  You can trim the rind off of the Brie, or not. Because the Brie is rather runny, I didn't flip this.
 Ingredients:
1 small zucchini, (6 inches, 15cm)
2 tsp olive oil
2oz (60gr) Brie cheese
3 eggs
2 tbs fresh snipped parsley

olives for garnish i

f you have some on hand

 
 Instructions:
Cut the zucchini in 1/8" (.3cm) thick slices.  You want enough to cover the bottom of the pan in one, non-overlapping layer.
Heat oil in medium, 9" (23cm) nonstick skillet or omelet pan over medium heat.  Add zucchini slices and sauté 5 minutes.
Turn and sauté another 5 minutes. 
Whisk eggs.
Pour half of the eggs over the zucchini.  Let cook until almost set. 
Slice the Brie and lay on top of the eggs, sprinkle with parsley and pour the rest of the eggs over the top.
Cover and let cook.  
After about 5 minutes, lift cover and check.  If center is not set lift the edge of the omelet and pour 1 tsp of water under.  Quickly replace the cover and let cook another 3 minutes.  That should finish it off nicely. 

(if, for some unknown reason it doesn't, repeat the trick with the water - it creates steam to cook the top.) 

The top will not be brown.
Slide it carefully onto a plate.  Cut it into quarters. 
Arrange 2 quarters on each plate, garnish and serve.
Barbecued Shrimp (Prawns)
Total time: 15 minutes, longer if you have to clean the shrimp
   Shrimp cook very quickly on the barbecue grill so be careful not to overcook, lest they be dry. They should just curl and be opaque.  The marinade helps retain moisture.  We cook them on a silicone grill mat, but a mesh pan will work, as well.... or skewers.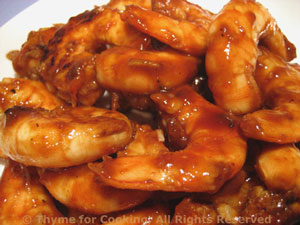 Ingredients:
12oz (360gr) large shrimp (prawns)
3 cloves garlic
2 tbs olive oil
1/4 cup ketchup
1 tbs soy sauce
1 tbs Balsamic wine vinegar
1 tbs molasses
1/2 tsp dry mustard
 Instructions:
Clean shrimp if needed, if not just rinse and let drain. 
Finely mince garlic and add to olive oil in medium bowl. 
Add shrimp and toss to coat.  Set aside until ready to cook. 
Mix ketchup soy sauce, vinegar, molasses and mustard, whisking well to combine. 
Just before cooking add about half of the barbecue sauce to shrimp and toss well. 
To cook on barbecue either put shrimp on skewers or cook in perforated grill pan or on a mat for 5 - 8 minutes, until done. 
To cook on stove add a little olive oil to a large frying pan and sauté over medium-high heat for 3-5 minutes, until done.  Shrimp are done when they curl and turn opaque. 
When done, remove from heat, toss with remaining sauce and serve.
Spanish Couscous 
Total time: 15 minutes
    Couscous is so flexible, almost any liquid can be used to flavor it. The peppers are not cooked, just warmed with the couscous to soften a bit.
 Ingredients:
1/2 cup (3oz, 90gr) couscous
3/4 cup (6oz, 180ml) tomato juice,
1/4 cup chopped green pepper 

about 1/4 average pepper

1/4 cup chopped green olives or black olives
1 tbs snipped chives 

substitute 1 tsp dried

1 tbs fresh oregano  

substitute 1 tsp dried

2 tsp salad olive oil
 Instructions:
Chop pepper and olives. 
Snip chives and oregano. 
Heat tomato juice to boiling in medium saucepan. 
When juice is hot remove from heat and add peppers, olives and couscous. 
Stir once or twice, cover and let stand for 10 minutes.  Do not stir again.  
When time is up add herbs and olive oil to couscous, fluff gently with a fork to combine and serve.
Green Beans with Prosciutto and Garlic Chips
Total time: 20 minutes
     I used the flat, Italian beans for this but any tender green bean will work.  Garlic chips are not as strong as you might think, and they get lovely golden and crisp. You can just used the garlic-infused oil if you think the chips might be too strong.... but, taste one....  Sage is good with beans, a change from the more traditional savory.
 Ingredients:
 Instructions:
Put an inch of water in the bottom of your steamer and bring to a boil, covered.
Cut the stem end off of the beans, leave whole, with tail on.  Add beans to steamer, cover and steam for 10 minutes.
Remove beans and place on serving dish.
While beans steam, peel and slice the garlic cloves as thinly as you can. 
Roughly chop the Prosciutto. 
Heat oil in small skillet over medium heat.  Add garlic and fry until golden, turning once, about 5 minutes total. 
Add ham, sage leaves and sauté until starting to crisp, another 3 - 5 minutes.

To finish:

Spoon ham, sage and garlic chips on the beans, then drizzle the oil over all and serve.
Note: If making in advance, when beans are done plunge into cold water to preserve color.  Remove and drain.  When ready to finish put beans on a baking sheet and into a warm oven, 220F (100C) to warm for 5 - 10 minutes.
Cooking schedule: 35 minutes
Assemble all food, utensils and serving dishes
Utensils: measuring cups, spoons, knives,
scissors, medium bowl, small bowl, whisk,
medium nonstick skillet, small saucepan with lid,
small skillet, steamer with basket and lid, grill
basket or pan, barbecue grill
Prepare shrimp
Top and tail beans
Peel all garlic
Thinly slice garlic for chips
Mince garlic for shrimp
Mix oil, chopped garlic, add shrimp, set aside
Slice zucchini
Sauté zucchini
Cut cheese
Snip all herbs
Chop olives
Chop pepper
Turn zucchini
Chop Prosciutto

Make barbecue sauce
Whisk eggs
Pour half of eggs over zucchini
Heat tomato juice
Light/turn on barbecue grill
Add cheese, parsley to eggs
Pour remaining egg over, cover, cook
Remove juice from heat
Add olives, pepper, couscous, stir, cover
Steam green beans
Finish tortilla, remove from skillet, slice, serve
Done?
Sauté garlic
Remove beans to serving dish
Cook shrimp
Finish couscous
Turn shrimp
Add Prosciutto, sage to garlic
Remove shrimp (refrigerate some), finish
Finish beans
Serve all