Burgers Stuffed with Chevre
Fried Sweet Potatoes
Sautéed Snow Peas with Spring Onions
Cooking time:   35 minutes for menu      Cooking schedule: see below for instructions
     These sweet potatoes were born when I had no oven (due to a small fire).  I fried them like regular potatoes and they were delicious, sweet and a bit crisp around the edges.  We'll use the rest of the goat cheese on the weekend.
Chevre Stuffed Burgers
Total time: 25 minutes
    A bit of creamy goat cheese in the center keeps these burgers very moist and adds a lovely flavor.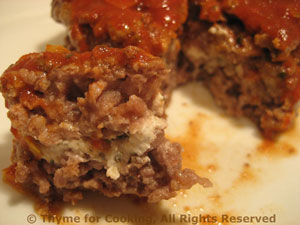 Ingredients:
 Instructions:
In a small bowl mix basil, bread crumbs, garlic and chevre.
Make 4 patties of the beef.
Spread half of the goat cheese/crumb mix on each of 2 patties, spreading to within 1/3" (1cm) of the edge.
Place remaining 2 patties on top.  Work edges to seal.
Heat oil in nonstick skillet.  Add patties and fry, 5 - 8 minutes per side, depending on thickness.
In a small bowl mix ketchup, Worcestershire and mustard.
Spread on top of the burgers after turning. 
When done, remove and serve. 
Fried Sweet Potatoes
Total time: 35 minutes
     Incredibly easy, faster than the more traditional sweet potato methods of baking or drenching in something sweet; simple frying lets the wonderful flavor shine.  A bit of oil added to the butter helps prevent burning.
 Ingredients:
1 - 2 sweet potatoes, (14oz, 420gr)
2 tsp butter
1 tsp olive oil
1/2 tsp thyme
salt and pepper
 Instructions:
Peeling the potatoes is optional but not necessary.  Cut the potatoes: slice the long way, first in half, then in half again.  Now slice (the short way) about 1/4 inch thick. 
Heat oil and butter in large nonstick skillet. 
Add potatoes and sauté until tender and a little crispy, stirring and flipping as needed. 
Sprinkle with thyme, salt, pepper and serve.
Sautéed Snow Peas (Mangetout) with Spring Onions
Total time: 15 minutes
     Spring onions are the small, round white onions that appear in spring.  If you don't have them use green onions.   If the snow peas are small, leave them whole.  If they are large (2", 5cm) cut in half of thirds, at an angle.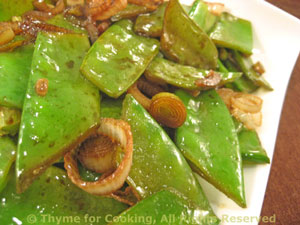 Ingredients:
4oz (120gr) mangetout, snow peas
2 spring onions or 4 green onions, including tops
2 tsp Balsamic vinegar
1 tsp soy sauce
2 tsp olive oil
 Instructions:
Peel and slice onions.
Clean pea pods - snip off the stem end.  Cut large pods into pieces, at an angle, if desired. 
Heat oil in nonstick skillet over medium heat. 
Add onions and mangetout, 5 - 7 minutes, stirring frequently. 
Add vinegar and soy sauce, stir to combine and serve.
Cooking schedule: 35 minutes
Assemble all food, utensils and serving dishes
Utensils: measuring cups, spoons, knives,
small bowl (used 2 X) 2 large skillets, medium
skillet
Slice sweet potatoes, peel first if desired
Sauté sweet potatoes
Make 4 thin patties of beef
Mix chevre, crumbs, basil, garlic
Spread stuffing on 2 patties
Top with 2 patties, seal

Turn/flip potatoes
Trim snow peas
Mix ketchup, Worcestershire, mustard
Sauté burgers
Turn/flip potatoes
      Pause while stuff cooks
Turn burgers, spread top with sauce
Sauté snow peas
Turn/flip potatoes
      Pause while stuff cooks
When stuff is done.... Serve