Chicken and Ricotta Enchiladas
Fresh Fruit
Cooking time:  35 minutes 20 minute break, for menu      Cooking schedule: see below for instructions
         This will use the last 4 enchiladas from last month (check freezer)... or buy more and make Taco Chips.
Chicken and Ricotta Enchiladas
Total time: 35 minutes  
   Using ricotta (app. 135 calories per 100 grams v 400 for cheddar) makes a lighter enchilada with a luscious, creamy center. With a bit of sharply-flavored Parmesan on top you won't notice that it's 'lighter'.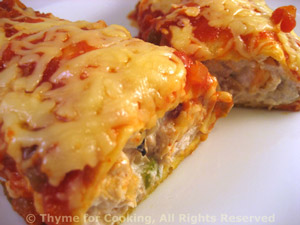 Ingredients:
 Instructions:
Fresh Fruit
Whatever strikes your fancy
Cooking schedule: 35 minutes
Assemble all food, utensils and serving dishes
Utensils: measuring cups, spoons, knives,
2 medium skillets, baking dish, plate
Turn the oven on, 400F (200C)
Chop onion, celery, sauté
Open, drain chiles, chop if needed
Shred Parmesan
Cut chicken
Add chicken to skillet, sauté

Mix chilies, chicken, ricotta
Lightly oil baking dish
Heat skillet for tortillas
Warm one tortilla
Add 1/4 chicken mixture to tortilla, roll, place in dish
Make three more tortillas
Pour taco sauce over tortillas
Sprinkle with Parmesan, cover and bake
Remove enchiladas,
Serve, more taco sauce on side...