Pan-Fried Lamb Chops with Garlic
Potato and Leek Pancake
Cauliflower Cheese
Cooking time:  35 minutes for menu       Cooking schedule: see below for instructions
     No long cooking this week.... Quick and easy with a thought toward spring.
Pan-Fried Lamb Chops with Garlic
Total time: 10 minutes 
      Simple.  Sprinkle some seasonings on some chops and fry.    You can substitute Pork Chops, if you prefer, just cook a bit longer, although even pork can be faintly pink inside...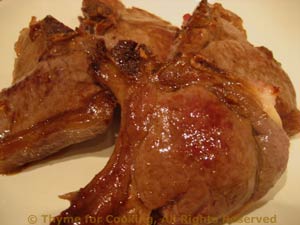 Ingredients:
4 - 6 lamb chops, depending on size and hunger
3/4 - 1 tsp paprika
3/4 - 1 tsp garlic powder
1/4 tsp salt
1 tbs olive oil
 Instructions:
Sprinkle paprika, salt and garlic powder on lamb chops.
Heat oil in large nonstick skillet over medium high heat.
Add chops and sauté 2 - 5 minutes per side, depending on thickness of chop and desired doneness.
Make a slit and peak if not certain.
Remove and serve.
Potato and Leek Pancake
Total time: 25 minutes  
   I've been making these for a long time.  I think the original idea came from a Williams-Sonoma book. Once flipped, the heat can be reduced a bit and they can cook slowly with no attention, if needed.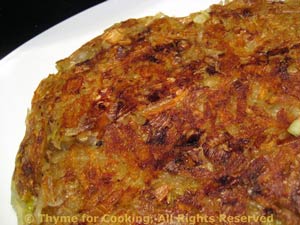 Ingredients:
2 medium potatoes, (12oz, 360gr total)
1 leek
1 tbs butter
1 tbs olive oil
salt and pepper
 Instructions:
Clean and thinly slice leeks.
Heat oil in medium nonstick skillet over medium heat.  Add leeks and sauté until softened, about 5 minutes.
While the leeks sauté wash the potatoes and shred using the large holes on the box grater.
Put the shredded potatoes into a bowl, add the cooked leeks and stir to combine.
Melt the butter in the same skillet.
Add the potato/leek mixture, flatten as best you can with a spatula, cover and cook over medium heat about 10 minutes, or until potatoes are golden - take a peak around the edges.
Put a plate (or tray) on top of the skillet.  Grabbing the plate and skillet together (with hot pads) flip them over so that the cake is on the plate.
Slide the cake back into the pan to cook the other side, another 7 - 10 minutes, but don't cover.
When done, slide onto a plate, sprinkle with salt and pepper, cut into wedges and serve.
Cauliflower Cheese
Total time: 30 minutes
    As this is such a popular dish in England, I decided to use a proper Cheddar for it,  Your favorite cheese will work, but maybe not for the bright gold color.  The flour in the béchamel helps the cheese to melt into a velvety sauce without getting stringy.
 Ingredients:
 Instructions:
Cut cauliflower into pieces, put into a steamer basket in a saucepan with an inch of water.
Put on medium heat and steam for 10 minutes or just until barely tender.
Remove from pan and keep warm.
In same pan, if not too large, or a small saucepan, melt butter.
Add flour and cook, stirring with a whisk or fork (making a roux).
Slowly add milk, stirring constantly until you have a thick sauce (Béchamel).
Stir in cheese and heat until bubbly.
Pour over cauliflower and serve.
Note:  Can be kept warm in a low oven (250F, 125C) for 10 - 15 minutes.
Cooking Schedule: 35 minutes for menu
Assemble all food, utensils and serving dishes
Utensils: measuring cups, spoons, knives,
medium saucepan with steamer basket and lid, whisk,
medium skillet with lid, large skillet
Slice leeks, sauté
Sprinkle paprika, garlic, salt on chops, set aside
Scrub potatoes, shred
Combine leek, potatoes, stir well
Put leek/potatoes into skillet, pat down, cover, cook
Cut cauliflower, steam
    Pause while potato/leek cake cooks

When ready, turn/flip potato leek cake
Remove cauliflower, keep warm
Heat skillet for chops
Melt butter for cheese sauce
Sauté chops
Add flour to butter, whisk
Add milk to roux, stir until thick
Turn chops
Stir cheese into béchamel, pour over cauliflower
Remove Potato Leek cake, slice
Remove chops
Serve