Pan-Seared Tuna with Capers
Basmati Rice with Mushrooms
Crisp Sautéed Sunchokes
Cooking time:  30 minutes for menu          Cooking schedule: see below for instructions
      If you like rare ahi get the best tuna you can find (and afford). But the sauce makes even the lesser tunas taste delicious.  Sunchokes are the same as Jerusalem artichokes.
Pan-Seared Tuna with Capers
Total time: 15 minutes 
     This is best with good sushi-grade tuna that is quickly seared on both sides and cool or just barely warm in the center.  If you get regular tuna you will need to cook it until it is closer to medium - well. Ask your fish monger (I love that word)... or the guy behind the counter.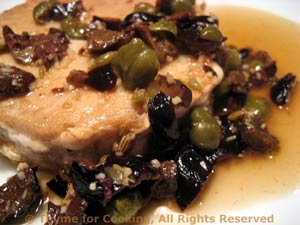 Ingredients:
2 tuna steaks, 6oz each (180gr)
1 tsp fennel seeds
1 clove garlic
1 tbs olive oil
2 tbs capers
3 tbs chopped olives - kalamata or Greek black (or green if that is what you have)
1 tbs lemon juice
1/2 cup (4oz, 120ml) cup white wine
 Instructions
Mince garlic.
Chop olives.
Heat oil in large nonstick skillet over medium-high heat.
Add garlic, fennel seeds and sauté 1 minute.  Remove and reserve.
Add tuna and sauté 3 - 5 minutes per side (depending on thickness - 3 minutes if 1 inch (2.5 cm), 5 minutes if 2 inch (5 cm)) for medium-rare, longer if you want them more done.
Remove and cover with a lid or foil to keep warm.
Return fennel and garlic to pan and add rest of ingredients.
Bring to a boil and boil 2 minutes.
Pour over tuna and serve.
Basmati Rice with Mushrooms
Total time: 20 minutes  
   Sautéed onions and mushrooms perk up fragrant Basmati rice for a lovely side dish.  Make with vegetable stock or water for a vegetarian version.
 Ingredients:
1/2 cup (3.3oz, 95gr) Basmati rice
1 cup (8oz, 240ml) chicken stock
1/2 tsp basil
1/2 tsp oregano
2oz (60gr) mushrooms
1/2 onion
1 clove garlic
2 tsp butter
1 tsp olive oil
 Instructions:
Heat 1 tsp butter in a small skillet.
Add rice and sauté, stirring for 2 - 3 minutes.
Add stock and herbs, cover and cook rice for length of time on package.
While rice cooks:
Chop onion, mushrooms and mince garlic.
Heat remaining 1 tsp of butter and oil in small skillet.  Add onion and sauté until tender, about 5 minutes.
Add garlic and mushrooms and sauté until everything is light brown, about 10 minutes longer.
When rice is done, combine with mushroom/onion, fluff with a fork and serve.
Crisp Sautéed Sunchokes   
Total time: 30 minutes  
   Another easy way to fix this versatile vegetable. 
 Ingredients:
3 - 4 (7oz, 210gr) Jerusalem artichokes

aka sunchokes 

1 tbs olive oil
1/2 tsp dried thyme
1/2 tsp dried marjoram

sea salt,

optional
 Instructions:
Peel sunchokes using a vegetable peeler or knife if they are really gnarly.
Slice 1/4" (.5cm) thick.
Heat oil in a large nonstick skillet over medium-high heat.
When hot add sunchokes slices and quickly sauté until golden brown and crisp-tender, 7 - 9 minutes.
Sprinkle with herbs and sea salt if using and serve.
Note: Sunchokes tend to discolor - if not cooking immediately, put in a bowl and coat with the olive oil.
Cooking Schedule: 30 minutes
Assemble all food, utensils and serving dishes
Utensils: measuring cups, spoons, knives,
small saucepan with lid, small skillet, 2 large skillets,
small plate
Chop onion
Sauté rice in butter
Add stock, herbs, cover, simmer
Trim, chop mushrooms
Mince all garlic, divide
Chop olives
Peel sunchokes, slice, sauté

Sauté onion for rice
Add garlic, mushrooms to onion, stir
Sauté garlic, fennel for tuna
Remove fennel, garlic to small plate
Sauté tuna
Turn sunchokes
Turn tuna
Remove tuna, cover to keep warm
Add fennel, garlic, etc. to skillet, simmer, reduce
Add rice to onion, mushrooms skillet, heat through
Spoon caper sauce over tuna
Finish sunchokes, Serve