Balsamic Glazed Turkey Cutlets
Orzo with Herbs
Cold Ratatouille Salad
Cooking time:  25 minutes for menu           Cooking schedule: see below for instructions
          The last of the ratatouille is served as a cold or room temperature salad with a splash of Balsamic vinegar to liven it up a bit.  If you still have some left after this it's great as a filling for an omelet....
Balsamic Glazed Turkey Cutlets
Total time: 25 minutes
    Turkey cutlets are an economical and flavorful meat, cut from the turkey breast, and can be used in place of, more expensive, veal scallops.  They should be about 1/4 inch (.6cm) thick.  Because they are so thin they take well to marinades and cook quickly, without a chance of drying out.  They can be quite large; cut to a more manageable size.  If you are unable to find them, and don't have an accommodating butcher to cut them for you, use chicken breasts or buy turkey tenderloin and slice it yourself with a sharp knife.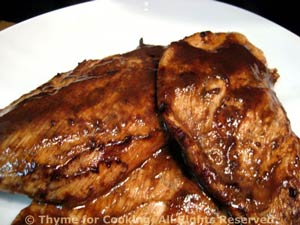 Ingredients:
2 - 4 turkey cutlets, depending on size, 12oz total weight (360gr)
1 tbs Dijon-style mustard
2 tbs Balsamic vinegar
2 tbs olive oil
 Instructions:
Mix mustard and vinegar.
Slowly whisk in olive oil until you have a thick marinade. 
Pour over turkey and let marinate for at 10 - 15 minutes. 
Remove from marinade and cook on barbecue grill for 3 - 5 minutes per side or until done.

OR

sauté in nonstick skillet for 4 - 6 minutes a side or until done. 
Remove and serve.
Orzo with Herbs
Total time: 25 minutes  
      I cook orzo the same way I do rice, in just enough stock.  It gets very creamy.
 Ingredients:
1 tsp butter
1/2 cup (4.5oz, 130gr) orzo
1 1/4 cups (10oz, 300ml) chicken stock
1/4 cup (1oz, 30gr) fresh Parmesan cheese, grated
1 tbs fresh parsley
1 tbs fresh basil
 Instructions:
Melt butter over medium-high heat in small saucepan. 
Add orzo and cook for 1 minute, stirring constantly. 
Add stock and bring to a simmer on medium heat. 
Turn heat to low and simmer until done, about 15 minutes, stirring occasionally. 
All stock will be absorbed. 
Stir in cheese and herbs. 
Remove from heat and serve.  This will be creamy, not stiff.
Cold Ratatouille Salad
Total time: 5 minutes
   Another simple dish using leftover ratatouille.
 Ingredients:
leftover ratatouille
1 tbs salad olive oil
2 tbs Balsamic vinegar
1 tbs fresh snipped basil
 Instructions:
In small bowl whisk together oil and vinegar. 
Stir into ratatouille. 
Sprinkle with basil and serve.
Note:  If you have some olives or feta lurking in the fridge, chop and add!
Cooking schedule: 25 minutes
Assemble all food, utensils and serving dishes
Utensils: measuring cups, spoons, knives,
whisk, small bowl (used 2 X), small saucepan, dish
for marinating, barbecue grill or large skillet
Turn/light barbecue grill if using
Make marinade, pour over turkey
Sauté orzo in butter
Add stock, simmer

Snip herbs
Whisk vinegar, oil, stir into ratatouille
Grate Parmesan
Stir orzo, when close to finished....
Start to cook turkey
Turn turkey
Add cheese, herbs to orzo
Remove turkey
Serve