Beef in Guinness
Quinoa with Mushrooms
Cooking time: 20 minutes for menu        Cooking schedule: see below for instructions
     Leftover Braised Beef served with mushroom flavored quinoa makes a quick Monday night dinner.
Beef Braised in Guinness
Total time: 10 minutes 
 Ingredients:
leftover Beef in Guinness
beef broth if needed
 Instructions:
Gently reheat, adding broth if needed. 
Quinoa with Mushrooms
Total time: 20 minutes
    This near-perfect food of the Incas has slowly been gaining recognition in the culinary world. It cooks quickly and has a nutty flavor that goes with everything.  Here it's paired with the earthy taste of mushrooms and shallots.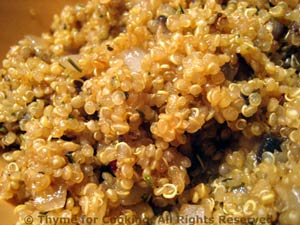 Ingredients:
1/2 cup (3.5oz, 100gr) quinoa
1 cup (8oz, 240ml) beef stock
2 shallots
2oz (60gr) mushrooms 

or whatever is left

2 tsp olive oil
 Instructions:
Combine quinoa and stock in small saucepan. 
Cover and bring to a boil.
Reduce heat and simmer until done, about 15 minutes  (or whatever your package says). 
Finely chop shallots and mushrooms.
In a small skillet heat olive oil.  Add shallots, mushrooms, and sauté until tender, about 5 minutes.
Stir into quinoa when quinoa is cooked. 
Spoon into a serving dish and serve.
Cooking schedule: 20 minutes
Assemble all food, utensils and serving dishes
Utensils: measuring cups, spoons, knives,
2 small saucepans with lids or micro dish for beef,
small skillet
Cook quinoa

Chop mushrooms, shallots
Start to reheat beef
Sauté mushrooms, shallots
     Pause while stuff cooks
Quinoa done? Stir in mushrooms,shallots
Serve all