Chicken Breasts with Sherried Mushrooms
Brown Rice with Onions
Broccoli with Garlic Butter
Cooking time:  30 minutes for menu      Cooking schedule: see below for instructions
          Sherry and mushrooms elevate simple chicken breasts to gourmet level, but still easy enough for a weekday.
Chicken Breasts with Sherried Mushrooms
Total time: 30 minutes
    Mushrooms soak up the flavors they're cooked with, and when simmered with a bit of sherry, they turn simple chicken breasts into an elegant, gourmet dish suitable for guests... or just a delicious mid-week treat.  For a dinner party I would use the cream... Midweek I use the milk or stock - which is what's on the List.  
 Ingredients: 
2 chicken breasts, boneless, skinless
5oz (150gr) mushrooms
1/4 cup (2oz, 60ml) sherry
3/8 cup (3oz, 90ml) milk
1/2 cup (2oz, 60gr) shredded cheese,  Gruyère
1 tbs olive oil
1 tbs white Balsamic vinegar or white wine tarragon
 Instructions:
Clean and thickly slice mushrooms.
Heat oil in medium nonstick skillet.
Add chicken breasts and brown on both sides, about 10 minutes total.
Remove and keep warm.
Add mushrooms and vinegar to pan and sauté 5 minutes.
Add sherry to mushrooms and scrape up any browned bits.
Return chicken to pan, turn heat to low and simmer 5 - 10 minutes, until chicken is cooked through.
Sprinkle chicken breasts with cheese and cover briefly, just until cheese melts.
Remove chicken and cover with the pan lid to keep warm.
Increase the heat to medium high and add the milk to the pan.
Boil rapidly, stirring, for about 3 minutes, until sauce has reduced and thickened.
Spoon mushroom sauce over the chicken and serve.
Brown Rice with Onions
Total time: 25 minutes      or whatever your package says
    I use 'Uncle Ben's' which is all I can get and it is quick cooking.  It looks like brown Basmati and cooks in 15 minutes.  A bit of fried onion adds sweetness, making the rice a little more interesting than normal.
 Ingredients:
1/2 cup (3.3oz, 95gr) quick-cooking brown rice
1 cup (8oz, 240ml) chicken stock
1 small onion
1 tbs olive oil
 Instructions:
Chop onion.
Heat oil in small saucepan.
Add onion and sauté until tender.
Add rice and sauté another 2 minutes.
Add stock, cover and cook rice according to package instructions. 
Fluff and serve.
Broccoli with Garlic Butter  
Total time: 20 minutes 
     A bit of garlic and butter can really bring out the flavor of broccoli and raise it from the mundane to the fantastic!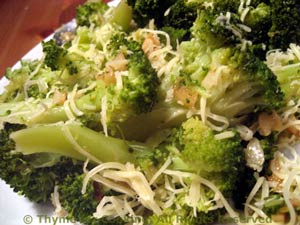 Ingredients:
1/2 head broccoli   enough for 2 persons
2 tbs butter
3 cloves garlic
2 tbs shredded cheese
 Instructions:
Cut broccoli into bite size florets and stems.
Put in steamer basket in saucepan with an inch of water in bottom.  Put on medium heat and steam for 12 - 15 minutes or just until done, careful not to overcook. 
Remove from pan and set aside, discarding water.
In same pan heat butter.
Mince garlic and add to pan.
Sauté briefly, then add broccoli.  Toss well to coat.
Put broccoli into the serving dish, sprinkle with cheese and serve.
Cooking schedule: 30 minutes
Assemble all food, utensils and serving dishes
Utensils: measuring cups, spoons, knives,
medium skillet with lid, small saucepan with lid,
medium saucepan with steamer basket and lid
Heat oil in medium skillet, add chicken, sauté
Clean, trim, slice mushrooms
Chop onion, sauté
Turn chicken breasts
Add rice to onion, sauté
Mince garlic
Cut broccoli, steam
Add stock to rice, cover, cook.

Remove chicken
Add mushrooms, vinegar to skillet, sauté
Add sherry to mushrooms, stir well
Return chicken to skillet, cover, simmer
Remove broccoli, discard water
Sauté garlic
Sprinkle cheese on chicken, cover to melt
Add broccoli to garlic, sauté
Remove chicken, cover
Add milk to mushrooms, stir, reduce
Finish broccoli
Fluff rice
Spoon mushrooms over chicken, Serve