Barbecued Turkey Cutlets
Pasta with Creamy Goat Cheese
Fried Green Beans
Cooking time: 25 minutes for menu      Cooking schedule: see below for instructions
     We use the rest of the goat cheese and more cherry tomatoes in the pasta.
Barbecued Turkey Cutlets
Total time: 25 minutes
    Turkey cutlets are an economical and flavorful meat, cut from the turkey breast, and can be used in place of, more expensive, veal scallops.  They should be about 1/4 inch (.6cm) thick.  Because they are so thin they take well to marinades and cook quickly, without drying out. 
 Ingredients:
2 - 4 turkey cutlets, depending on size, 12oz total weight (360gr)
2 tbs ketchup
2 tbs cider vinegar
1 tbs Dijon-style mustard
1 tsp dried oregano
1/2 tsp garlic powder
1 tbs olive oil
 Instructions:
Mix all ingredients except turkey. 
Spoon over turkey and let marinate for 10 minutes. 
Remove from marinade and cook on barbecue grill for 3 - 5 minutes per side or until done. 

OR

sauté in nonstick skillet for 4 - 6 minutes a side or until done.  Remove and serve.
Pasta with Creamy Goat Cheese
Total time: 30 minutes  
   A simple sauce of goat cheese and fresh chives makes a light pasta side dish.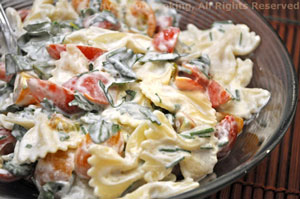 Ingredients:
 Instructions:
Cook pasta according to package directions.  Drain.

While pasta cooks: 

Heat stock in a small saucepan. 
Add goat cheese and stir until cheese is melted. 
Remove from heat and add herbs. 
Cut cherry tomatoes into quarters.

To finish:

Pour sauce over pasta, add cherry tomatoes, stir well and serve.
Fried Green Beans
Total time: 15 minutes  
   A simple preparation to highlight the best of summer vegetables.  Adding a bit of oil to the butter prevents it from browning or burning.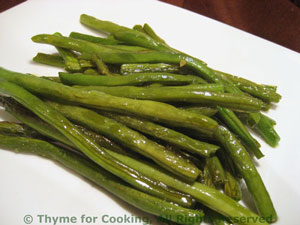 Ingredients:
6oz (180gr) green beans
2 tsp butter
2 tsp olive oil
sea salt
 Instructions:
Top and tail beans but leave whole. 
Heat butter and oil in a skillet large enough to hold the beans without cutting. 
Add beans and sauté over medium heat until starting to brown and blister, 7 - 9 minutes.  
Sprinkle with salt, remove and serve.
Cooking schedule: 25 minutes
Assemble all food, utensils and serving dishes
Utensils: measuring cups, spoons, knives,
small bowl, pot for pasta, colander, small saucepan,
skillet, dish for marinating, barbecue grill or skillet
Put water on high heat for pasta
Make marinade, spoon over turkey
Turn on barbecue grill
    Pause a minute
Start to cook pasta
Top and tail beans, sauté

Snip herbs
Heat stock, goat cheese
Start to cook turkey
Turn beans
Cut tomatoes
Remove goat cheese sauce, stir in herbs
Turn turkey
Drain pasta, finish
Remove turkey
Remove beans....
Serve