Simple Grilled Burgers
Pesto Potato Salad,
leftover


Corn on the Cob

Cooking time:  25 minutes for menu       Cooking schedule: see below for instructions

          Burgers and sweet corn - summer at it's best. The the most time-consuming part of this menu is shucking the corn!
Simple Grilled Burgers
Total time: 30 minutes 
   I used beef but these would be equally good with ground turkey or chicken.  If using poultry I would use white wine.  The crumbs, wine, etc. add a bit of moistness and a whole lot of flavor!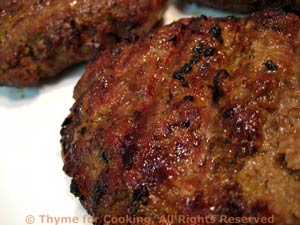 Ingredients:
12oz (360gr) ground beef ( mince)
2 tbs breadcrumbs
1 tbs red wine

  or stock

1 1/2 tbs ketchup
2 tsp Dijon-style mustard
1/2 tsp garlic powder
 Instructions:
Put all ingredients into a large bowl and mix well. 
Shape into 3 or 4 patties. 
Cook on barbecue grill over direct heat for 4 - 5 minutes per side. 
Or sauté in nonstick skillet for same amount of time. 
Remove and serve.
Pesto Potato Salad
Total time: 1 minute  

 Ingredients:
 Instructions:
Remove from fridge and serve
Sweet Corn 
Total time: 15 minutes  
   Nothing says summer like corn on the cob.  We've tried roasting it and boiling it... and if I ever find a method that is better than plain old steaming I'll add it to the recipes....
 Ingredients:
 Instructions:
Shuck corn. 
Bring an inch of water to boil in a large kettle with a steamer rack. 
Add corn, cover and steam 4 - 5 minutes (depends on how much corn you put in) or until done. 
Take 1 ear, slather with butter, salt and pepper.  Eat.  Repeat.  Happy summer!
Cooking Schedule: 25 minutes for menu
Assemble all ingredients and utensils
Utensils: measuring cups, spoons, knives,
steamer for corn, basket OR grill pan, barbecue grill
Light/turn on barbecue grill
Heat water to boiling in steamer
Make burgers
Shuck corn, cook

Oil basket
Start to cook burgers
Get potato salad from fridge, stir
Turn burgers
     Pause while stuff finishes
Remove burgers
Remove sweet corn
Serve and eat!