Tomato, Mozzarella and Avocado Salad
Smoked, Stuffed Pork Tenderloin
Pesto Potato Salad
Green Bean with Bacon and Shallots
Cooking time: 40 minutes for menu      Cooking schedule: see below for instructions
        We added an avocado to the traditional Caprese Salad for a simple first course, and purchased pesto for an easy potato salad.... Summer cooking should be easy!  But, if you have lots of basil, the recipe for home-made pesto is included.
Tomato, Mozzarella and Avocado Salad
Total time: 10 minutes 
    The traditional Caprese Salad is just garden ripened tomatoes with Mozzarella de Bufala.  We added an avocado for a salad with the colors of the Italian flag...  Fresh mozzarella comes in a round, ball shape, packed in liquid, usually in a bag.  Save any leftover cheese in the liquid, in a small bowl.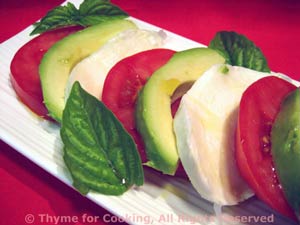 Ingredients:
4oz (120gr)  Mozzarella di Bufala if you can get it
1 - 2 garden ripe tomatoes
1/2 avocado
1 large handful fresh basil
salad olive oil
Balsamic vinegar, optional
 Instructions:
Select 2 lovely, large dinner plates.
Slice mozzarella and tomatoes. 
Cut the avocado, remove pit and cut into slices. 
Tear large basil leaves in half, leave small ones whole.
Arrange tomato, avocado and mozzarella slices artfully on  the plates. 
Add basil leaves. 
Serve, with oil and vinegar

(optional)

on the side to be added by each person to taste.  
Note: if you have nice cruets for the oil and vinegar use them.  If not small bowls with small spoons work fine - or, just put the bottles on the table.....
Smoked, Stuffed Pork Tenderloin
Total time: 40 minutes 
    The pork is lightly smoked, using a regular grill (either charcoal or gas) rather than a proper smoker.  The pink color is a result of the smoking.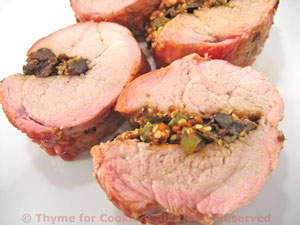 Ingredients:
14oz (420gr) pork tenderloin
1 tbs chopped capers
1 tbs chopped dry-cured Greek olives
1 tbs whole grain mustard
1/2 tsp paprika
Basting Sauce:
2 tbs molasses
1 tbs soy
1 tbs Balsamic vinegar 
wood chips    we used apple   See Barbecue Grills for more info
Weber-type kettle barbecue with charcoal  or Gas Grill
 Instructions:
Put wood chips in water to soak.

Charcoal grill:

Put some charcoal in the barbecue, off to one side and light it.

Gas grill:  

Only light one side of the grill.  Wrap the soaked wood chips loosely in foil.  Poke a few holes in the foil and place on the grill. Cook pork over indirect heat with the grill cover closed and vented or propped open an inch or so. 

The pork:

Carefully slice the pork tenderloin in half the long way, almost all the way through.  Leave about 1/3" (1cm). 
Open it flat, like a book. 
Spread the mustard on 1 side. 
Sprinkle the paprika, olives and capers on the mustard. 
Close the pork and tie securely with kitchen string.
Mix the basting sauce
Smoke for 30 minutes. 
Baste once when you put it on the grill, once when you open the grill after 15 minutes to add wood chips and once when you take it off.
Remove pork and let rest 5 minutes. 
Remove string, slice and serve.
Note: You could also roast in the oven for 25 minutes, 400F (200C).
Pesto Potato Salad
Total time: 25 minutes  
   Pesto is not just for pasta!  A spoonful in this or that adds a depth of summery basil flavor.  Or use a lot, for this creamy potato salad.  As usual, we try to keep the calories and fat down by using yogurt rather than mayonnaise.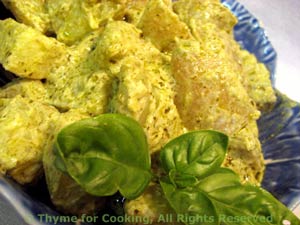 Ingredients:
4 medium potatoes, about 20oz (300gr)
1/3 cup (3oz, 90gr) pesto
1/3 cup (3oz, 90gr) Greek or plain yogurt
 Instructions:
Slice potatoes for salad.
Cook in boiling, salted water, partially covered, until done, 10 - 12 minutes. 
When done, drain and put into serving dish.
Mix pesto and yogurt.  Add to potatoes and stir gently to coat.  Serve.
Homemade Pesto 
Time: 10 minutes
 Ingredients:
 Instructions:
Put everything but the oil in a blender.

Add 1/2 cup oil and blend.  Add more oil as needed.  It really depends on how tightly you packed the basil.  I used 1 cup of oil.

 

It will keep about a week in the refrigerator, up to 9 months in the freezer.
Green Beans with Bacon and Shallots 
Total time: 30 minutes 
Using bacon and onion or shallots to flavor green beans goes back to my childhood.  My mother would 'cook up a mess of beans', with lots of bacon and onion to flavor them, then finish the whole lot off with heavy cream.  It was wonderful.... I try for the flavor without quite so much artery clogging fat!
 Ingredients:
2 strips bacon (2oz, 60gr)
2 medium shallots
6oz (180gr) green beans
 Instructions:
Top and tail beans... cut off the ends. 
Cut into 1 1/2 inch lengths (4cm). 
Chop shallots.  
Sauté bacon in a small frying pan. 
When bacon is crisp remove and crumble. 
Drain all but 1 tbs fat from pan. 
Add shallots and sauté until transparent. 
Add beans, 1/4 cup of water, turn heat to low, cover and simmer until done - about 15 minutes.  If beans dry out add a little more water. 
When done transfer to serving bowl (there should be little or no liquid left - if there is just pour it off). 
Add crumbled bacon and serve.
Cooking Schedule: 40 minutes
Assemble all food, utensils and serving dishes
Utensils: measuring cups, spoons, knives,
scissors, small bowl, medium bowl, small skillet, lid,
small saucepan with lid, barbecue grill and tools,
foil, bowls or cruets for oil and vinegar
Soak wood chips
Turn on / light barbecue grill
Chop capers, olives
Slice pork
Spread mustard, paprika, capers, olives on pork, tie
Put pork, (basting once), wood chips on barbecue
Sauté bacon
Slice potatoes, cook
Top, tail beans, cut
Turn bacon
Chop shallots

Remove bacon, sauté shallots
Slice tomatoes, mozzarella
Mix pesto, yogurt
Drain fat from shallots
Add beans, water, to shallots, cover, cook
Slice avocado
Arrange salad, garnish with basil
Drain potatoes, put in bowl
Turn beans to very low
Baste pork
Serve salad, with oil and vinegar
Relax, enjoy
Done? Check beans, adjust heat or finish
Remove pork, let rest
Finish potato salad
Remove string from pork
Slice and serve