Pork Chops with Garlic and Mustard
Sweet Potato Chips
Italian Brussels Sprouts
Cooking time: 35 minutes for menu          Cooking schedule: see below for instructions
    Sweet potatoes get very creamy when sliced and baked, with just a little crunch on the bottom. 
Pork Chops with Mustard and Garlic
Total time: 30 minutes
     The chops are browned first and get fork-tender in no time when gently braised.   I prefer thinner, boneless chops for this skillet dish. They stay tender and moist, and the reduced sauce makes this a lovely main course.
 Ingredients:
2 - 4 boneless pork chops, 12oz (360gr) total weight
2 tbs whole grain mustard
4 cloves garlic
3 tbs parsley, fresh or dried
1 tbs olive oil
1/4 cup (2oz, 60ml) chicken broth
 Instructions:
Mince garlic and parsley together.
Stir into mustard, making a thick paste.
Heat oil in nonstick skillet.  Add chops and brown on both sides, about 10 minutes total.
Spread half of the mustard on the chops, turn, spread the rest of the mustard on the other side.
Add chicken stock, cover and simmer for 10 - 12 minutes over low heat, turning chops once.
Remove chops, top with any sauce left in the skillet and serve.
Sweet Potato Chips
Total time: 35 minutes 
   Paprika works well with sweet potatoes, adding a little zing.  Use hot paprika if you like.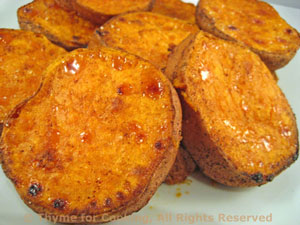 Ingredients:
2 medium sweet potatoes
1/2 tsp paprika, sweet or hot
1 tbs olive oil
salt and pepper
 Instructions:
Slice potatoes into rounds, about 1/4 inch (1cm) thick.
Put oil and paprika into a large bowl, add potatoes and toss, coating thoroughly.
Arrange potatoes on baking sheet with rim (I use my trusty, round pizza pan).
Bake at 400F for 30 minutes, turning once if you like.
When done remove from pan and sprinkle lightly with salt and pepper if you choose and serve.
Italian Brussels Sprouts
Total time: 30 minutes
    These are steamed until tender, and finished with Balsamic vinegar and Fresh Parmesan. Simple.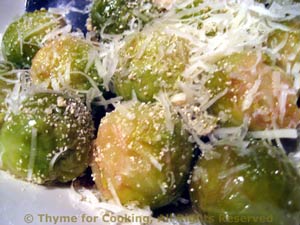 Ingredients:
 Instructions
Trim Brussels sprouts: slice a bit off of the stem end and peel away the outer leaves - any that are damaged or discolored.  With the tip of your knife make a small X in the stem end - that, supposedly, aids even cooking.
Put in a steamer basket over an inch of water and steam until done, 15 - 25 minutes, depending on size.  They are done when you can easily pierce them with a sharp knife.  Don't over cook or they can be a bit strong tasting and mushy.
Remove from pan and empty the water.
Return pan to heat and heat the oil.  When hot add the sprouts and sauté for 2 minutes.
Add vinegar and toss gently.
Sprinkle with Parmesan and serve.  
Cooking schedule: 35 minutes
Assemble all food, utensils and serving dishes
Utensils: measuring cups, spoons, knives,
medium skillet with lid, saucepan with steamer basket
and lid, large bowl, baking sheet
Turn oven on, 400F (200C)
Slice sweet potatoes
Mix oil, paprika, add potatoes, mix well
Put potatoes on baking sheet, bake
Brown chops
Mince garlic, parsley
Stir garlic, parsley into mustard
Turn chops

Trim Brussels sprouts, steam
Spread mustard mix on both sides of chops
Add stock, reduce heat, cover
Turn potatoes
Turn chops
Shred or grate Parmesan
      Pause while stuff cooks
Remove sprouts, empty water, heat oil
Add sprouts to oil, sauté
Remove chops, spoon any sauce over
Remove sweet potatoes, add salt, pepper if using
Add vinegar, Parmesan to sprouts
Serve