Turkey and Pasta with Mustard Sauce
Cauliflower with Butter & Herbs
Cooking time: 30 minutes for menu           Cooking schedule: see below for instructions
   This is a quick pasta dish, warm and creamy, perfect winter comfort food.
Turkey with Mustard Sauce, Pasta
Total time: 25 minutes
   The spicy mustard combines with the Greek yogurt for a creamy, savory sauce.  Serve over any pasta or rice.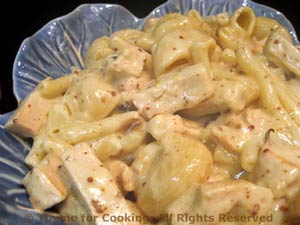 Ingredients:
10oz (300gr) turkey cutlets or breast meat
4 large shallots
3/4 (6oz, 180ml) cup chicken broth
2 tbs course grain mustard
1/2 tbs cornstarch (maizena) dissolved in 1 tbs water
1/2 cup (4oz, 120gr) Greek yogurt, plain yogurt or crème fraiche
1 1/4 cups (4.2oz, 125gr) pasta
 Instructions:
Cook pasta according to package instructions. Drain.
Peel and thickly slice the shallots.
Cut turkey into bite-size pieces.
Heat olive oil in large nonstick skillet and sauté shallots for 5 minutes. 
Add turkey and sauté until cooked through, another 6 - 8 minutes. 
Add mustard and stock, heat through. 
Dissolve cornstarch in water and stir into pan. Continue stirring until quite thick. 
Remove from heat, add yogurt, mix thoroughly. 
Put the pasta in large pasta bowl, spoon the turkey over and serve.
Cauliflower with Butter & Herbs
Total time: 30 minutes
    Often, simple is best!  The first time I tasted cauliflower (my mother never fixed it) I was convinced it tasted just like sweet corn.  Plain, with butter, is still my favorite way to eat it.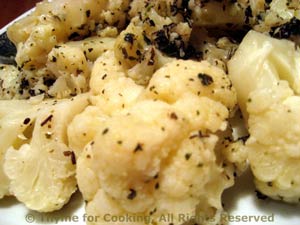 Ingredients:
1/3 head cauliflower  

enough for 2 persons

2 tbs butter
1 tsp dried basil
 Instructions:
Cut cauliflower into pieces, put into a steamer and steam over water for 15 - 20 minutes until fork-tender. 
Remove and drain water from pan. 
In same pan melt butter. 
Add herbs, sauté lightly.
Pour over cauliflower and serve - adding salt & pepper if desired.
Cooking schedule: 30 minutes
Assemble all food, utensils and serving dishes
Utensils: measuring cups, spoons, knives,
large skillet with lid, pot and colander for pasta,
saucepan with steamer basket and lid
Put water on high heat for pasta
Cut turkey
Cut cauliflower, steam
Slice shallots, sauté

Cook pasta
Add turkey to shallots, sauté
    Pause while stuff cooks
Add mustard, stock, bring to a boil, cover, simmer
Drain cauliflower, sauté herbs
Dissolve cornstarch in water, stir into turkey
Drain pasta, put into a bowl
Stir yogurt into turkey, pour over pasta
Finish cauliflower, serve