Moroccan Chicken Stew
Cooking time: 45 minutes for menu           Cooking schedule: see below for instructions
         This is a simple stew with the flavors of North Africa....  15 minutes to get together, then 30 to simmer.
Moroccan Chicken Stew
Total time: 45 minutes
   This is a simple tagine, or stew with the flavors of a North African souk.  Add harissa or other hot sauce to taste. If you can't find a small - medium sweet potato, skip the white potato and use 1 large sweet potato.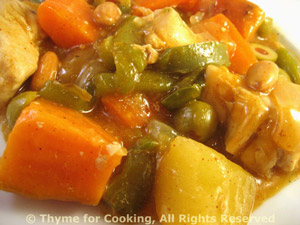 Ingredients:
2 chicken breasts, boneless, skinless
1 medium onion
1/2 red pepper
1 medium potato
1 medium sweet potato
1 medium carrot
1 tsp paprika
1/2 tsp cumin
1/4 tsp cinnamon
1 1/2 tbs minced ginger
3 cloves garlic
1/3 cup green olives
1/3 cup almonds
1 tbs olive oil
1 cup (8oz, 240ml) chicken broth
2 tsp cornstarch (maizena) dissolved in 2 tbs water
 Instructions:
Cut chicken into 2" (4cm) pieces.
Slice onion.
Cut carrot and pepper into sticks.
Mince garlic and ginger.
Cut white and sweet potato into large chunks.
Heat oil in large saucepan over medium-high heat. Add paprika, cumin, cinnamon, onion, pepper, carrot and sauté until onion is tender, about 7 minutes.
Add garlic, ginger, chicken and lightly brown. 
Add chicken stock, both potatoes, cover and simmer until vegetables are done, 25 - 30 minutes.  Pierce vegetables with a fork or sharp knife to check.
Dissolve cornstarch in water.
 Uncover saucepan, increase heat and add cornstarch, stirring until sauce is thickened.
Stir in olives, almonds and serve.
Cooking schedule: 45 minutes
Assemble all food, utensils and serving dishes
Utensils: measuring cups, spoons, knives,
large skillet with lid
Slice onion
Cut carrot, pepper
Mince garlic, ginger
Heat oil
Add spices, onion, pepper, carrot, sauté

Cut chicken
Add chicken, garlic, ginger to skillet, sauté
Cut potatoes
Add stock, potatoes, cover, reduce heat, simmer
     25 minute break
Dissolve cornstarch in water
Check vegetables, if done, thicken sauce
Add olives, almonds
Serve