Italian Pork Chops
Pasta with Green Garlic
Creamed Spinach
Cooking time:  40 minutes for menu           Cooking schedule: see below for instructions
      I used bone-in chops for this... No particular reason, but that is why the 'weight' called for is higher. The spinach is 'creamed' but without cream.
Italian Pork Chops
Total time: 40 minutes 
     Just a few ingredients simmered together to produce moist, tender pork chops.  The lemon adds a fresh taste to the tomatoes.  Grate the lemon before cutting, using a lemon zester or the fine wholes on a grater.  You only want the yellow, or zest, not the white, which is bitter.
 Ingredients:
 Instructions:
Pasta with Green Garlic
Total time: 25 minutes 
    Simple pasta, tossed with a fruity olive oil and Green Garlic.... And a few chives.  Spring!
 Ingredients:
 Instructions:
Cook pasta according to package instructions.  Drain. 
Trim green garlic, slicing off the root and removing 1 layer.  Thinly slice as much as you can, including the green tops.  Or trim and slice leek, mince green garlic.  
Snip the chives. 
When pasta is done, heat the oil in the emptied pasta pot.
Add green garlic / leek, garlic and chives.  Sauté 1 - 2 minutes. 
Add the pasta and stir well to combine.  Serve.
Creamed Spinach
Total time: 10 minutes 
    Yes, creamed spinach.... but updated, with more flavor than the traditional version.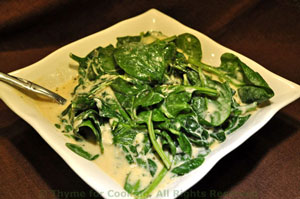 Ingredients:
6oz (180gr) spinach
1/2 cup (4oz, 120ml) milk
2 tsp cornstarch dissolved in 1 tbs water
2 tbs Greek or plain yogurt
1/4 tsp dry mustard
1/3 cup (1.5oz, 45gr) shredded cheese
 Instructions:
Heat milk in a large skillet just until it simmers. 
Add cornstarch mixture and stir until it thickens. 
Add yogurt, dry mustard, cheese, and stir until cheese just melts.
Add spinach, stir briefly to coat, cover, remove from heat and let sit until spinach is slightly wilted.
Stir well and serve.
Cooking schedule: 40 minutes
Assemble all food, utensils and serving dishes
Utensils: measuring cups, spoons, knives,
2 large skillets, pot and colander for pasta
Brown pork chops
Zest lemon
Turn chops
Juice lemon
Add remaining ingredients to chops, cover, simmer
Put water on high heat for pasta
    15 minute break
 Back?
Cook pasta
Stir sauce around chops

Slice green garlic or leeks and mince garlic
Snip chives
Prepare spinach if needed
Heat milk in skillet
Dissolve cornstarch in water
Shred cheese if needed
Add cornstarch to milk, stir
Add mustard, yogurt, cheese, stir
Add spinach, stir to coat, cover, remove from heat
Drain pasta
Sauté green garlic (leeks, garlic), chives
Add pasta to green garlic
Stir spinach
Serve all