Tuna and Asparagus Risotto
Fresh Strawberries with Yogurt and Mint
Cooking time:  30 minutes for menu       Cooking schedule: see below for instructions
          Risotto is so wonderfully flexible.  You can put anything at all in it and have a quick, one-dish dinner.  The only thing to keep in mind is to use small quantities, to keep everything in proportion.  Finish with some early strawberries.
Tuna and Asparagus Risotto
Total time: 35 minutes
   Tuna, capers and asparagus make a wonderful risotto for spring; all cooked in the same pot to make it even easier! It will continue to absorb liquid and the leftovers (if any) will be quite stiff.  The risottos that we have eaten in northern Italy have all been served in soup plates (flattish bowls) and eaten with a spoon - not a fork.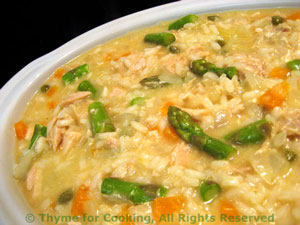 Ingredients:
2/3 cup (4.2oz, 125gr) Arborio rice

(or other rice specifically for risotto - Carnaroli or Vialone Nano)

1/2 cup (4oz, 120ml) dry, white wine
2 1/4 cups (18oz, 540ml) chicken stock
8oz (240gr) asparagus
1 onion
1 carrot
1 tbs butter
6oz (180gr) tuna
1 tbs capers

3/4 cup (3oz, 90gr) Parmesan cheese - freshly grated

 
 Instructions: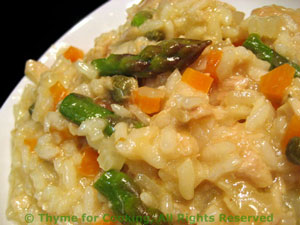 Heat chicken stock and keep hot over low heat. 
Prepare asparagus, cutting to 1 1/2 inch length, reserving tips.
Finely chop onion.
Cut carrot into small dice, about 1/4"(.5cm).
Open and drain tuna.  Loosen with a fork.
In medium sauce pan heat butter; add onion and carrot. 
Sauté 5 minutes, until starting to get tender. 
Add rice and sauté, stirring, for 2 - 3 minutes until rice has white center.
Add white wine and stir. 
When wine is almost absorbed add a 1/2 cup of stock and all of the asparagus except tips and stir.  (No need to stir constantly but do stir from time to time.) 
When stock is almost absorbed add another 1/3 cup and continue adding 1/3 cup at a time and stirring. 
Before the last 2 '1/3 cups' are added put in the asparagus tips, capers and tuna. 
Before the last 1/3 cup is added taste a few kernels of rice.  They should be just 'al dente' - slightly resistant to the tooth but fully cooked. 
If more stock is needed add it 1/8 cup at a time and waiting until almost completely absorbed.  At this point risotto will be thick but not stiff - it will not hold it's shape on a plate.
Add the Parmesan, stir, pour into a bowl and serve immediately. 
Fresh Strawberries with Yogurt and Mint
Total time: 10 minutes
   A bit of sugar and Greek Yogurt is wonderful with fresh strawberries.... and ever so much healthier than cream.  If you have fresh mint - that will finish it just right!
 Ingredients:
1 - 1 1/2 cups fresh strawberries
1 tbs sugar  

optional

4oz (120ml) Greek yogurt
1 tbs fresh mint, snipped
 Instructions:
Rinse strawberries. 
With your fingers, pull the stem end and leaves off. 
Cut in half or quarters if very large.
Put into a medium bowl and sprinkle with sugar.  Stir gently. 
Add yogurt and snipped mint and stir gently. 
Spoon into 2 small dishes and serve.
Cooking Schedule: 30 minutes for menu
Assemble all ingredients and utensils
Utensils: measuring cups, spoons, knives,
small saucepan, medium saucepan
Heat stock
Chop onion
Cut carrot into small dice
Sauté onion, carrot
Cut asparagus
Open, drain tuna, break apart
Add rice to pan, sauté
Add wine, stir, cook

Grate Parmesan
Add 1/3 cup stock, asparagus (not tips), stir, cook
Stir, and stir again
Continue adding stock and stirring
Add tuna, capers, asparagus tips, stir
Continue adding stock and stirring
Prepare strawberries
Add sugar, stir
Add yogurt, stir
Add mint if using, refrigerate until serving
When risotto is ready, add Parmesan, stir well
Serve - don't forget the berries